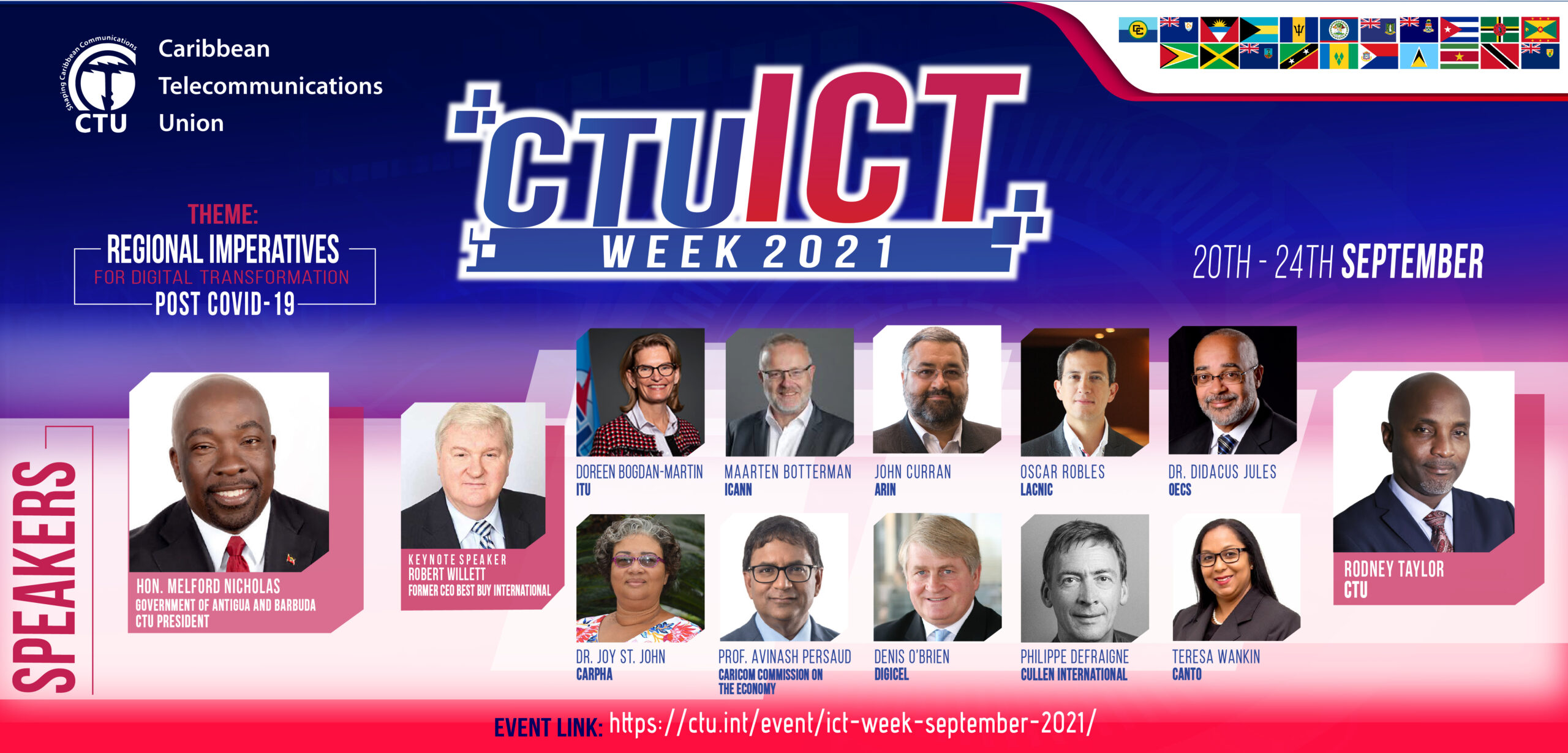 CTU ICT Week 2021
September 20, 2021 - September 24, 2021
Venue: Virtual
OVERVIEW
CARICOM Members States have made great strides in implementing digital platforms in response to the Covid -19 Global Pandemic, to enable access to critical public services and to address the needs of the most vulnerable groups in society. There have been many success stories at the national level within CARICOM Member States. Many have implemented digital platforms for public health to manage testing and vaccination programmes. Additionally, systems have been implemented to facilitate the safe reopening of borders and to enable advanced notification of the health status of travellers and to facilitate the presentation of vaccination certificates to health officials.
This presents an opportunity for Caribbean countries to learn from each other regarding what has worked well, and what opportunities exist to share knowledge and build capacity regionally. This is particularly important as regional governments seek to create a travel "bubble" within CARICOM that would facilitate easy and safe movement within the Single Space.
ICT Week will focus on the theme "Regional Imperatives for Digital Transformation Post-COVID-19", and will provide a forum for the exchange of ideas related to how regional governments can collectively respond using digital platforms in the fight against the Covid-19 pandemic. It will also go beyond a discussion on digital responses to the Pandemic and also look at ways in which ICT can help the region to bounce back with greater social and economic resilience.
ACTIVITIES AT A GLANCE
20th to 24th September 2021
| | | |
| --- | --- | --- |
| Date | Event | Description |
| Monday 20th 9:00am: 1:30pm | 43rd Executive Council (EC43) | Open to Only the CTU's Permanent Secretaries and Technical Officers, this statutory meeting will progress the work of the CTU. |
| Monday 20th1:30pm-4:00pm | Joint Meeting of 43rd Executive Council(EC43)24th General Conference of Ministers (GC24) | Open to All: This session will feature presentations of the projects and initiatives of the CTU Secretariat and Members. |
| Tuesday 21st9:00am-3:30pm | 24th General Conference of Ministers | Open to Only: CTU's ICT Ministers, Permanent Secretaries and Technocrats, this statutory meeting will progress and discuss the business and operations of the CTU, including receiving resolutions and recommendations from the Executive Council. |
| Wednesday 22nd9:00am-3:30pm | 17th Ministerial Seminar | Open to All: This session will feature presentations by various ICT industry leaders and is designed to bring policy-makers up to speed with new and emerging technology trends that may require public policy interventions. |
| Thursday 23rd9:00am-12 noon Thursday 23rd9:00am-12 noon Friday 24th9:00am-3:30pm | ICT Technical Collaboration Forum 5th Regulators Forum | Open to all CTU Members and is aimed at providing a space for collaboration, by technical advisors, on ICT projects of regional significance. Open to only ICT Regulators and Specially invited guests, this round-table discussion will address regulation for digital transformation and to prepare the region for the 4th Industrial Revolution. Open to only ICT Regulators and Specially invited guests, this round-table discussion will address regulation for digital transformation and to prepare the region for the 4th Industrial Revolution. |
REGISTER
Agenda: Joint Meeting of 43rd Executive Council and 24th General Conference of Ministers – Monday 20th

Time
Item
Presenter
13:10
Opening Remarks & Welcome to New Members
Mr. Rodney Taylor, Secretary General, CTU
13:20
Keynote Address: Regional Imperatives for Accelerating Digital Transformation Post COVID-19
Mr. John Curran, Chief Executive Officer, ARIN
13:30
Cultural Interlude – Saxophonist
 Mr. Arturo Tappin, Barbados
13:35
Accelerating 21st Century Government Post COVID-19:

Digital Responses to COVID-19 Challenges

Mr. Gary Kalloo, ICT Policy Consultant, CTU

Digital ID Implementation for CARICOM

Mr. Junior Mc Intyre, ICT Consultant, CTU
13:50
Caribbean Internet Governance Forum 17
Mr. Nigel Cassimire, Telecommunications Specialist, CTU
14:00
World Telecommunication Development Conference 2021 (WTDC21): Review of Regional Priorities
Mr. Rodney Taylor, CTU
14:10
Caribbean Spectrum Management Update
Mr. Nigel Cassimire, CTU
14:25
Caribbean Video Assistance Service
Mr. Trevor Prevatt, Consultant, CTU
14:35
Q&A
 
14:45

Coffee Break

14:55
Accelerating Caribbean Innovation – An Intersections Initiative
Dr. Annalee Babb, Founder | CEO, Intersections
15:10
Digital Payment Initiatives
Ms, Sybil Welsh, Senior Project Specialist, ECCB
15:30
Regulatory innovations for a Single Caribbean ICT space/ Digital Economy
Mr. Denis O'Brien, Chairman, Digicel Group
15:45
Caribbean Digital Transformation Project (CARDTP)
Mr. Imran Williams, Project Coordinator, CARDTP, OECS
16:00

Wrap-up and End of Meeting
Agenda: 17th Ministerial Seminar – Wednesday 22nd

Time
Item
Presenter
09:00
Welcome and Introductory Remarks
Mr. Nigel Cassimire, Telecommunications Specialist, CTU
09:05
Keynote Address: COVID-19 and the Shift to Digital: A Global Perspective
Mr. Robert Willett, Former Global CEO Best Buy International
09:25
Developing ICT Talent for Digital Transformation and Innovation
Mr. Antonio Quiroz, Public Relations Manager, Huawei Caribbean and Latin America
09:45
Q&A
 
09:55
Cultural Interlude: Steel Pannist, Ms, Keisha Codrington – Trinidad & Tobago
10:05
Panel Discussion: The Caribbean- A Mecca for Digital Nomads
Moderator: Mr. Kirk Sookram, Deputy CEO, TATT

Hon. Minister E.P. Chet Greene, Minister of Foreign Affairs Trade and Information, Antigua and Barbuda

Prof. Avinash Persaud, Chairman, CARICOM Commission on the Economy

Mr. David Cox, Chairman, CANTO

Ms. Michele Marius, Consultant, Entrepreneur, Thought Leader, ICT Pulse

10:45
Tech Solutions for a Regional Travel Bubble
Moderator: Dr. Annalee Babb, ICT Consultant, Barbados

Mr. Donovan Smith, ICT Consultant, CARICOM IMPACS

Dr. Lisa Indar, Director – Surveillance, Disease Prevention & Control Division, CARPHA

Mr. Frank O'Carroll, Chief of Staff, Digicel Group

Mr. Filipe Reis, Regional Director for Airports, Passenger, Cargo and Security, IATA

11:25
Panel Discussion: Pathways to a CARICOM Digital Identity as a Public Good
Moderator: Mr. Junior McIntyre, ICT Consultant, CTU

Mr. Shrikant Karwa, International Institute of IT, Bangalore, India

Dr. Clarence Henry, Senior Technical Office Regional Integration Unit, OECE

Mr. Mark Arruda, Vice President, Solutions, Cloud Carib

12:05
Lunch Break
13:00
Keynote Address: Digital Transformation, Driving Economic Growth
Mr. Cesar Funes, Public Relations Vice-president, Huawei Latin America
13:20
Sponsor Lightning Presentations (10 mins):
Moderator: Mr. Trevor Prevatt, Consultant, CTU
Accelerating Caribbean Digital Transformation Through Next Generation Satellite Technologies
Ms. Amy Mehlman, Vice President, U.S. Gov't. Affairs and Policy, Viasat
Achieving Greater Control and Sustainability in Digital Transformation
Mr. Eamonn Sheehy, Director Public Sector

Mr. Scott MacKenzie, CEO, Cloud Carib

Regulating the Single Caribbean ICT Space
Mr David Geary, General Council Digicel Group
Cloud Services
Mr. Darryl Duke, General Manager Enterprise Services (Ag.), TSTT
Q&A
 
14:20
Break
14:30
Interactive Discussion: Rural Connectivity Policy
Mr. Yacine Khelladi, Latin America and the Caribbean, Coordinator Alliance for Affordable Internet (A4AI)

Ms. Sonia Jorge, Executive Director, Alliance for Affordable Internet (A4AI)

16:00
 Wrap Up & Close of Seminar
Agenda: Caribbean ICT Technical Forum – Thursday 23rd

Time
Item
Presenter
09:05
Opening Remarks and Overview
Mr. Junior McIntyre, ICT Consultant, CTU
09:15
Country Presentation – Disease Surveillance, Health Information Management, Centre Administration, Personnel Management, Electronic Interfacing (SHAPE)
Mr. Ian Weithers, Radiographer, Barbados
09:45
Country Presentation – Travel Pass
Mr. Sherwin Ragoonann, iGovTT – Deputy CEO (Ag.), Trinidad and Tobago
10:15
Country Presentation – Geo-fencing
Mr. Daniel Knight, Director of Government, Antigua & Barbuda
10:45
Coffee Break
11:00
The CARICOM Online E/D (Travel) Form
Representative, CARICOM IMPACS
11:30
Apex Court Management Systems
Mr. Richard Wall, CTO, Apex I Caribbean Agency for Justice Solutions
12:00
Sustainable Digital Transformation – The Importance of a Very High Availability Supporting Environment
Mr. Mark Arruda, Vice President, Solutions, Cloud Carib
Mr. Eamonn Sheehy, Director Public Sector, Cloud Carib
12:30
Wrap Up & End of Session
Agenda: 5th Caribbean Regulators' Forum – Thursday 23rd

Day 1: Open Session (Virtual)
Time
Item
Presenter
09:00
Invocation and Opening Remarks
Mr. Selby Wilson, Telecommunications Strategist, CTU
09.05
Welcome Remarks
Mr. Rodney Taylor, Secretary General, CTU
09:10
Keynote Address (video presentation)
Ms. Doreen Bogdan-Martin, Director BDT, ITU
09:20
Global Regulatory Trends
Ms. Elena Scaramuzzi, Head of Global Research, Cullen International
09:40
GSR 20 & 21 Best Practices Guidelines
Ms. Sofie Maddens, Head of the Regulatory and Market Environment Division, ITU
 
Panel Discussion – Accelerated Transformation: Building a More Responsive Regional Regulatory Environment: This multi-stakeholder panel will discuss and present their requirements to make investments that will advance the development of the digital economy
10.00
Panellists:
Moderator: Dr. Kim Mallalieu 
1. Viasat
Mr. Ryan Johnson, Senior Director
2. Digicel
Mr. David Geary, General Counsel Caribbean
3. CWC
Mr. David Cox, Head Regulatory Affairs
4. Regulator / Government Advisor
Mr. Kenva Williams, Director General, Turks & Caicos Islands
10:50
Break
11:00
Special Address: Preliminary considerations for a Single CARICOM Regulatory Authority
Dr. Annalee Babb, ITU Consultant
 
Panel Discussion – The Panel will address what regulatory initiatives will be required to advance the development of the CARICOM Single ICT Space
11:30
Panellists:
Moderator: Ms. Sandra Sealy, Consultant, CTU
1. CWC
MS. Opal Neil, Senior Manager, Regulatory Affairs
2. Digicel
Representative TBC
3. TSTT
Ms. Lisa Agard, CEO
4. GTT
Mr. Mark Reynolds, VP Legal & Reg.
12:15
Open Discussion
Facilitator: Ms. Sandra Sealy, Consultant, CTU
01:00
Day 1 Synthesis
Mr. Selby Wilson
01:15
End of Day 1
 

Agenda: 5th Caribbean Regulators' Forum – Friday 24th

Day 2: Closed Session for Regulators (Virtual)
Time
Item
Presenter
09:00
Opening Remarks
Mr. Selby Wilson, Telecommunications Strategist, CTU
09.05
Keynote address: Digital Transformation
Mr. Philippe Defraigne, Founding Director, Cullen International
9:15
Panel Discussion: The Regulators role in Digital Transformation

The one positive arising from the COVID-19 pandemic is the recognition that there is a need to accelerate the adoption of technology solutions to provide efficient service to citizens and sustain an acceptable level of economic activity. During this COVID crisis, we witness the adoption of several ad hoc solutions. Yet, many did not have adequate access or the skills to use the technology solutions for education, social benefits payments, and online services.

This Panel will discuss the initiatives that can address these concerns as we respond to the policy shift of CARICOM governments to adopt technology solutions at a faster rate.

Panellists:
Moderator: Mr. Phillipe Defraigne
1. Utilities Regulation & Competition Authority (URCA), The Bahamas
Mr. Carlton Smith, Chief Executive Officer
2. Telecommunications Regulatory Commission, BVI
Mr. Guy Malone, Chief Executive Officer
3. Colombian Regulatory Commission
Mr. Carlos Lugo Silva, Commissioner
4. CARICOM: Caribbean Competition Commission
Ms. Nievia Ramsundar, Executive Director
09:55
Q&A  
10.10
Break
 
REGULATION IN A SINGLE ICT SPACE

The Heads of Government have identified the need for a Single Regional Regulatory Body or a more harmonised Regional Regulatory Framework as an essential requirement for the ICT Single ICT Space. What strategies can National Regulatory Authorities adopt to achieve this vision

10:20
Panellists:
Moderator: Mr. Rodney Taylor
1. ECTEL, OECS
Ms. Cheryl Hector Fontenelle, Ag. MD
2. CARICOM: Caribbean Competition Commission
Ms. Nievia Ramsundar, Executive Director
3. Telecommunications Unit, Barbados
Mr. Clifford Bostic, Director, Chief Telecommunications Officer
Cross-Sector Regulatory Collaboration: Preparatory Considerations for G5 Regulatory framework Cross-Sector Regulatory Collaboration

The use of ICT applies to all sectors of the economy. Accordingly, there must be cooperation and collaboration across all sectors to promote the digital economy. Generation 5 status gives recognition to this fact and encourages this cross-sector collaboration. The Panel will examine actions to achieve Generation 5 status for our regulatory authorities.

11:00
Panel Discussion:
Moderator: Ms. Sofie Maddens, ITU
1. Telecommunication Regulator
Ms. Cynthia Reddock-Downes, Chief Executive Officer, TATT
2. Financial Services Regulator
Ms. Sharmyn Powell (TBC), Chief Risk Officer, ECCB
3. Health Services Regulator
Dr. Joy St. John, Executive Director, Caribbean Public Health Agency (CARPHA)
4. National Security Agency
Lt. Colonel Michael Jones, Executive Director, CARICOM IMPACS
12:00
Open Discussion: Synthesising the Discussions and the Way Forward
Facilitator: Ms. Sofie Maddens, ITU
12:30
End of Day 2: Forum Ends
Day 1 (Joint Meeting of 43rd Executive Council and 24th General Conference of Ministers – Monday 20th)

Mr John Curran, ARIN
Imperatives for Digital Transformation Post-COVID-19
Mr John Curran, ARIN
Imperatives for Digital Transformation Post-COVID-19
Mr. Junior Mcintyre, CTU
Digital Identity Implementation for CARICOM
Mr. Nigel Cassimire, CTU
Advancing Caribbean Internet Governance
Mr. Nigel Cassimire, CTU
CTU Spectrum Management Update & Plans
Dr. Annalee Babb, Intersections
Accelerating Caribbean Innovation - An Intersections Initiative
Dr. Annalee Babb, Intersections
Accelerating Caribbean Innovation - An Intersections Initiative
Ms. Sybil Welsh, ECCB
EC Digital Cash
Ms. Sybil Welsh, ECCB
EC Digital Cash

Day 3 (17th Ministerial Seminar – Wednesday 22nd)

Mr. Antonio Quiroz, Huawei Caribbean and Latin America
Developing ICT Talent to Accelerate Digital Transformation
Mr. Shrikant Karwa, MOSIP
Trusted Digital Identity Key to Digital Transformation
Mr. Cesar Humberto Funes Garay, Huawei Latin American & Caribbean
Digital Economy, ICT to boost Recovery
Mr. Eamonn Sheehy and Mr. Scott MacKenzie, Cloud Carib
Regional Imperatives for Digital Transformation: Achieving Greater Control and Sustainability
Mr. David Geary, Digicel
Regulation for a Single Caribbean ICT Space
Mr. Darryl Duke, TSTT
Cloud Services
Mr. Yacine Khelladi, Alliance for Affordable Internet (A4AI)
Rural Broadband Policy Framework: Closing the Rural Digital Divide

Day 4 (Agenda: 5th Caribbean Regulators' Forum – Thursday 23rd)

Ms. Sofie Maddens, ITU
ITU GSR Best Practice Guidelines 2020 & 2021
Ms. Sofie Maddens, ITU
ITU 's concept of G5 collaborative regulation
Dr. Annalee Babb, ITU Consultant
Preliminary considerations for a Single CARICOM Regulatory Authority

Day 4 (Caribbean ICT Technical Forum – Thursday 23rd)

Mr. Sherwin Ragoonann, Trinidad and Tobago
TTravelPass A Country Presentation
Mr. Eamonn Sheehy and Mr. Mark Arruda, Cloud Carib
Sustainable Digital Transformation – The Importance of a Very High Availability Supporting Environment
Become a Sponsor
Platinum

C&W Communications | Huawei
Gold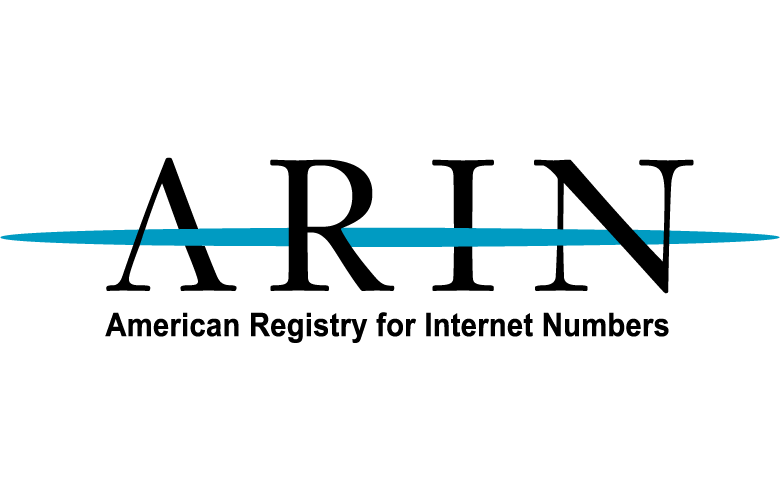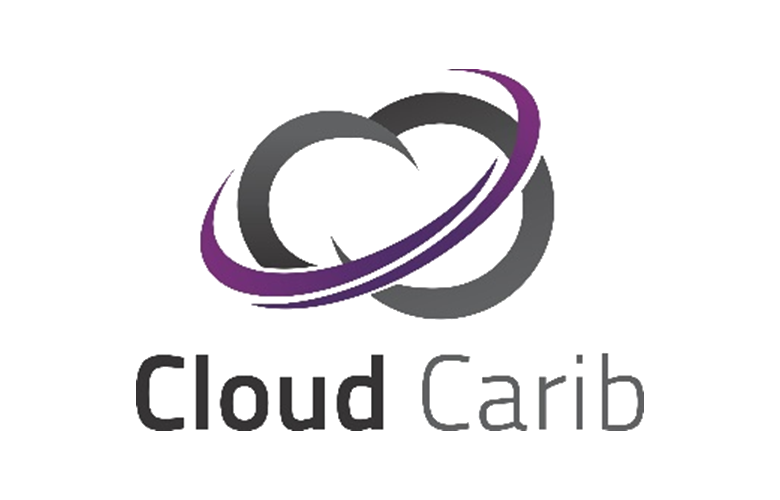 Silver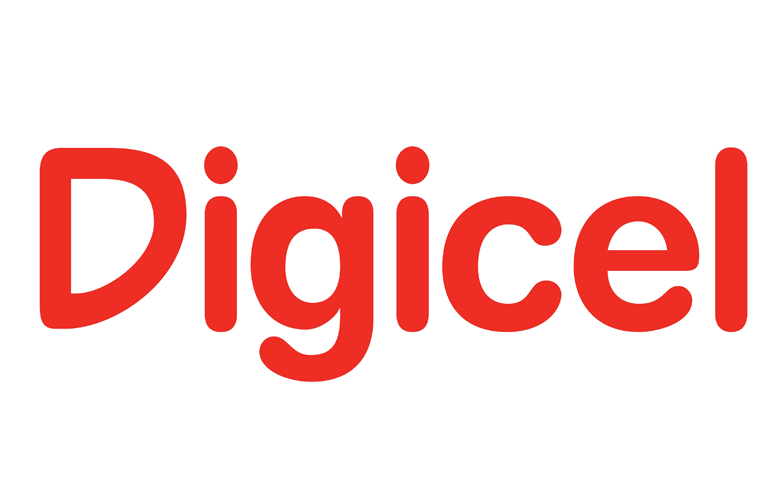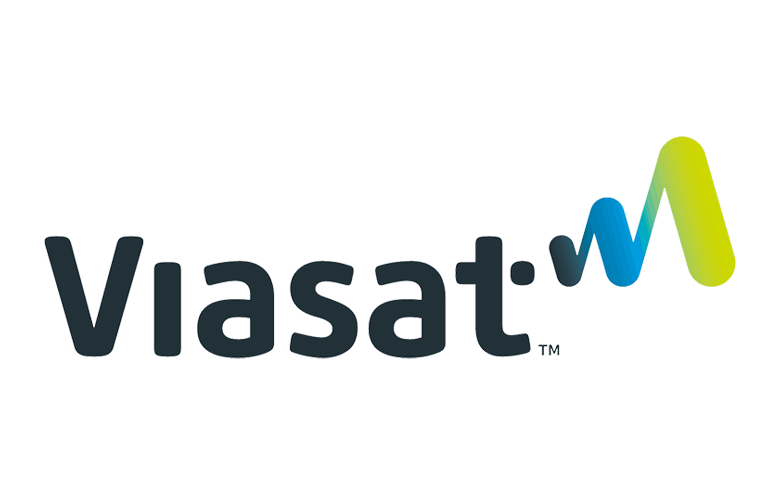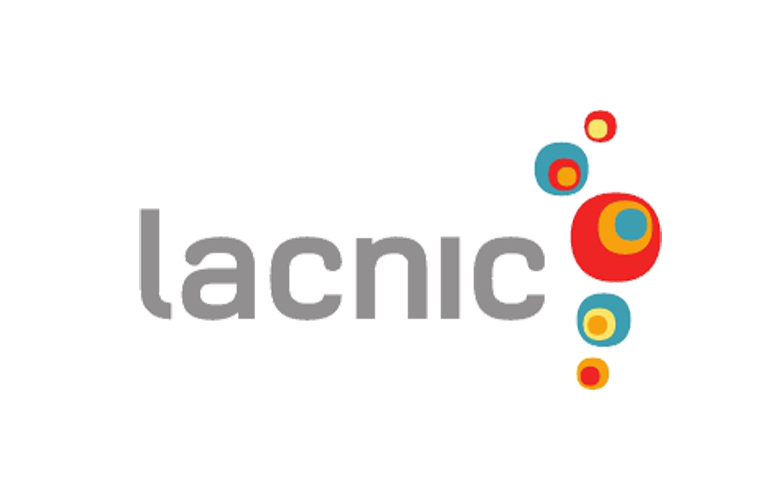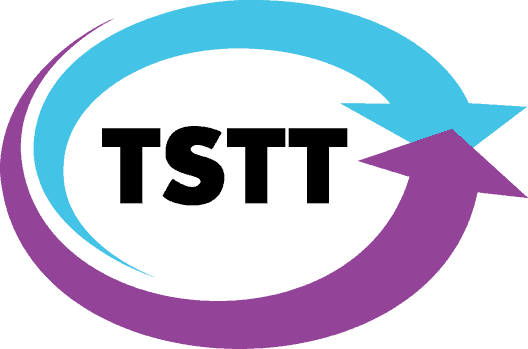 Bronze
Other