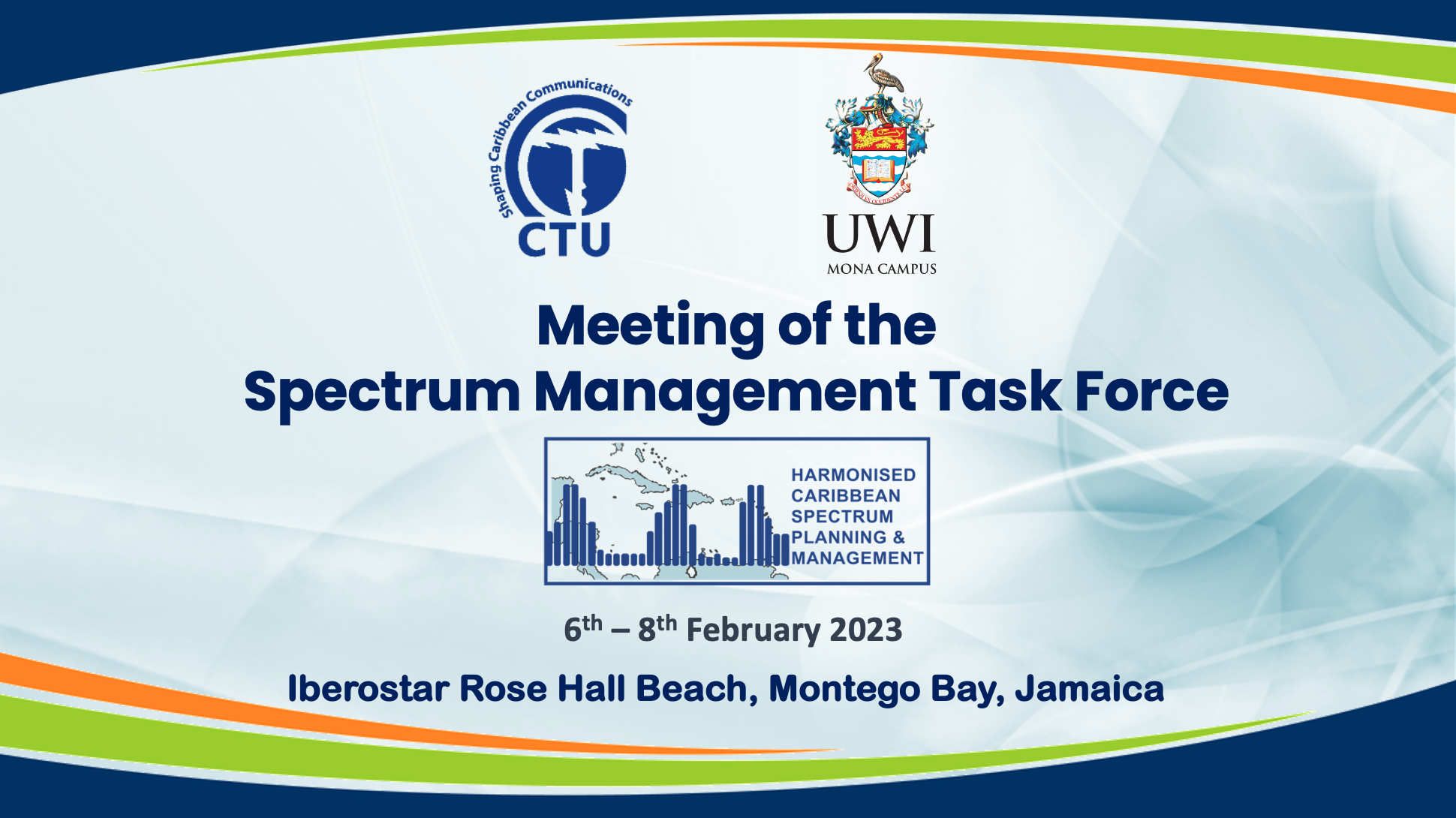 Meeting of the Caribbean Spectrum Management Task Force
February 6, 2023 - February 8, 2023
Venue: Jamaica
6th – 8th February 2023
In Person, Jamaica (with limited remote participation)
The Caribbean Telecommunications Union (CTU) and The University of the West Indies (UWI), Mona Campus, invite you to attend a scheduled meeting of the Caribbean Spectrum Management Task Force at the Iberostar Rose Hall Beach Hotel, Montego Bay, Jamaica from 6th to 8th February 2023.
Background
Regional harmonisation of spectrum management policies and practices as well as relevant capacity building initiatives are being coordinated regionally by the Caribbean Telecommunications Union (CTU) through the work of the Spectrum Management Steering Committee (SMSC) and the multi-stakeholder Spectrum Management Task Force (SMTF). The harmonisation work continues to be guided by tenets of the Caribbean Spectrum Management Strategic Plan developed by these two groups, which seeks to achieve the following goals across the region:
Harmonization of national frequency allocations and band plans, including common frequencies and international protocols for disaster management and emergency telecommunications
Minimization of cross border interference
Establishment of common approaches to digital broadcasting switchover, TV white spaces regulation and spectrum pricing.
In addition to focusing on these goals, the ongoing work of the SMTF and SMSC also creates and leverages capacity-building opportunities and addresses important current matters arising, such as regional preparations for the ITU World Radiocommunication Conferences (WRC-23 is upcoming).
During the last meeting of the SMTF, which was convened virtually via Zoom Videoconferencing in two sessions over the period 21st to 22nd November 2022, the Task Force reviewed and updated status of items in its Action Plan for 2022 and initiated planning of 2023 activities and meetings. This February 2023 meeting will complete 2023 action planning and advance completion of objectives and action items so identified. The meeting will also build the capacity of participants in spectrum management, including students of UWI's Mona Campus, through informative and interactive presentations and workshop sessions.
Spectrum Management Task Force (SMTF) Meeting Objectives: 6th – 8th February 2023
The main objectives of this meeting, which is open to representatives of the Caribbean Spectrum Management Task Force, Steering Committee and other resource personnel are:
to formulate and document the SMTF's Action Plan for 2023
to facilitate meetings of the SMTF's topic-focussed working groups to expedite formulation of harmonized proposals for the consideration of the full SMTF
to engage with industry stakeholders to gather useful and relevant information
to work collectively to address relevant matters arising for the attention of the Task Force, and
to consider plans and meetings for 2023 in the run-up to WRC-23.
Limited Remote Participation
This will be primarily an in-person meeting with limited facilities for remote participation.
Registration and Attendance
All information related to attending and conducting the meeting including registration, agenda, documents, hotel logistics etc. may be found on the event web site. Persons are encouraged to visit this site regularly for progressive updates of the provisional agenda and other useful information in the run-up to the meeting.
Target Audience
Members of the Spectrum Management Task Force
Representatives (Policy Makers and Regulators) from CTU member countries
Caribbean telecommunications industry practitioners and stakeholders
Telecommunications industry associations and regional organisations
International telecommunications organisations
CTU Secretariat support staff.
Members of the Spectrum Management Steering Committee are not required to be on site but are welcome to follow proceedings remotely as might be feasible.
AGENDA
(Download)
Day 1: Monday 6th February 2023

Indicative Time (EST)

Agenda Items

Lead / Presenter

9:00 a.m.
Welcome
Mr. Nigel Cassimire
Deputy Secretary-General, CTU
9:02 – 9:05
National Anthem
9:05 – 9:10
Invocation
Pastor Rodcliffe Robertson
9:10 – 9:20
Remarks
Prof. Lloyd George Waller
Executive Director, Global Tourism Resilience, UWI, Mona Campus
9:20 – 9:30
Remarks
Mr. Rodney Taylor
Secretary-General, CTU
9:30 – 9:45
Feature Address
Hon. Dr. Norman Dunn
State Minister, Ministry of Industry, Investment and Commerce, Government of Jamaica
9:45 – 10:00
GROUP PHOTO
10:00 – 10:15
COFFEE BREAK

Satellite Industry presentations / Workshops

10:15 – 10:45
Enabling Ka-Band NGSO Earth Stations in Motion
Mr. Mario Neri
Director, Spectrum Strategy and Innovation – Telesat, and Chair of Agenda Item 1.16
10:45 – 11:15
Additional Spectrum for Earth Station in Motion in the Ku band
 Mr. Adrián Herbera
Senior Principal Regulatory Engineer — Intelsat
11:15 – 11:45
Licensing Considerations and Recommendations for Earth Stations in Motion
Ms. Catherine Hinckley
Regional Director, Market Access, Americas – Telesat
Ms. Michelle Caldeira
Senior Legal and Regulatory Counsel – SES
11:45 – 12:15
WRC-23 Agenda Item 1.2: (3.6-3.8 GHz) The Need for a Balanced Approach
Mr. Adrián Herbera
Senior Principal Regulatory Engineer — Intelsat
12:15 – 12:30
Questions and Answers
12:30 – 2:00
LUNCH

Industry presentations / Workshops

2:00 –  2:30
WRC-23 Agenda Item 1.2:
Updates re IMT Systems
Dr. Veena Rawat
President & CEO, Expert Strategies International, LLC
2:30 – 3:00
Importance of Unlicensed Access to the 6 GHz Band in Caribbean Countries
Mr. Sebastian Kaplan
Head of Connectivity & Access Policy, Spanish-speaking LATAM, Meta
3:00 –  3:15
Questions and Answers
3:15 – 3:30
COFFEE BREAK
3:30 – 4:45
Status review of the 2022 Action Plan
STMF Chair
4:45 – 5:00
Wrap up and end of Day 1
Day 2: Tuesday 7th February 2023

Indicative Time (EST)

Agenda Items

Lead / Presenter

9:00 – 9:05
Day 1 Review and Day 2 Overview
SMTF Chair
9:05 – 9:45
Thematic areas for the 2023 Action Plan
(Discussion and identification of main items to be addressed in 2023)
SMTF Chair

Industry presentations / Workshops

9:45 – 10:30
Network Infrastructure in the 5G Era and Beyond
Mr. Osamu Kamimura
Vice President
Head of Spectrum Policy, Softbank
10:30 – 10:45
COFFEE BREAK
10:45 – 12:15
Digital Broadcasting Switchover

Jamaican Switchover Experience and Lessons Learned

 

Mr. Skip Pizzi
Consultant, Skip Pizzi Media Consultant LLC
 

Mr. Gary Allen
Chief Executive Officer
RJR GLEANER Communications Group

12:15 – 12:30
Question and Answers
 
12:30 – 2:00
LUNCH
2:00 – 2:30
Status of CITEL Inter-American Proposals re WRC-23
Mr. Carmelo Rivera
Advantage Consulting and Engineering Services
2:30 – 3:00
Discussion of WRC-23 Caribbean priorities and identification of SMTF Coordinators & Vice coordinators for Agenda Items
SMTF Chair / CTU
3:00 – 3:15
COFFEE BREAK

BREAKOUTS:  SMTF Working Group workshops

3:15 – 4:15
Harmonisation of Priority Bands
Working Group Chair
3:15 – 4:15
Emergency Communications
Working Group Chair
3:15 – 4:15
Spectrum Pricing
Working Group Chair
4:15 – 4:30
Wrap up and close of Day 2
6:45 – 10:00
Official Dinner
Day 3: Wednesday 8th February 2023

Indicative Time (EST)
Agenda Items
Lead / Presenter
9:00 – 9:05
Day 2 Review and Day 3 Overview
SMTF Chair
9:05 – 10:30
Formulation of the 2023 Action Plan (including inputs from Working Groups)

Determine action items and time frames
Draft 2023 Action Plan document

SMTF Chair / CTU
10:30 – 10:45
COFFEE BREAK
10:45 – 12:30
Formulation of the 2023 Action Plan (including inputs from Working Groups)

Determine action items and time frames
Draft 2023 Action Plan document

SMTF Chair / CTU
12:30 – 2:00
LUNCH
2:00 – 3:30
Formulation of the 2023 Action Plan (including inputs from Working Groups)

Determine action items and time frames
Draft 2023 Action Plan document

 SMTF Chair / CTU
3:30 – 4:00
2023 Meetings & Collaboration Outlook
SMTF Chair / CTU
4:00 – 4:15
Any Other Business/ Wrap up
SMTF Chair
END OF SMTF MEETING
Gold

Bronze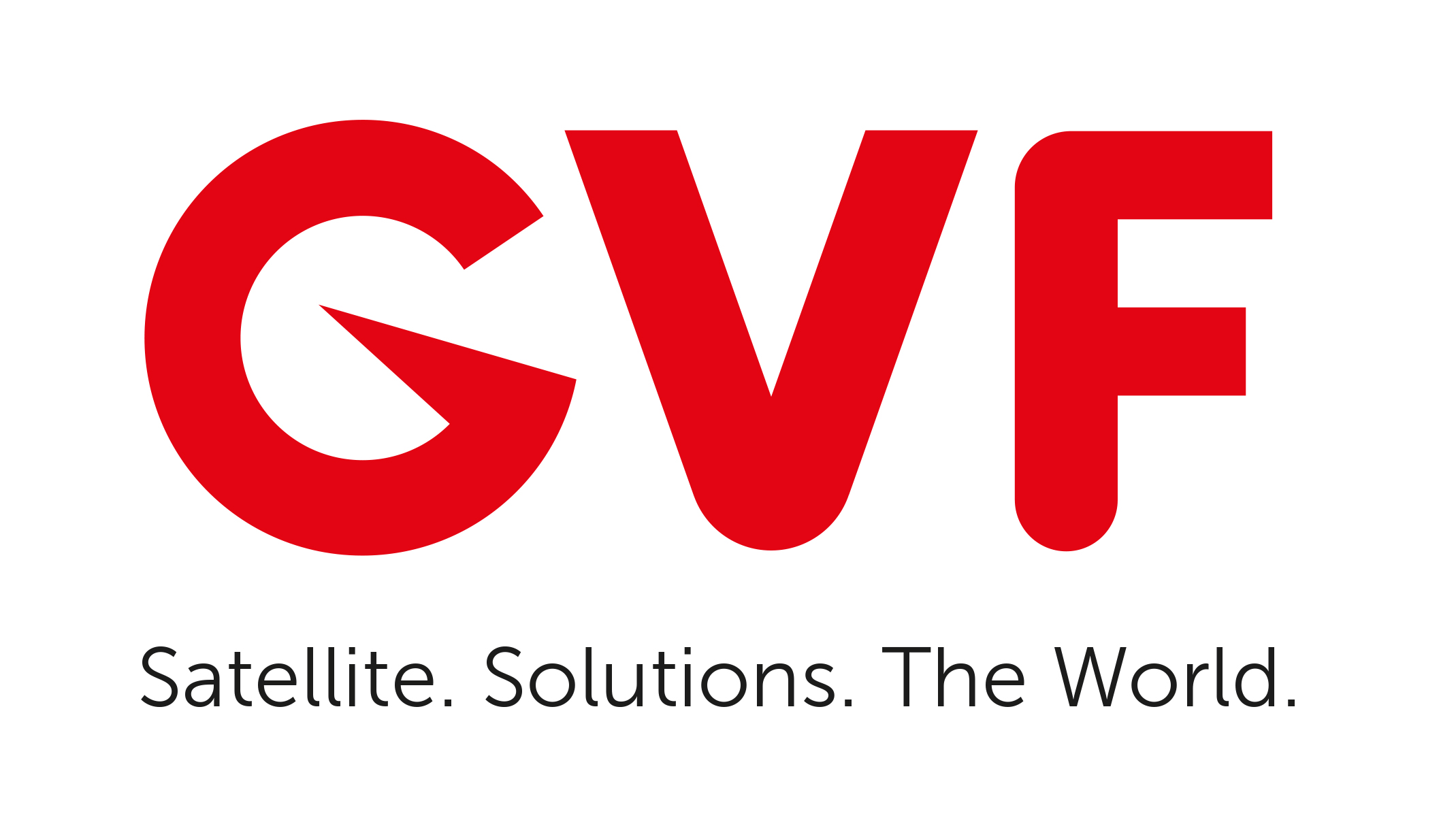 Other