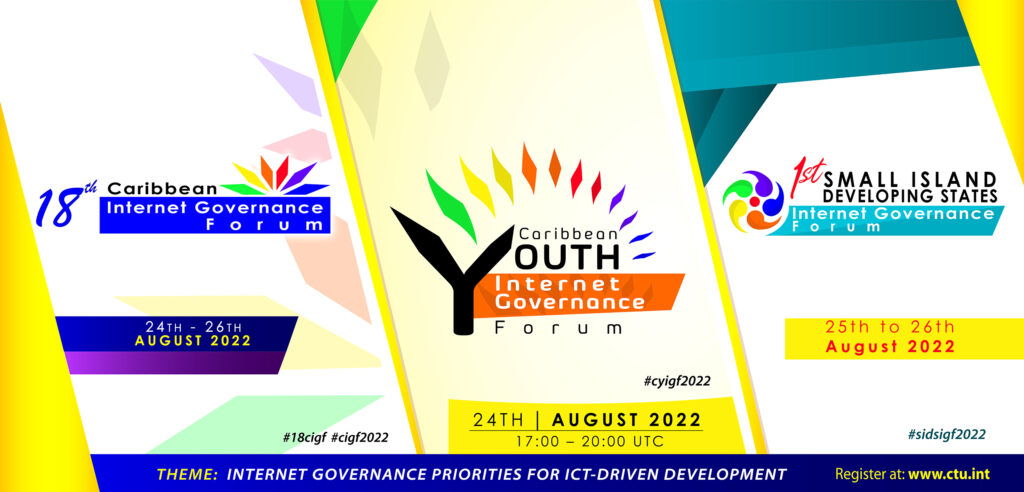 Port-of-Spain, Trinidad and Tobago (21st July 2022) The UN Internet Governance Forum (IGF) has been held since 2006, as an outcome of the UN World Summit on the Information Society (WSIS). One of the most important outcomes of the global IGF is the Regional IGF initiatives, which includes the Caribbean IGF, the first-ever IGF and the first-ever regional IGF.
The Caribbean Internet Governance Forum (CIGF) is a regional, multi-stakeholder, annual forum initiated by the Caribbean Telecommunications Union (CTU) and the Caribbean Community (CARICOM) Secretariat in 2005 to coordinate a regional approach to internet governance (IG), which initially focused on the proceedings of the UN WSIS.
Two new significant IGF initiatives, the inaugural Small Island Developing States IGF (SIDS IGF) and the first Caribbean Youth IGF (CYIGF) are being held with the 18th CTU CIGF in a collaborative IGF event from 24th to 26th August 2022, under the theme, Internet Governance Priorities for ICT-Driven Development.
The importance of hosting a SIDS IGF had been discussed as a goal of the Dynamic Coalition on SIDS (DC-SIDS) for a number of years. In order to make this important IGF a reality, in 2021 Mr. Rodney Taylor, CTU Secretary-General, offered the support of the CTU Secretariat to jointly host the inaugural SIDS IGF with the 18th CTU CIGF.
The 18th CIGF will address the various work streams of internet governance that can be used to seize the COVID-19-related opportunity for accelerated digital transformation. It will also actively foster input on issues relevant to young persons and continue work to update the regionally harmonised policy framework for internet governance. Hence, it was agreed that the inaugural CYIGF would also be hosted with the CTU CIGF.
The SIDS IGF will establish a platform and ongoing process where SIDS can become involved, collaborate, cooperate, share experiences and have their voices heard regarding issues arising from and impacts on their countries by IG, Internet Policy and the Digital Economy without necessarily having to 'join' an entity to do so.
The CYIGF is a regional, multistakeholder event designed by youth, for youth. It draws on inspiration from the International Telecommunication Union's (ITU's) Generation Connect Global Youth Summit 2022. The CYIGF will engage and empower youth to join in the regional discussions on internet governance and give youth a chance to voice their ideas and inspire them to become future changemakers in the internet governance sphere.
SG Taylor added, "This historic first Caribbean Youth Internet Governance Forum lays the foundation for many of our future Caribbean leaders to become change agents, and to build on and further develop the regional Internet landscape."
Registration is open to all and free. However, representatives of major stakeholders such as government policy makers, academia, civil society, Internet users, Internet service providers and telecommunications operators, ICT regulators, and international organisations are particularly encouraged to attend.
For more information and registration, please visit link.