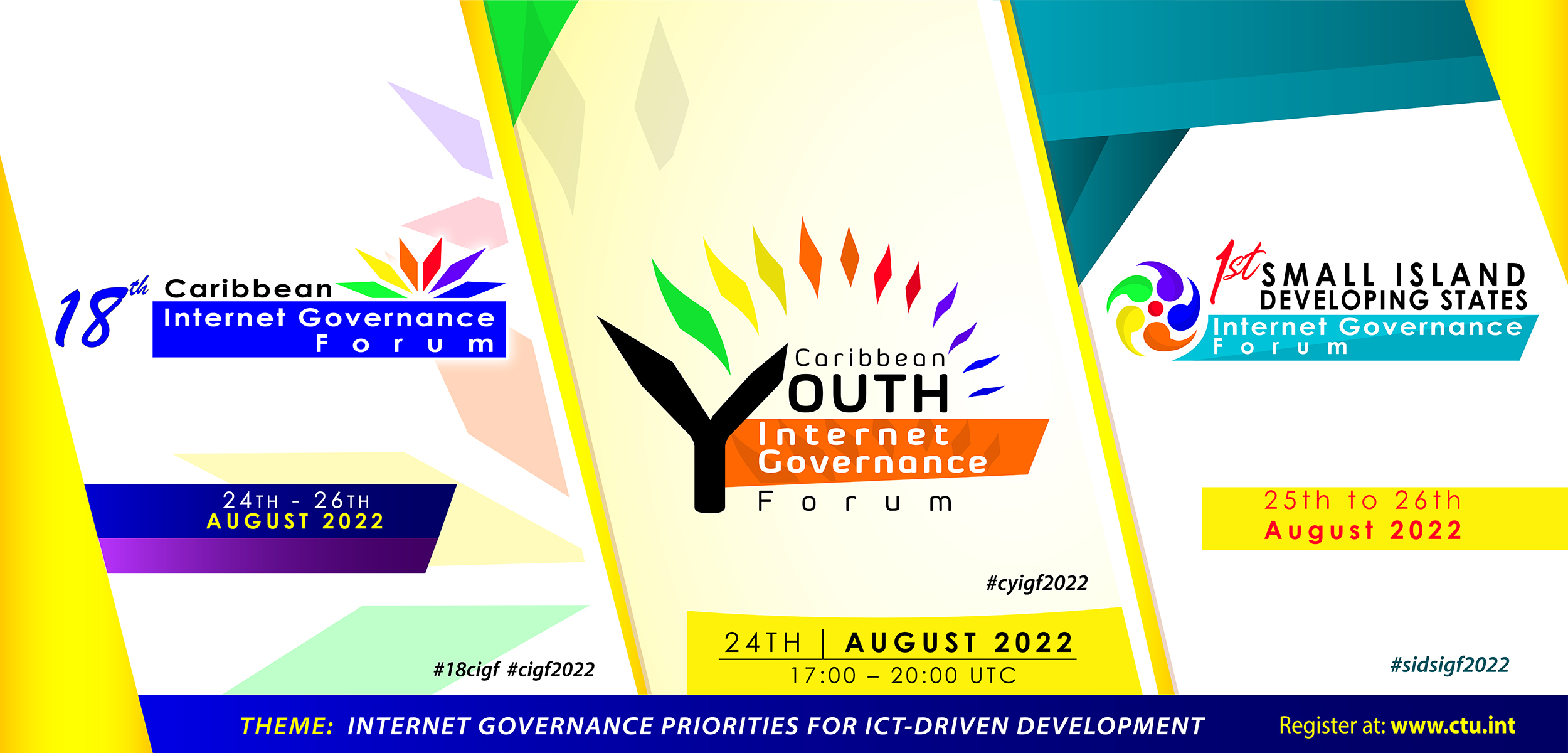 18th Caribbean Internet Governance Forum and Caribbean Youth IGF Workshop in collaboration with Small Island Developing States (SIDS) IGF
August 24, 2022 - August 26, 2022
Venue: Virtual Event
Registration opening soon.
BACKGROUND
The Caribbean Internet Governance Forum (CIGF) is a regional, multi-stakeholder forum initiated by the Caribbean Telecommunications Union (CTU) and the Caribbean Community (CARICOM) Secretariat in 2005 to coordinate a regional approach to Internet Governance (IG), initially focussed on the proceedings of the United Nations' World Summit on the Information Society (WSIS). The forum has since met annually and has delivered significant and pioneering benefits to the region including formulation of a Caribbean Internet Governance Policy Framework; the proliferation of Internet exchange points (IXPs); capacity building in IG Principles and best practices; and growth in Caribbean influence in international IG fora. The CIGF is the longest running Internet Governance Forum in the world.
This year, the 18th CIGF will feature a Caribbean Youth IGF (CYIGF) and the CIGF will also be held jointly with the inaugural Internet Governance Forum for Small Island Developing States (SIDS IGF). Having been discussed as a goal of the DC-SIDS for quite a few years, the SIDS IGF was catalysed by an intervention and offer of support by the CTU SG in 2021. Support for the idea grew given the realisation that SIDS worldwide share similar development challenges and there existed no collective IG forum that addressed SIDS-specific issues. The CIGF will provide functional input and logistical support to the inaugural SIDS IGF to facilitate its successful launch and ultimate sustainability.
CIGF OBJECTIVES
The 18th CIGF will address various work streams of Internet governance necessary to seize the waning, COVID-19-related opportunity for accelerated digital transformation. It will also actively foster input on issues relevant to young persons and continue work to update the regionally harmonised policy framework for Internet governance
Consider Internet governance policies and initiatives for priority attention to facilitate ICT-driven social and economic development
Foster inputs from young persons on IG issues of relevance to the Caribbean
Review regional vision, priorities and approaches for sustainably building and/or strengthening consensus and action on IG issues in the Caribbean
Build national capacity and systems in IG to enable, support, strengthen and sustain effective Caribbean participation and representation at regional and global Internet Governance fora
SIDS IGF OBJECTIVES
Establish a platform and ongoing process where SIDS can become involved, can collaborate, cooperate, share experiences and have their voices heard re: issues arising from and impacts on their countries by IG, Internet Policy and the Digital Economy without necessarily having to "join" an entity (e.g. the DC-SIDS)
Create a globally visible, recognized and reputable platform for engagement, discussion, cooperation, and collaboration and consensus-building (and even possible decision making) for SIDS Internet Governance, Internet Policy and Digital Economy issues.
Highlight and seek solutions for the critical issues facing SIDS from the Caribbean, Pacific and AIMS in the Digital Economy
Consider and identify appropriate initial governance, procedural and operational mechanisms for effectively addressing and achieving the desired objectives.
CYIGF OBJECTIVES
The Caribbean Youth Internet Governance Forum (CYIGF) is a regional, multi-stakeholder virtual event, under the Caribbean Telecommunications Union's (CTU's) Caribbean Internet Governance Forum, designed by youth, for youth. It draws on inspiration from the International Telecommunication Union's (ITU's) Generation Connect Global Youth Summit 2022, a three-day hybrid event, for which many of the CYIGF planning committee members attended. The aim of this first ever virtual CYIGF is to:
Engage and empower youth to join in the regional discussions on internet governance.
Work together to develop and harmonize regional policies.
Give youth a chance to voice their ideas and inspire them to become future changemakers in the internet governance sphere.
Feature multiple presentations, discussions and interactive sessions on topics such as the Metaverse and Caribbean internet resilience.
TARGET AUDIENCE
All the following stakeholder groups of the Caribbean, Pacific and AIMS (Atlantic, Indian Ocean, Mediterranean and South China Sea) regions:
Academia
Civil society
Government policy makers and IT Managers
Internet users
Internet service providers and Telecommunications operators
International organisations
ICT Regulators
The objective of this survey is to collect data from stakeholders which clearly establishes the challenges and barriers to SIDS participation in ICANN to form an empirical foundation for planning future actions aimed at increasing consistent and substantive participation of SIDS in ICANN.
REGISTER
WEDNESDAY 24TH AUGUST 2022

(MORNING SESSION)

CARIBBEAN INTERNET GOVERNANCE FORUM (CIGF)

TIME

A.S.T

TIME

U.T.C

TOPIC
SPEAKER
9:00 – 9:05
13:00 – 13:05
Introductory Remarks and Invocation
DJ Ana (Ana-Leesa Ramnarine), Host
9:05 – 9:10
13:05 – 13:10
Welcome Remarks
Rodney Taylor, Secretary-General, CTU
9:10 – 9:35
13:10 – 13:35
Greetings from Partner Organisations:

Chengetai Masango, Head of Office, UN IGF Secretariat
Albert Daniels, Sr. Manager, Stakeholder Engagement, ICANN
Kevon Swift, Head of Public Safety Affairs, LACNIC
Bevil Wooding, Director of Caribbean Affairs, ARIN
Shernon Osepa, Director of Caribbean Affairs & Development, ISOC

9:35 – 9:55
13:35 – 13:55
CIGF @ 18

Reviewing CIGF Vision and Mission

Nigel Cassimire

Deputy Secretary-General, CTU

9:55 – 10:45
13:55 – 14:45
National, Regional & Global IG Contexts:

Reports from National IGFs
LACIGF
UN IGF and support for National & Regional Initiatives (NRIs)

Rabindra Jaggernauth – Trinidad and Tobago
Willis Williams – St. Vincent and the Grenadines
Obed Sindy – Haiti (TBC)
Rocio De La Fuente – LACTLD, and
Anja Gengo – UN IGF Secretariat

10:45 – 11:00
14:45 – 15:00
LACNIC/APNIC Report:

Technical Success Factors of the Internet

Oscar Robles-Garay

Chief Executive Officer, LACNIC

11:00 – 11:15
15:00 – 15:15
COFFEE BREAK
11:15 – 12:00
15:15 – 16:00
Caribbean Internet Governance:

Caribbean IG Policy Framework
Policy Priorities for Current and Future Attention

Nigel Cassimire

Deputy Secretary-General, CTU

12:00 – 1:00
16:00 – 17:00
LUNCH
WEDNESDAY 24TH AUGUST 2022

(AFTERNOON SESSION)

CARIBBEAN YOUTH INTERNET GOVERNANCE FORUM (CYIGF)

TIME

A.S.T

TIME

U.T.C

TOPIC
SPEAKER
1:00 – 1:04

17:00 – 17:04
CYIGF Opening Remarks

Mr. Rodney Taylor – Secretary-General, CTU
Melissa Muñoz Suro – Head of the Digital Change Culture Division of the Digital Innovation Laboratory of the Government Office of Information and Communication Technologies (OGTIC), Dominican Republic

1:04 – 1:05
17:04 – 17:05
Video of Youth Expectations at CYIGF
N/A
1:05 – 1:15

17:05 – 17:15
Intro to Internet Governance (for youth)
Co-Presenters:

Shergaun Roserie – Mechanical Engineering Intern at Microsoft and Founder of Orbtronics, Saint Lucia
Keeghan Patrick III – MIT Graduate Student and Co-Founder of Orbtronics, Saint Lucia
Antonio Deterville, Assistant Registrar – Records at Sir Arthur Lewis Community College, Saint Lucia
Naomi Padmore – Intern, University of the West Indies' Caribbean ICT Research Programme (UWI CIRP), Trinidad and Tobago

1:15 – 1:55
17:15 – 18:00
Measuring Internet Resilience in the Caribbean (MIRC)
Moderator: Melissa Muñoz Suro

Co-Presenters:

Daniel John – Intern (Telecommunications) at UWI CIRP, Trinidad and Tobago
Jeremy Baksh – Intern (Telecommunications) at UWI CIRP, Trinidad and Tobago
Sajjid Dan – Intern (Telecommunications) at UWI CIRP, Trinidad and Tobago
Tyler Seudath – Associate Professional at UWI CIRP, Trinidad and Tobago

1:55 – 2:00
5 minutes
Q&A
2:00 – 2:45
18:00 – 18:50
Into the Metaverse: Caribbean Youth-Centred Focus

Lester Garcia – Head of Public Policy – Connectivity and Access – LATAM and Caribbean, Meta
Xavier Jhon-Clair – Marketing and Design Consultant, and an Online Tutor through the Ministry of Barbados – Division of Youth Sports and Community Empowerment, Barbados

2:45 – 2:50
5 minutes
Q&A
2:50 – 3:00
18:50 – 19:00
COFFEE BREAK
3:00 – 3:15
19:00 – 19:15
Careers in Internet Governance:

Road map for careers in IG
Day in the life of IG Professional

Mr. Albert Daniels – Senior Manager, Stakeholder Engagement, ICANN

3:15 – 4:00
19:15 – 20:00
Fireside Chat with Youth: Career Paths and Journeys in ICT
Moderator: Asha Collie, SQL Developer at Compings Consultants, The Bahamas

Michele Marius – ICT Pulse
Christelle Vaval, Haiti
Gary Kalloo – CTU, Trinidad and Tobago

4:00 – 4:10
20:00 – 20:10
INTERACTIVE QUESTIONS AND ANSWERS
4:10 – 4:15
20:10 – 20:15
Closing remarks and Next Steps
Nigel Cassimire – Deputy Secretary-General, CTU
THURSDAY 25TH AUGUST 2022

SMALL ISLAND DEVELOPING STATES (SIDS) INTERNET GOVERNANCE FORUM

TIME

A.S.T

TIME

U.T.C

TOPIC
SPEAKER
9:00 – 9:05
13:00 – 13:05
Review of CIGF Day 1
Ms. Nia Nanan – Senior Research Analyst – CTU
9:05 – 9:20
13:05 – 13:20
Opening Remarks
Hon. Minister Davidson Ishmael – Minister of Innovation, Science and Technology, Barbados
9:20 – 10:50
13:20 – 14:50
Panel Discussion:  Cybersecurity / Data Protection / Cybercrime / Digital Justice
Moderator  :   Cherie Lagakali, Fiji

Ms. Georgina Kiele – Executive Manager Cybersecurity and Government Digital Standards at Papua New Guinea Department of Information and Communications Technology, Papua New Guinea
Mr. Domingo Kabunare – Information Communication Technology Division, Ministry of Information, Communication, Transport and Tourism Development, Kiribati
Mr. Peter Rigamoto – Head of Legal, Digicel Pacific, Fiji

INTERACTIVE QUESTION AND ANSWER SEGMENT
10:50 – 11:00   
14:50 – 15:00
COFFEE BREAK
11:00 – 12:30
15:00 – 16:30
Panel Discussion:

Regional Digital Strategies and Digital Economy

Moderator – Bevil Wooding – ARIN

Mr. Raj Mohabeer – Officer in Charge at the General Secretariat of the Indian Ocean Commission
Mr. Andrea Giacomelli – Geneva – Pacific eCommerce Initiative update
Mr. Rodney Taylor – Secretary General, CTU

12:30 – 2:30
16:30 – 18:30
LUNCH
2:30 – 4:00

18:30 – 20:00
SIDS IGF Opening Ceremony

Hon. Simon Kofe – Minister for Justice, Communications and Foreign Affairs, Tuvalu
Hon. Minister Deepak Balgobin – Minister of Information Technology, Communication and Innovation, Mauritius
Mr. Amandeep Singh Gill – United Nations Envoy on Technology, United States

4:00 – 5:30

20:00 – 21:30
Panel Discussion   – The Internet & the Environment etc.

Moderator : Selu Kauvaka 

Amandeep Singh Gill – United Nations Envoy on Technology, United States
Mr. Riad Meddeb – Director, Global Centre on Technology, Innovation and Sustainable Development & Senior Principal Advisor for Small Island Developing States, UNDP, United States
Ms. Sylvia Cadena, Head of Programs and Partnerships, APNIC Foundation, Australia
               FRIDAY 26TH AUGUST 2022

SMALL ISLAND DEVELOPING STATES (SIDS) INTERNET GOVERNANCE FORUM (IGF)

TIME

A.S.T

TIME

U.T.C

TOPIC
SPEAKER
9:00 – 9:15
13:00 – 13:15
Review of SIDS IGF Day 1
Ms. Maureen Hilyard

ALAC Chair, ICANN, Cook Islands

9:15 – 10:45
13:15 – 14:45

Roundtable Discussion :

SIDS IGF Governance/ Way Forward

–     Outcomes of the Inaugural SIDS IGF

–     The way forward

Moderator: Ms. Maureen Hilyard

Mr. Nigel Cassimire – Deputy Secretary-General, CTU
Mr. Pablo Hinojosa – Director, Strategic Engagement, APNIC, Australia
Mr. Kevon Swift – Head of Strategic Relations and Integration, LACNIC, Trinidad and Tobago
Mr. Bevil Wooding – Director, Caribbean Affairs, ARIN, Trinidad and Tobago
Mr. Albert Daniels – Senior Manager, Stakeholder Engagement, ICANN, Saint Lucia

INTERACTIVE QUESTION AND ANSWER SEGMENT
10:45 – 11:00   
14:45 – 15:00
COFFEE BREAK
11:00 – 12:30
15:00 – 16:30
Panel Discussion:

Telecoms Regulatory Issues : Is Telecom Regulations in SIDS fit for purpose to support internet development?

Moderator : Ms. Dalsie Tolang

Mr. David Cox – Chairman CANTO, Trinidad and Tobago
Mr. Nigel Cassimire – Deputy Secretary-General, CTU
Mr. John Jack – Deputy CIO, Government of Vanuatu, Vanuatu

12:30 – 2:30
16:30 – 18:30
LUNCH
2:30 – 4:00

18:30 – 20:00
Introductory Keynotes on Access, Connectivity and Inclusion

Mr. Riad Meddeb – Director  – UNDP Global Centre on Technology, Innovation and Sustainable Development & Senior Principal Advisor for Small Island Developing States, (UNDP), United States of America
Mr. Stephen Bureaux, The Bahamas
Mr. Vint Cerf, Chief Internet Evangelist, Google, United States of America
Dr Jovan Kurbalija – Executive Director of DiploFoundation, Geneva

4:00 – 5:30

20:00 – 21:30
Panel Discussion:

High Interest SIDS-IGF Panel – Access, Connectivity & Inclusion

Moderator : Ms. Letitia Masaea

Georgina Naigulevu, Project Manager, Digital and Health Information Fiji
Ms. Sarai Tevita Faleupolu – ICT Director for the National University of Samoa
Winifred Kula Amini, Papua New Guinea
Tereza Horejsova, Geneva

5:30 – 6:00
21:30 – 22:00
Wrap Up and Closing

Mr. Nigel Cassimire, CTU
Ms. Cherie Lagakali, Fiji