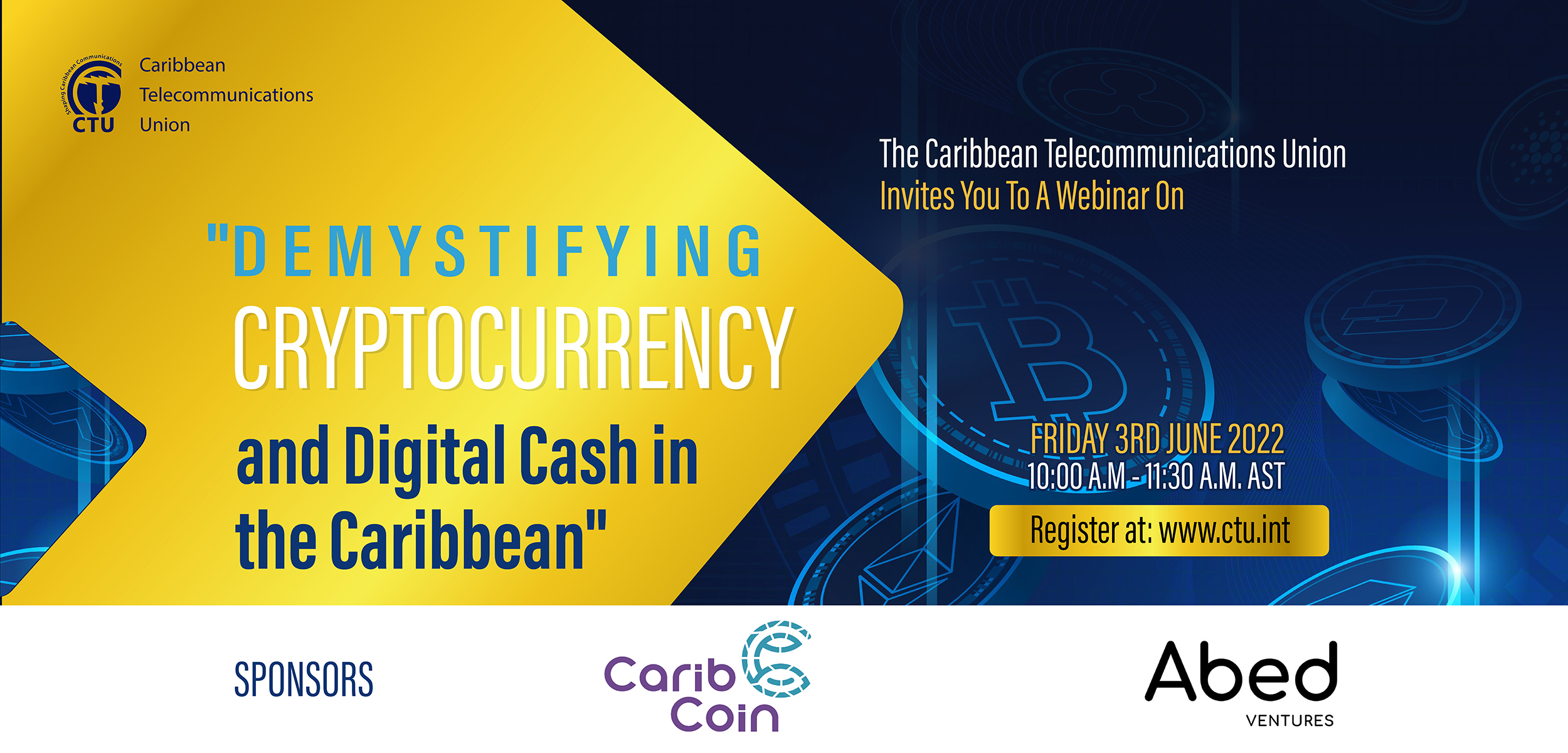 Demystifying Cryptocurrency and Digital Cash in the Caribbean
June 3, 2022
Venue:
Demystifying digital money and cryptocurrencies
Introduction
Bitcoin becomes legal tender in El Salvador. Bahamas launches the Sand Dollar as the world's first Central Bank Digital Currency (CBDC). The market cap of stable coins surpasses 150 billion US Dollars. A multitude of new payment methods is flooding the market and plunges users into confusion, since they are very different in terms of usage, technology, monetary policy and governance.
What exactly are these differences? What distinguishes these new "currencies" from existing e-money? What are the opportunities and risks of their introduction? Which existing obstacles in the financial system do they tackle? Will they enhance financial inclusion of SMEs and citizens in the Caribbean?  Can they help to foster the Caribbean Single Market and Economy? Will they enhance financial inclusion of SMEs and citizens in the Caribbean? Why care?  
It is estimated that by 2030 the global fintech market will be worth 700 billion US dollars.  For the Caribbean with its multitude of innovative companies in this sector, this represents tremendous opportunities for wealth creation. Furthermore, the whole region can benefit economically if it succeeds in lowering existing non-tariff barriers in regional trade caused by the financial system as it is.
The Caribbean Telecommunications Union with the support of CaribCoin and Abed Ventures will host a webinar to demystify digital money and cryptocurrencies and explore the opportunities and challenges for the region. The webinar will be open to the public but will specifically focus on key stakeholders such as central banks, economic policy makers, financial institutions, technologists, entrepreneurs and academia.
The key areas of focus include, but are not limited to:
Theme 1:  AWARENESSS – This theme will explain the new world of "currencies" from a conceptual, technical and economic perspective.  Key terms such as Central Bank Digital Currencies, crypto-currencies, e-money and others will be explored together with the deficits of the existing financial system with the goal to reach a common understanding.
Theme 2: OPPORTUNITIES, RISKS AND CHALLENGES – This theme will examine the economic and social opportunities for different stakeholders including governments and the private sector.
Expected Outcomes
The webinar will enable discussion that will assist in the formulation of policy, legal and regulatory issues for consideration.  This will allow the relevant stakeholders to advance regional initiatives and make the necessary policy interventions in the interest of ensuring the Caribbean is poised to provide global leadership in this emerging technological space.
Key Partners
Caribbean Telecommunications Union (CTU)
CaribCoin
Abed Solutions
Venue and Date
Friday 3rd June, 2022 – 10.00 – 11.30 AM AST
Target Audience
Policymakers in government (economy, finance, technology, diplomacy)
Technical Community
ICT and Financial Services Regulators
Central Banks and Financial Sector
Business Community
Civil Society/Public
REGISTER
DEMYSTIFYING DIGITAL MONEY AND CRYPTOCURRENCIES PROVISIONAL AGENDA
FRIDAY 3RD JUNE 2022
Theme 1:  Overview of crypto and digital currencies  

Explaining the new world of "currencies" from a conceptual, technical and economic perspective.  Key terms, such as Central Bank Digital Currencies, crypto-currencies, e-money and others, will be explored together with the limitations of the existing financial system, with the goal of reaching a common understanding

Time
Item
Proposed Speaker
10:00 – 10:05 am
Welcome
Mr. Rodney Taylor
Secretary-General, CTU
10:05 – 10:20 am
Presentation
Dr. Jan Schröder 
CaribCoin
10:20 – 10:35 a.m
Interactive Q&A
Moderator:  Amit Uttamchandani
Theme 2: Economic Opportunities, Risks and Challenges

Examining the economic and social opportunities for different stakeholders including governments and the private sector

10:35  – 11:15 a.m
Panel Discussion:
Moderator:  Amit Uttamchandani
Technology and Business Professional, Barbados
Presentation
Hon. Ryan R. Straughn, M.P.
Minister in the Ministry of Finance, Government of Barbados
Presentation
Ms. Sharmyn Powell
Chair, FinTech Group,
Eastern Caribbean Central Bank
St. Kitts and Nevis
Presentation
Ms. Marla Dukharan
Caribbean Economist, Barbados
Presentation
Ms. Vashti Maharaj
Adviser, Digital Trade Policy at Trade Oceans
and Natural Resources Directorate,
Commonwealth Secretariat
United Kingdom
11:15 – 11:30 a.m.
Interactive open Q&A and End of Webinar
Moderator:  Amit Uttamchandani
Technology and Business Professional, Barbados
VIEW SESSION
Recording - Demystifying Cryptocurrency and Digital Cash in the Caribbean