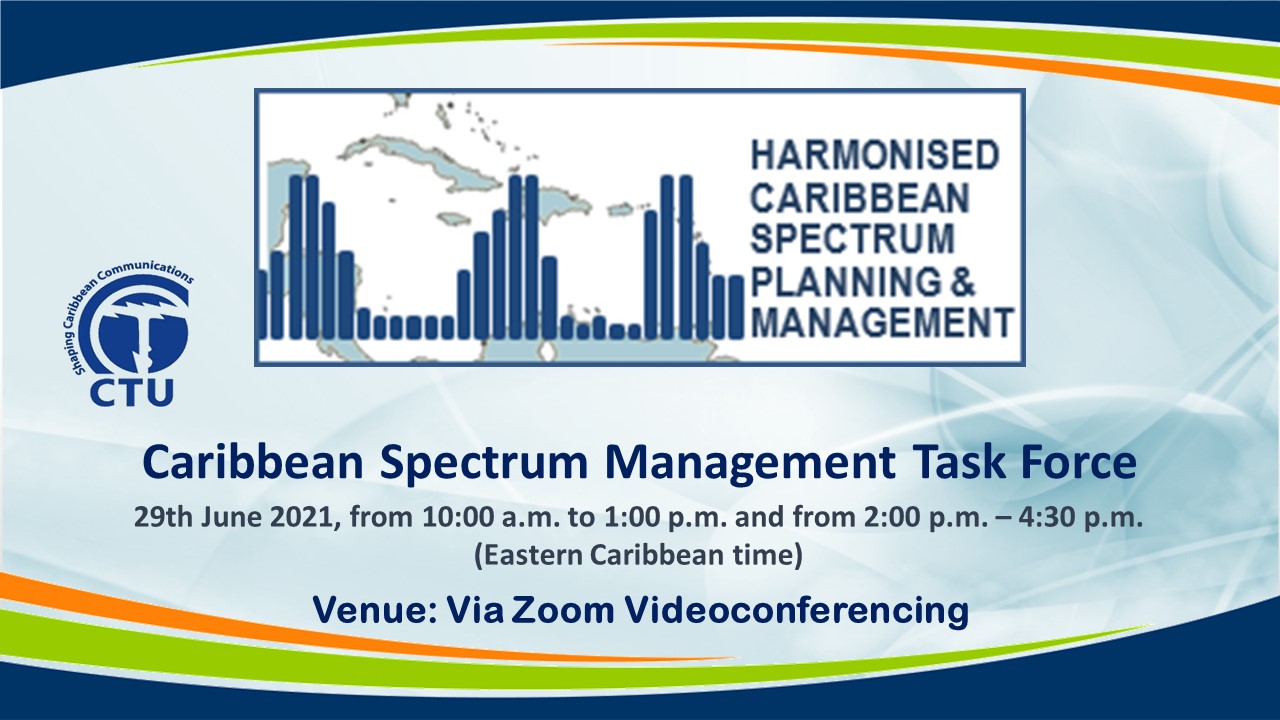 Caribbean Spectrum Management Task Force
June 29, 2021
Venue: Virtually Via Zoom Videoconferencing
The CTU invites relevant stakeholders to a scheduled meeting of the Caribbean Spectrum Management Task Force via Zoom videoconferencing. The meeting is carded to span two sessions on the 29th June 2021, from 10:00 a.m. to 1:00 p.m. and from 2:00 p.m. – 4:30 p.m. (Eastern Caribbean time).
Background
The Caribbean Telecommunications Union (CTU) continues to be guided by the Caribbean Spectrum Management Strategic Plan, which seeks to achieve the following goals across the region:
Harmonization of national frequency allocations and band plans, including common frequencies and international protocols for disaster management and emergency telecommunications
Minimization of cross border interference
Establishment of common approaches to digital broadcasting switchover, white spaces regulation and spectrum pricing.
Implementation of the strategic plan is being undertaken in phases and coordinated regionally through the work of the Spectrum Management Steering Committee (SMSC) and the multi-stakeholder Spectrum Management Task Force (SMTF).
During its last meeting which was convened virtually via Zoom Videoconferencing on the 22nd and 24th of February 2021, the SMTF formulated its Action Plan for 2021 including some items brought forward from 2020 and new ones related to digital broadcasting and maritime communications.
Spectrum Management Task Force (SMTF) Meeting Objectives: 29th June 2021
The main purpose of this June meeting, which is open to representatives of the Caribbean Spectrum Management Task Force, Steering Committee and support resources, would be to:
Review progress and re-assess approaches for achievement of items in the 2021 Action Plan
Provide an opportunity for working groups of the SMTF to meet and work on substantive matters
Provide an opportunity for the Task Force to engage with industry stakeholder groups with interests for spectrum resources
Plan future work of the Task Force.
Meeting Logistics
Information related to meeting logistics, registration, documents etc. would be posted on the event web page of the CTU web site at https://ctu.int/event/caribbean-spectrum-management-task-force-june-2021/. Successful registrants will receive a subsequent e-mail with the meeting connection link.
For this upcoming meeting, Zoom's "waiting room" feature will be established so persons joining would have to be admitted to the meeting by the host. Therefore in order to assure a prompt start to each session, we kindly ask that you aim to join the meeting a few minutes early and be sure to identify yourself clearly when signing in so that you may be easily recognised and quickly admitted. In addition, we ask and encourage attendees to show your video. It's a videoconference after all.
Target Audience
Members of the Spectrum Management Task Force and Steering Committee
Representatives (Policy Makers and Regulators) from CTU member countries
Caribbean telecommunications industry practitioners and stakeholders
Telecommunications industry associations and regional organisations
International telecommunications organisations;
CTU Secretariat support staff.
REGISTER
PROVISIONAL AGENDA
SESSION 1: 29th June 2021
Indicative Time (AST)
Agenda Items
Lead
10:00 – 10:15 a.m.
Invocation and Welcome Remarks
Rodney Taylor

CTU Secretary General

Chairman SMTF

10:15 – 11:00 a.m.

Status review of the 2021 Action Plan

–          Assess action items and time frames

–          Working Group workshop planning

SMTF Chair

11:00 – 12:30 p.m.
BREAKOUTS:  Working Group workshops
Work Group Chairs
12:30 – 1:00 p.m.
Update 2021 Action Plan items & time frames
SMTF Chair
1:00 – 2:00 p.m.
BREAK
SESSION 2: 29th June 2021
Indicative Time (AST)
Agenda Items
Lead
2:00 – 4:00 p.m.
Presentations and engagements with Industry Stakeholders

·         Issues re non-GSO Satellite Constellations

·         Wi-Fi 6E: Delivering Broadband Connectivity

·         Unlicensed Access to 6 GHz Band

·         WRC-23 Agenda Briefing

·         Regional Preparation for WRC-23

·         WRC-23 Issues re Mobile Services

Chairman SMTF

Amy Mehlman, Viasat

Alex Roytblat, Wi-Fi Alliance

Martha Suarez, DSA

Carmelo Rivera, ACES Corp.

Global VSAT Forum

Veena Rawat, GSMA

4:00 – 4:30 p.m.
Any Other Business/ Wrap up
CTU/SMTF Chair
4:30 p.m.
CLOSE
| | |
| --- | --- |
| Amy Mehlman, Viasat | Issues re non-GSO Satellite Constellations |
| Amy Mehlman, Viasat | Issues re non-GSO Satellite Constellations |
| Alex Roytblat, Wi-Fi Alliance | Wi-Fi: connecting everyone and everything, everywhere |
| Alex Roytblat, Wi-Fi Alliance | Wi-Fi: connecting everyone and everything, everywhere |
| Martha Suarez, DSA | 6 GHz BAND - Benefits of Unlicensed Regimes and International Background |
| Martha Suarez, DSA | 6 GHz BAND - Benefits of Unlicensed Regimes and International Background |
| Carmelo Rivera, ACES Corp. | WRC-23 Agenda Item Briefing |
| Carmelo Rivera, ACES Corp. | WRC-23 Agenda Item Briefing |
| Veena Rawat Ph.D., O.C., GSMA | WRC-23 Issues for mobile services |
| Veena Rawat Ph.D., O.C., GSMA | WRC-23 Issues for mobile services |