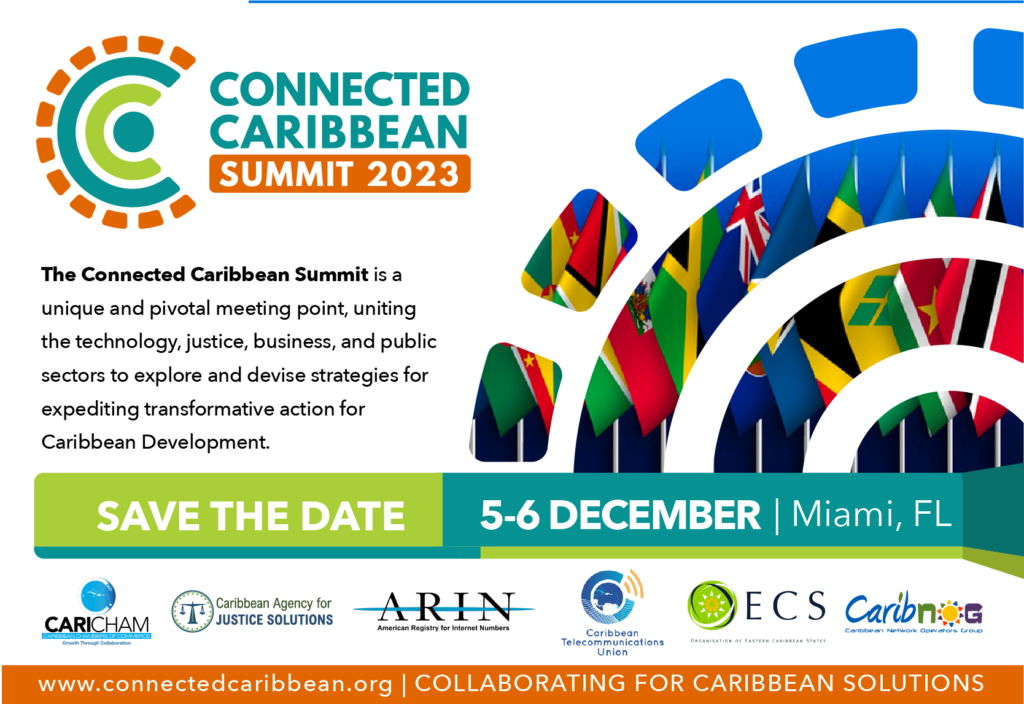 Miami, Florida – 7 November 2023 – In an era of unprecedented and disruptive shifts sweeping across every sector, the Caribbean region stands at a pivotal crossroad. The need for innovative, collaborative and forward-thinking approaches has never been more pressing. It is within this dynamic context that the Connected Caribbean Summit 2023 promises to be as a catalyst for resilience, innovation and transformation, offering a unique platform for the region to address challenges and seize opportunities, together.
The summit, set to take place from 5-7 December 2023, at the Hilton Miami Airport Blue Lagoon, Miami, Florida, USA will be an extraordinary convergence of thought leaders and experts from diverse sectors in the Caribbean region. It's not just a conference, it's a platform for carving out a tangible future for the Caribbean. The action-oriented format of the meeting is specially designed to go beyond theoretical discussions, rather discussion that will facilitate practical solutions. The summit directly supports and advances digitally enabled national and regional development, business resilience and social justice.
Hosted by the Network of Caribbean Chambers of Commerce (CARICHAM), the Caribbean Agency for Justice Solutions and the Caribbean Telecommunications Union (CTU), the Connected Caribbean Summit is a collaborative effort that transcends borders. In partnership with the American Registry for Internet Numbers (ARIN), the Caribbean Network Operators Group (CaribNOG) and the Organization of Eastern Caribbean States (OECS) Commission, the event underscores the urgency of the Caribbean's need to adapt to the rapidly evolving global landscape and navigate a path to economic and societal resilience.
The theme for this year's summit is "Strengthening Caribbean Resilience, Accelerating Caribbean Development." This theme will be addressed by an impressive lineup of speakers, including Mr. Rodney Taylor, Secretary-General of CTU; Ms. Petipa Lewis, President of CARICHAM; Mr. John Curran, President and CEO of ARIN; Ms. Bernadette Lewis, Secretary-General of the Commonwealth Telecommunications Organisation (CTO); and Mr. Bevil Wooding, Executive Director of the Caribbean Agency for Justice Solutions and Director of Caribbean Affairs for ARIN.
The summit is structured to foster dynamic conversations and hands-on engagement, offering attendees the chance to actively contribute to the development of innovative solutions. With a lineup of other expert speakers and facilitators drawn from the Caribbean, North American and the United Kingdom, representing various sectors, participants can expect a diverse range of insights and strategies, ensuring a comprehensive understanding of the challenges and opportunities that lie ahead.
The event encourages collaboration across industries, uniting the technology, justice, business and public sectors to create a holistic approach to Caribbean development. The summit also provides ample networking opportunities, allowing attendees to forge meaningful connections with peers and experts, setting the stage for future collaborations.
The Connected Caribbean Summit 2023 promises to be a pivotal moment in shaping the Caribbean's future. It is an event dedicated to action, collaboration and innovation, paving the way for resilient and prosperous Caribbean nations.
MORE INFO
For more information about the Connected Caribbean Summit 2023, please visit summit.connectedcaribbean.org.
For media inquiries, please contact: Lisa Stone, Event Coordinator, summit@connectedcaribbean.org
The Connected Caribbean Summit is a pivotal gathering uniting the technology, justice, business, and public sectors to explore and devise strategies for expediting transformative action for Caribbean Development. This unique summit shines as a beacon of opportunity for fostering new levels of regional collaboration, uniting Caribbean chambers and businesses with key stakeholders and partners to provide actionable insights for trade facilitation, business resilience and market growth.
For full Summit Agenda visit – connectedcaribbean.org/agenda
---
[TP1]Not sure why this is stated here as it's essentially a repeat of what's said earlier.