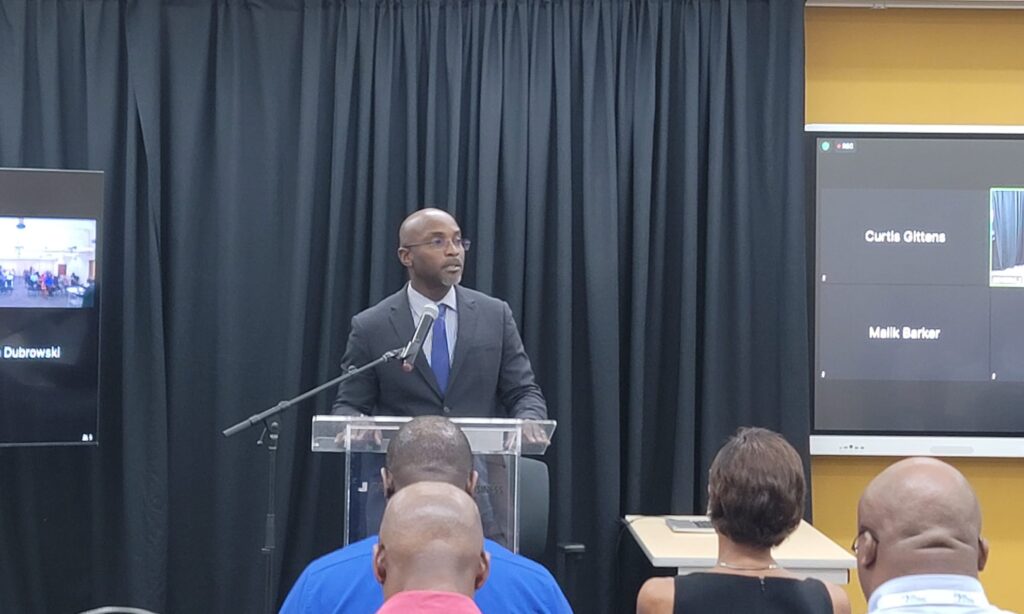 Mr. Wahab Almuhtadi, President Elect, IEEE Consumer Technology Society (CTSoc), Canada
Prof. Nobuo Funabiki, IEEE CTSoc Vice President Conferences
Other Distinguished members of the IEEE Organising Committee
Professor Winston Moore, Deputy Principal, University of the West Indies, Cave Hill Campus
Other distinguished members of the UWI Cave Hill faculty
Dr. Curtis Gittens, Executive Conference Chair, IEEE Gem Conference
Sponsors, Speakers, Specially invited guests
Ladies and Gentlemen
Good morning and welcome to the IEEE GEM 2023 Conference being hosted here for a second year in the gem of the Caribbean Sea, beautiful Barbados. It is my pleasure and honour to welcome you.
I am here in my capacity as Secretary-General of the CTU and also honoured to serve as General Conference Chair. Its been a busy year for us at the CTU and it seems like just yesterday, that we signed an MOU with IEEE, but really its been a year and Im keen on seeing us work more closely together, not just on this conference but on other capacity-building initiatives within the region.
You may be aware that the CTU is a specialised institution of the Caribbean Community (CARICOM) established in 1989 with the objective of policy harmonization in the telecoms space in the Caribbean. Since then, there has been tremendous advancements in information and communication technology and the organisation has had to reinvent itself to stay relevant. We serve our primary stakeholders, the Governments of the region, but we also work closely with the private sector, local and international companies working in the industry, and provide them with a platform to help influence regional policy development.
CTU participates in the IEEE Government Engagement Program on Standards (GEPS) which gives us the opportunity to engage directly with standards development and industry experts and help shape standards and their impact on technology transformation, policy and regulation. I try, as often as I can, to attend the very informative webinars such as the future of cybersecurity, Ultra-Wide Broadband, Artificial Intelligence Systems, Autonomous Vehicles, and a wide range of topics. Given the field that we are in, there are simply not enough hours in any given day.
It is evident to me that IEEE plays a pivotal role in advancing technology and innovation by providing a global platform for collaboration, knowledge exchange, and standardization in the fields of electrical engineering, electronics, and computer science. As a leading professional organization, IEEE fosters the development of cutting-edge technologies, facilitates interdisciplinary research, and sets industry standards, contributing significantly to the progress and coherence of diverse technological domains. The Consumer Technology Society (CTSoc) is a global leader in research, development, and deployment of cutting-edge technologies for consumer products for the advancement and benefit of humanity.
Therefore, this conference provides a wonderful opportunity for the convergence of academia, technology, gaming, entertainment, media, and the arts and will, I am sure, also provide opportunities to network with some of the brightest minds and visionary thinkers in these multifaceted fields.
I look forward to participating over the next few days and hearing the many contributions on topics centred around Accessibility, Diversity & Inclusion, Game Development, Serious Games & Gamification and a wide range of interesting topics. I was absolutely blown away as I read some of the very interesting abstract on the conference web site. I hope you got the chance to as well. Of particular interest to me were papers on Using Augmented Reality to Teach Empathy to Healthcare Providers and Caregivers of Persons Living with Dementia, Caribbean Digital Serious Games for Education, which is a subject of one of the papers as well, Haptic Navigation for Emergency Responders, Assisting the Visually Impaired with Barbadian Banknote Detection, and the list goes on. The CTU very recently hosted its ICT Week right here in Barbados and that included a workshop on ICT for Persons With Disabilities (PWDs) and therefore, I am always keen on hearing about technologies that make life easier for this particular set of stakeholders. Technology is supposed to improve our lives, particularly vulnerable or marginalised groups.
Speaking of technology improving or lives……..in our exploration, we cannot ignore the omnipresent force that artificial intelligence is becoming and how it is impacting gaming, media and entertainment. We see the growing concerns about AI and job loss, even in the creative industries where one might consider creativity to be a uniquely human trait. I am sure that by the time this conference rolls around next year, there will be even more significant developments in the field of AI.
AI has transcended its role as a mere technological tool; it is now a driving force shaping how we create, consume, and interact with content. The use of AI in education is one that I am sure will cause much debate here at the University of the West Indies. Good luck!
As we navigate this dynamic terrain, it is imperative to consider the skills needed for the future. The interdisciplinary nature of our conference underscores the importance of cultivating a diverse skill set — from technical proficiency in AI and data analytics to the creativity required for innovative storytelling. What skills will empower the next generation of professionals in our fields? This question lies at the heart of our discussions.
Beyond the scheduled sessions, I encourage each of you to embrace the spirit of collaboration. Our conference is a platform for networking and forging connections that extend beyond the confines of this venue.
In conclusion, I extend my deepest gratitude to our distinguished speakers, presenters, and attendees for contributing to the intellectual richness of this conference. May our deliberations be enlightening, our discussions spirited, and our collaborations enduring.
I wish you a fruitful and inspiring 3 days of exploration and discovery at IEEE GEM 2023.
Ladies and gentlemen, I thank you.