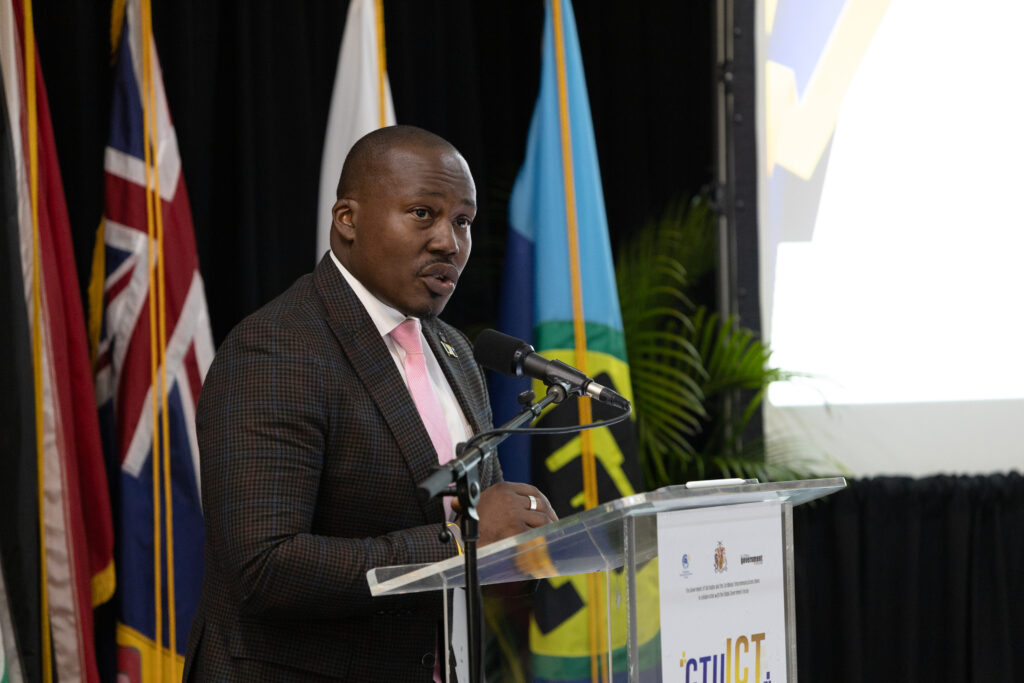 Dr. the Hon. William F. Duguid, Senior Minister in the Prime Minister's Office
Honorable Colleague Ministers of the Cabinet of Barbados
Honorable Colleague Ministers of Anguilla, Antigua & Barbuda,
Grenada, Guyana, Jamaica, St. Lucia and St. Kitts & Nevis
Members of the Diplomatic Corps and Other Diplomatic
Representatives
Mr. Rodney Taylor, Secretary General of the Caribbean
Telecommunications Union and members of the Caribbean Telecommunications Union Secretariat
Mr. Kevin Cunnington, Export Advisor, Global Government Forum, UK
Ms. Donna Cadogan, Head of the Public Service
Ms. Francia Jordan, Permanent Secretary in the Ministry of Industry Innovation Science and Technology
Permanent Secretaries, Directors General, Heads of
Departments and other Senior Government Officials
Specially Invited Guests
Delegates
Members of the Media
Distinguished Ladies and Gentlemen
A pleasant good morning!
Words would not be sufficient to allow me to express how
honored we are, here in Barbados, to be the host of these two very important and timely events: the inaugural Caribbean Digital Summit, organized by the Global Government Forum (GGF) and ICT Week 2023 which is hosted annually by the Caribbean Telecommunications Union (CTU).
As the Minister with responsibility for the Ministry of Industry, Innovation, Science and Technology (MIST) whose mandate it is to lead Barbados' digital transformation, I am both ecstatic and humbled to be a part of these two events.
The Government of Barbados, primarily through MIST, has embarked on an aggressive Public Sector Modernization and Digitization programme which includes the development and implementation of online services, payment systems, and conversion of paper-based records to digital documents.
Accordingly, I am particularly pleased to know that this inaugural Caribbean Digital Summit will provide the platform and opportunity for delegates to speak openly and honestly about their successes, the challenges encountered and what they have each learnt along the way relative to their respective digital transformation journeys.
I wish to applaud the GGF for the tremendously good and
positive work that it has been doing across the world over many years. One of the signature and hallmark activities which demonstrates this dedication to their purpose is the annual organization of a Digital Summit in countries across the globe.
Additionally, GGF has been working and providing technical advice to Barbados for a considerable period of time. Indeed, not only has MIST benefitted from the receipt of bespoke technical advice but we also recently had the opportunity to participate in a GGF organized Study Tour to Iceland, to observe and to discuss many of that island's digital transformation strategies and processes.
As Barbados continues to make steady progress along its digital transformation journey, discussions at this digital summit will help us in refining our digital strategies in light of us having to operate within an environment where there are rapidly occurring technological advancements and an almost constant chorus of change.
This summit will also provide significant insights which can and will assist Barbados with the development of its digital workforce. In addition, there are several other elements of digital transformation that will be discussed which would no doubt, be of immense value to us as a ministry and government.
Some of these include but are not limited to:
• the Digital ID – the essential building block;
• creating and transforming interdepartmental services; and
• escaping the legacy trap.
Colleagues and friends, Barbados continues to face an
increasingly competitive global environment, one which
demands that the government encourages and promotes,
through digital transformation, the introduction of new and/or improved products and services for its resident population, all the while boosting our exports of locally produced goods and services.
This is required to improve both the country's socio-economic development and its foreign exchange earnings. Ladies and gentlemen, this is why we must embrace change all the while being cognizant of the fact that the effective use of technology is a principal enabler of such. We must continue to embrace ICT as it is playing, and will continue to play, a pivotal role in how we live, work and interact with each other.
Each year, the CTU hosts ICT Week in one of its member
territories. The last one was held in The Bahamas. My friends, Barbados as a member of the CTU is proud to be the host country for ICT Week 2023, which brings together CARICOM Ministers with responsibility for information, communication technologies and digital transformation; senior technocrats; the international community; regulatory agencies; and service providers.
Apart from ministerial and senior technocrats' meetings,
participants will benefit from forums which were organized to sensitize and educate various publics on the advancement of ICTs. Furthermore, the Barbados edition of the CTU ICT Week will provide opportunities for service providers to showcase their products and services, and for the public to share their views and ideas.
The theme for ICT Week 2023 is "Embracing a Digital Caribbean: Opportunities for Growth and Innovation." I must alert you that this theme is very much in sync with what our Government in Barbados is seeking to accomplish. The week is aimed at promoting ICT development, discussing emerging trends and facilitating meaningful collaboration between various stakeholders in the Caribbean and internationally.
Apart from the main events being held here at the Accra Beach Hotel and Spa, two of the highlights of ICT Week will be two targeted workshops. One of the principal focus groups will be persons who are blind, deaf and living with mobility challenges – they will benefit from ICT workshops at the Derrick Smith School and Vocational Centre, located in Jackmans, St. Michael and this will take place on Friday, October 20th.
The diverse workshops on this date will seek to demonstrate how ICTs can make the lives of these constituents more rewarding. This is all very much consistent with the policies and aims of my ministry and, by extension, our Government – where we are seeking to integrate persons living with disabilities into our country's social and economic life to an even greater degree.
The other group, on which we will be placing a particular and strategic focus, will be the youth where they will be afforded the opportunity to contribute their ideas, insights and perspectives to help shape the digital future of our country. This will take place during the Digital Barbados Youth Forum that will also be executed on Friday, October 20th 2023 at the 3W's Oval at the University of the West Indies Cave Hill Campus.
Our Government fully recognizes the importance of the youth and has been working with them to leverage innovative solutions on digital technologies that drive economic growth, social development and sustainability.
This is why I am elated with the inclusion of this Digital Barbados Youth Forum. It is important that policy makers, technocrats, and service providers continue to engage stakeholders such as persons living with disabilities and the youth, to ensure that the delivery of services and products are always citizen-centric. Thus, I want to once again reiterate my satisfaction with the staging of the workshops for the youth and persons living with disabilities in this year's conference. It is clear that our Government has people at the centre of its planning and, with its all-embracing approach, the youth and people living with disabilities will never be left out.
Colleagues, I need not remind you that one of the most
undeniable lessons learnt from the COVID-19 pandemic was that ICTs are extremely important as a means of ensuring continuous communication, the conduct of business, learning and the delivery of services to ALL citizens.
It is therefore my hope, that many actionable recommendations will come out of this Caribbean Digital Summit and ICT Week 2023, which will help to further advance the digital transformation process in each of the nations represented and participating.
In closing, I want to thank the Global Government Forum (GGF) and the Caribbean Telecommunications Union (CTU) for the opportunity to simultaneously host the Caribbean Digital Summit and ICT Week 2023 from today Monday, October 16th until Friday, October 20th 2023.
I must also thank my hard-working and dedicated team at MIST for their support and tremendous efforts in bringing this all together over the last few months. I know that each of you have sacrificed much for this event to be a success and I want you all to know that it is very much appreciated.
Welcome one and all and let us have a transformational week!
I thank you.