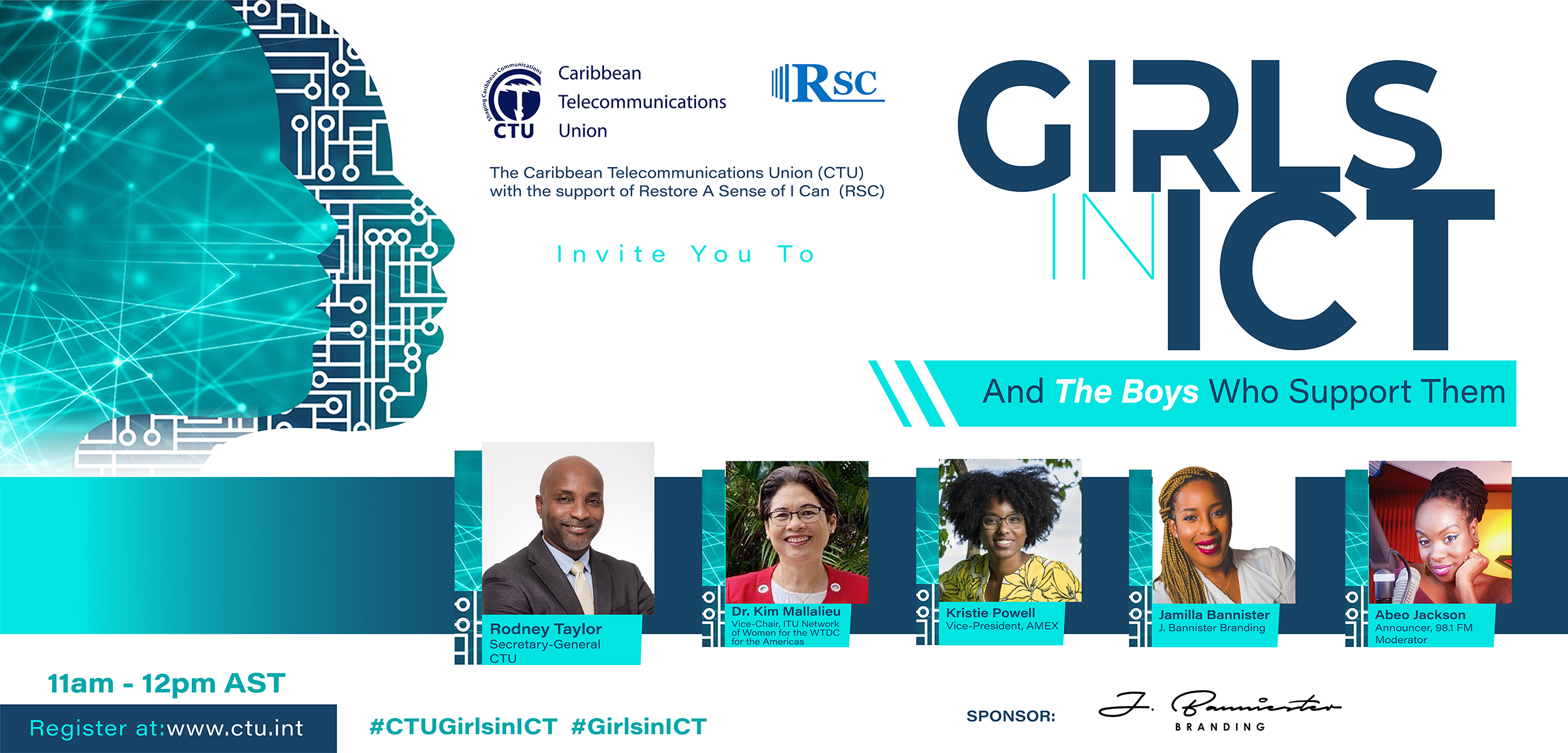 CTU Girls in ICT Day 2022
April 28, 2022
Venue: Virtual Event
Registration opening soon.
Celebrated on the fourth Thursday of April every year, under the auspices of the United Nations' International Telecommunication Union (ITU), Girls in ICT Day highlights the need to promote technology career opportunities for girls and women in the ICT sector.
The Day serves to inspire both government and the private sector to find ways to equip girls and young women with the skills they need to become ICT professionals.
Under this year's theme, Access and Safety, the ITU, in consultation with youth stakeholders, has identified that for girls and young women to thrive in science, technology, engineering and mathematics (STEM) careers, they need safe and reliable access to the internet and digital tools.
This year, the Caribbean Telecommunications Union (CTU) with the support of Restore A Sense of I Can, will host the CTU Girls in ICT Day 2022.
The Day will feature presentations on access and safety, inspirational / motivational chats, and interactive game and dance sessions. There are prizes to be won.
Venue and Date
Thursday 28th April, 2022 – 11.00 a.m. – 12.30 p.m. AST
Virtual Meeting Platform –
Target Audience
Youth
Secondary and tertiary school students
Girls and the boys who support them
Teachers and administrators
Education stakeholders
REGISTER
Time
Item
Presenter
11:00
Welcome and Introduction
Ms. Abeo Jackson

Announcer, 96.1 We Fm

Facilitator

11:05
Remarks
Mr. Rodney Taylor

Secretary-General, CTU

11:10
Girls Going Global
Dr. Kim Mallalieu

Vice-Chair, ITU Network of women for the WTDC for the Americas

11:20
Honing Your Digital Skills
Ms. Kristie Powell

Vice-President

Amex

11:35
Content Creation and Branding Yourself
Ms. Jamilla Bannister

Brand and Marketing Strategist

J. Bannister Branding

11:50
Staying Safe Online
Ms. Allison James

Manager

KPMG in Barbados and the Eastern Caribbean

12:05
Vote of thanks
Ms. Abeo Jackson
12: 10
Session Close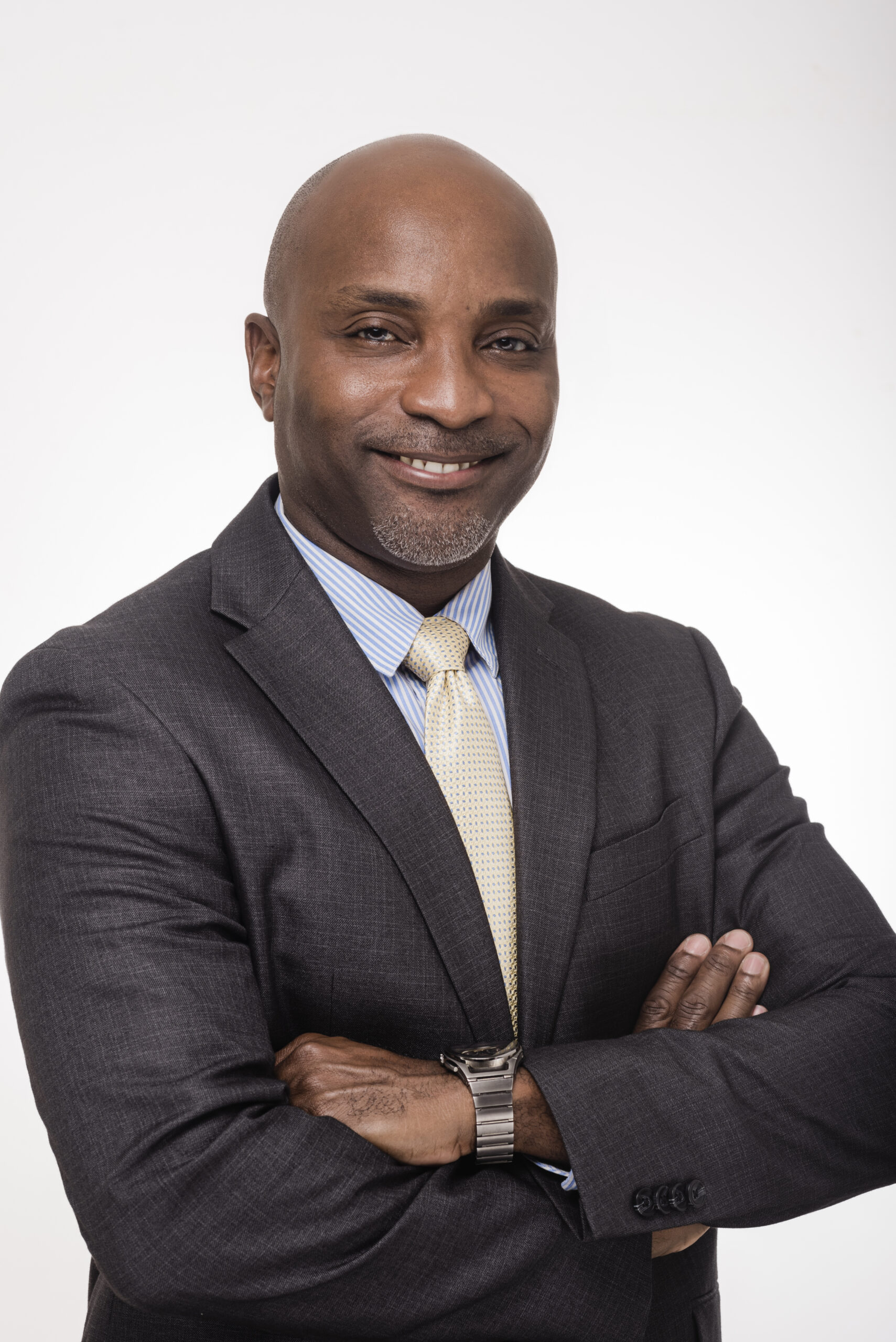 Secretary-General, Caribbean Telecommunications Union

Rodney Taylor

Mr. Rodney Taylor, a national of Barbados, was appointed as CTU Secretary General from 1st March 2021. He was formerly the Chief Digital Technology Officer with Barbados' Ministry of Innovation, Science and Smart Technology (MIST), where he was the technical lead on Barbados' digital transformation, improving public sector service delivery through strategic use of innovation, science and SMART technology. Mr. Taylor's over 20 years of professional experience includes management of the Information Systems Unit in Barbados' Ministry of Foreign Affairs and Foreign Trade and its overseas missions. He also previously served between 2010 and 2014 as the Business Development and Operations Manager at the CTU, where he worked with regional governments in the development of policies to govern information and communications technology (ICT) and represented the region in many international ICT conferences. He also led the work to operationalise the CTU's Caribbean Centre of Excellence, to offer consultancy services to the Member States and others. Mr. Taylor is an advisor on Internet Governance and has published research on e-Commerce diffusion in small island developing states in the Journal of Information Systems for Developing Countries. He is an Ethical Hacker and a founding member and former Chairman of the Barbados Chapter of the Internet Society, an organization whose aim is to promote the open development, evolution, and use of the Internet for the benefit of all people throughout the world. Mr. Taylor holds a Masters in Management and Information Systems from the University of Manchester, UK, and a Post Graduate Diploma in Public Sector Management from the University of the West Indies.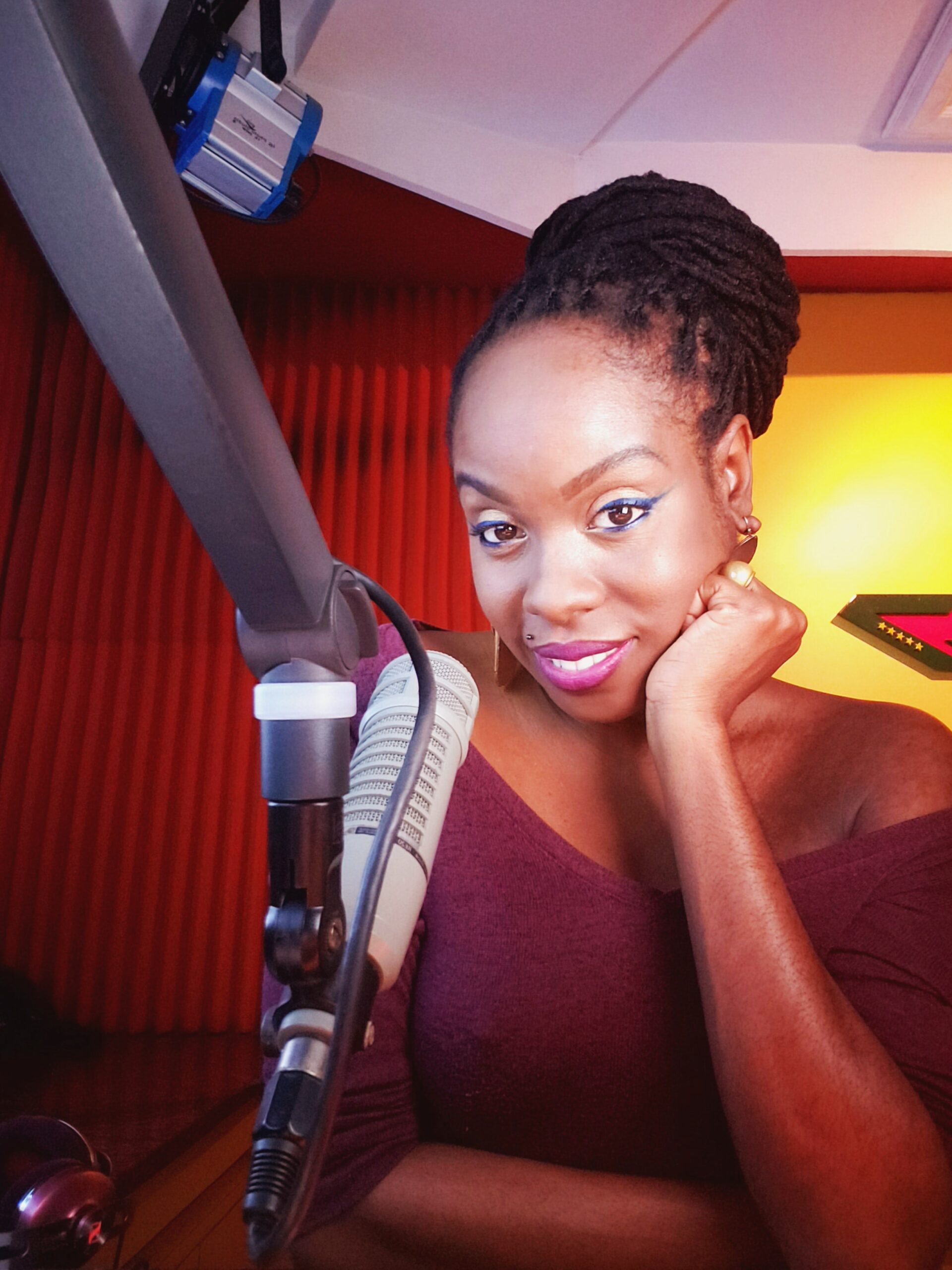 Announcer, 96.1 We Fm

Abeo Jackson

Abeo Jackson is a multi-hyphenate creative from Trinidad and Tobago interested and engaged in ongoing #JametteDiscourse i.e. exploring the powerful narratives of Afro-Caribbean Feminism coupled with Indigeneity/Maroonage as tools to deconstruct capitalist/post-colonial ideology and establishment, while further exploring the wider underpinnings of art as advocacy. She is a local and international award winning Actor, Acting Coach, Writer, Dancer, Choreographer, Radio and Television Host, Creative Producer as well as a Theatre Producer. Abeo is also a Merikin descendant working as a creative/cultural advocate in Trinidad and Tobago, recently completing the first installment of an on-going work in progress, docu theater film "#iam_Merikin" which was a selected feature at the 2021 Film and Folklore Festival. Graduate of Dickinson College, USA (BA) and Royal Central School of Speech and Drama, UK (MA), Abeo is currently pursuing a PhD in Cultural Studies at the University of the West Indies, St Augustine. During the hours of 6am-9am Monday to Friday you can find Abeo on local Trinidad and Tobago radio station 96.1WeFm Morning Drive, "The Breakfast Party".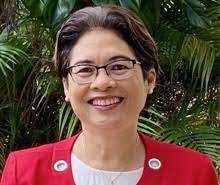 Vice-Chair, ITU Network of women for the WTDC for the Americas

Girls Going Global

Dr. Kim Mallalieu is a senior University lecturer with the University of the West Indies, St. Augustine.  Dr. Mallalieu is the developer of the Master's in Telecommunications Regulation and Policy, MRP (Telecommunications), coordinating its delivery to participants from over thirty (30), yes 30 developing countries around the world.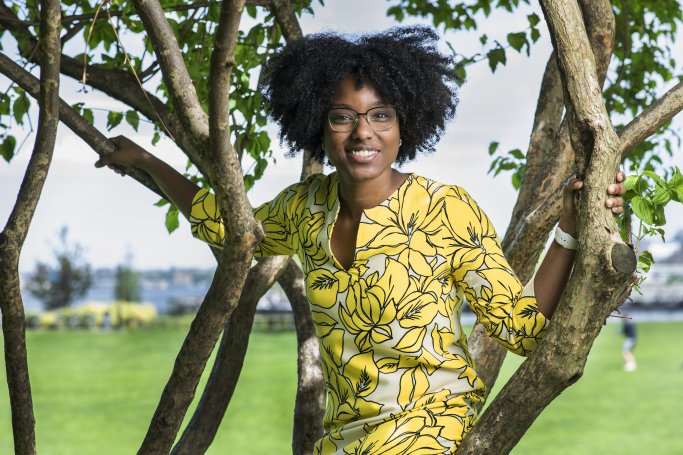 Vice-President, AMEX

Kristie Powell

Kristie Powell is Vice President of Global Head of Database Operations at American Express and formerly Chief of Staff to the Chief Information Officer.  Kristie has served as Technical Advisor to the Government of The Bahamas in the Office of The Prime Minister focussed on Digital Transformation.  She was a Senior Technical Solutions Consultant at Google Inc, and an Associate at Goldman Sachs as an Analyst in the Technology Division.  She serves on the Board of Trustees of the University of The Bahamas.  Kristie earned a Bachelor's and Master's of Science in Electrical Engineering from Florida Institute of Technology.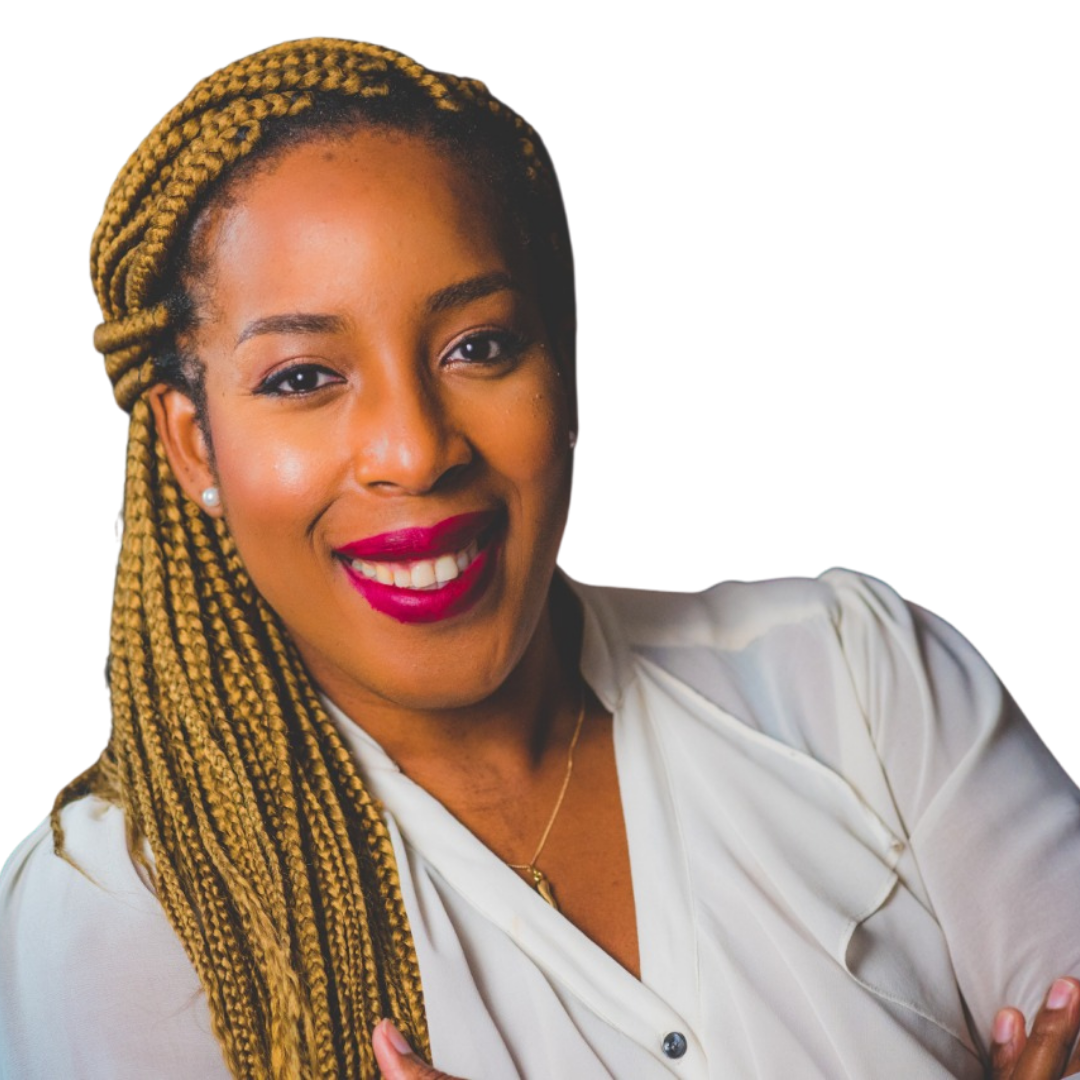 Brand and Marketing Strategist, J. Bannister Branding

Jamilla Bannister

Jamila Bannister is Brand and Marketing Strategist for Beauty and Personal Care brands from Trinidad & Tobago. Having worked in Communications, Public Relations, and Branding for 8 years during her corporate career, she made the transition to entrepreneurship in 2016, focusing on working with entrepreneurs to grow their personal brands. During this time, she published her book, "The Brandprint" and hosted 3 global summits on business and branding. However, in 2021, Jamila who is also a trained Make Up Artist, got an up-close look at how much the beauty industry suffered because of the global pandemic. Because of this and her love for beauty, she decided to combine her passion, profession, and vocation into the mission of helping beauty and personal care entrepreneurs create systems to market and sell their brands without stress and overwhelm. Through strategic brand positioning, laser focused messaging and automated funnels, her goal is to work with beauty entrepreneurs to help them level up their brands and increase their profits. Jamila is also a speaker and the Editor-in-Chief of the beauty branding magazine "Personality".