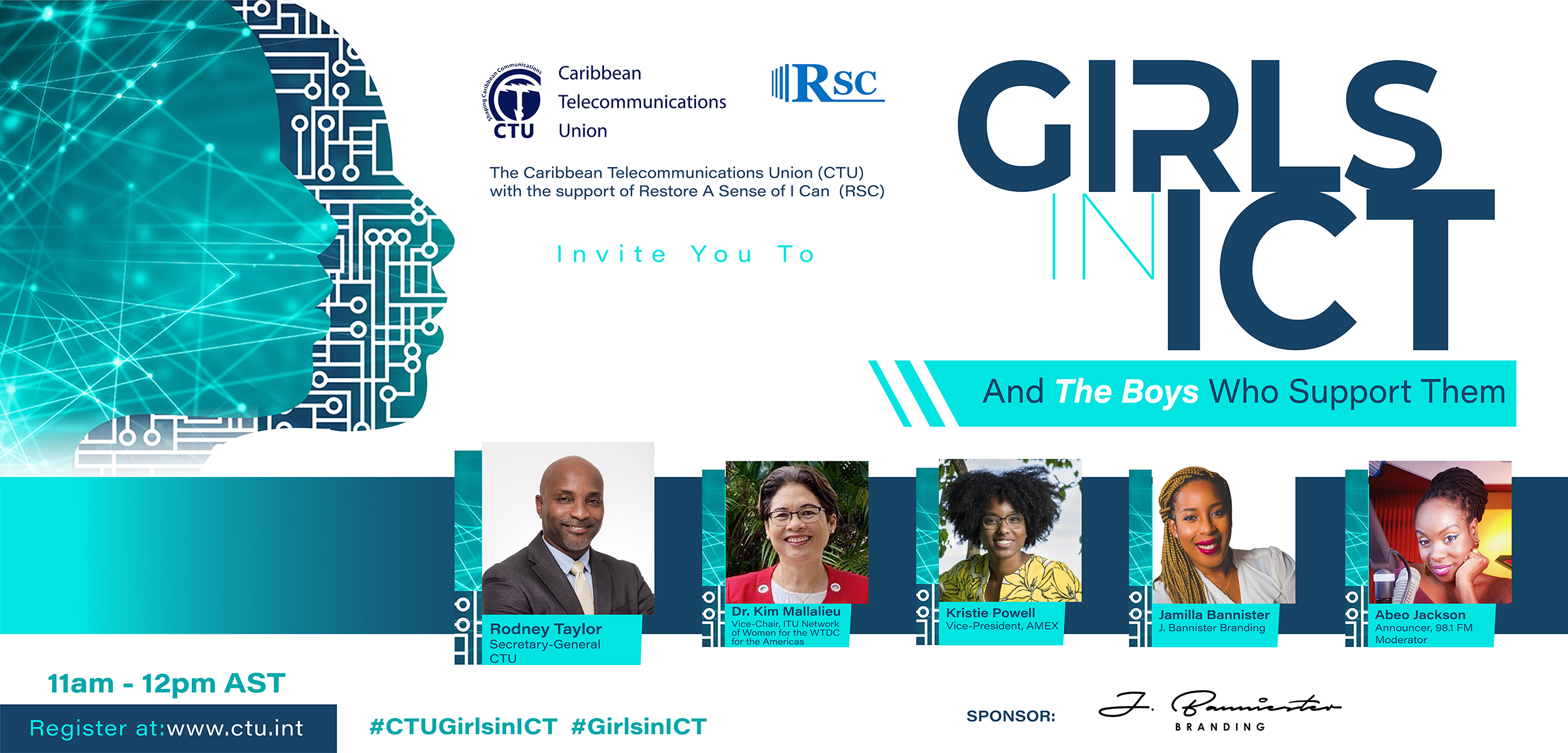 CTU Girls in ICT Day 2022
April 28, 2022
Venue: Virtual Event
Registration opening soon.
Celebrated on the fourth Thursday of April every year, under the auspices of the United Nations' International Telecommunication Union (ITU), Girls in ICT Day highlights the need to promote technology career opportunities for girls and women in the ICT sector.
The Day serves to inspire both government and the private sector to find ways to equip girls and young women with the skills they need to become ICT professionals.
Under this year's theme, Access and Safety, the ITU, in consultation with youth stakeholders, has identified that for girls and young women to thrive in science, technology, engineering and mathematics (STEM) careers, they need safe and reliable access to the internet and digital tools.
This year, the Caribbean Telecommunications Union (CTU) with the support of Restore A Sense of I Can, will host the CTU Girls in ICT Day 2022.
The Day will feature presentations on access and safety, inspirational / motivational chats, and interactive game and dance sessions. There are prizes to be won.
Venue and Date
Thursday 28th April, 2022 – 11.00 a.m. – 12.30 p.m. AST
Virtual Meeting Platform –
Target Audience
Youth
Secondary and tertiary school students
Girls and the boys who support them
Teachers and administrators
Education stakeholders
REGISTER
Time
Item
Presenter
11:00
Welcome and Introduction
Ms. Abeo Jackson

Announcer, 96.1 We Fm

Facilitator

 

11:05
Remarks
Mr. Rodney Taylor

Secretary-General, CTU

 

11:10
Girls Going Global
Dr. Kim Mallalieu

Vice-Chair, ITU Network of women for the WTDC for the Americas

 

11:20
Honing Your Digital Skills
Ms. Kristie Powell

Vice-President

Amex

 

11:35
Content Creation and Branding Yourself
Ms. Jamilla Bannister

Brand and Marketing Strategist

J. Bannister Branding

 

11:50
Staying Safe Online

Ms. Allison James

Manager

KPMG in Barbados and the Eastern Caribbean

 

12:05
Vote of thanks
Ms. Abeo Jackson

 

12: 10
Session Close