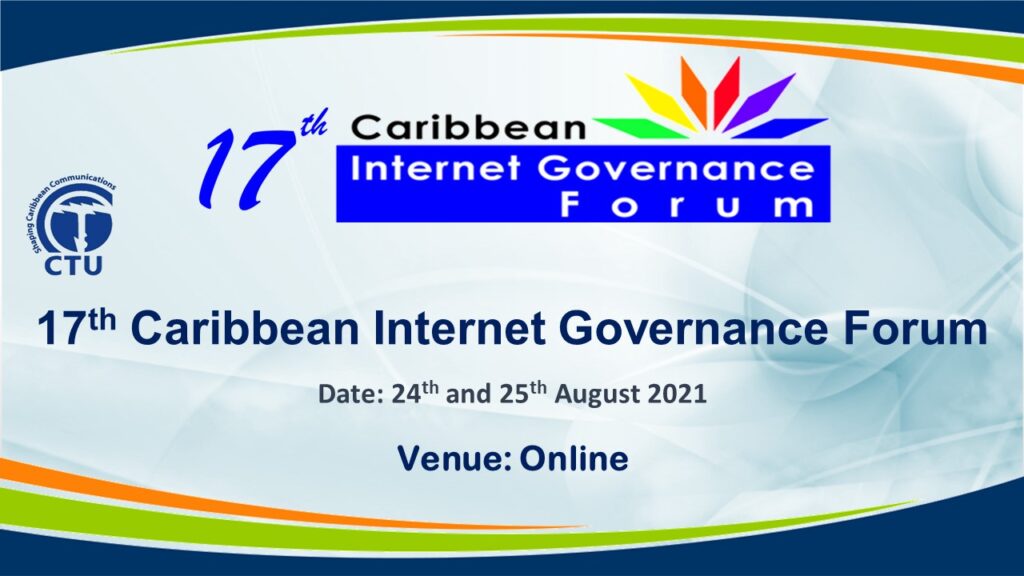 The Caribbean Telecommunications Union (CTU) will host the 17th Caribbean Internet Governance Forum (CIGF) via online videoconferencing on 24th and 25th August 2021.
The CIGF will address various work streams of Internet governance necessary to seize this opportunity for accelerated digital transformation in a trusted and secure manner, and position the Caribbean for sustainable, ICT-driven post-COVID recovery.
The advent of COVID-19 has changed the Internet governance landscape in ways that will endure even after the virus ceases to be a global threat. The Internet emerged at the forefront in playing a critical role in responding to the pandemic, facilitating accelerated transition from face-to-face transactions to online services, accentuating the urgency for digital transformation. – Mr. Rodney Taylor, new Secretary General of the CTU
The CTU convened this first regional Internet governance forum in the world in 2005. Sixteen years later, the organisation continues to provide a platform to update and discuss the further evolution of Internet policies.
"Driven by the global economic and social impact of the COVID-19 pandemic, the Internet's growth and use, affordable meaningful connectivity and use of foundational digital IDs are some of the key topics that will take centre stage at this year's CIGF," said Nigel Cassimire, Telecommunications Specialist, CTU.
Registration is open to all, including government policy makers, regulators, public and private sector organisations, telecommunications operators, Internet service providers, academic institutions, and other Internet users.
For registration and more information, visit https://ctu.int/event/17thcigf/
Get in touch: Facebook | Twitter | LinkedIn | YouTube | Instagram
ABOUT THE CTU
The Caribbean Telecommunications Union (CTU) is an inter-governmental organisation dedicated to supporting the development of the Caribbean information and communications technologies (ICT) sector. The CTU also promotes coordination of ICT at the regional level, identifies and removes roadblocks to ICT development, keeps track of industry progress and responds to the needs of the ICT sector, all with the aim of creating a cohesive regional approach to an ICT agenda which embraces the needs of all stakeholders. The CTU is committed to ICT development that reaches the citizens of the region, creating affordable access to ICT and helping citizens to use ICT effectively to transform their lives.
For further information, please contact:
Michelle Garcia
Communications Specialist
Caribbean Telecommunications Union
E-mail: michelle.garcia@ctu.int
Website: http://www.ctu.int/
Tel: 1 (868) 628-0281, ext. 246
Fax: 1 (868) 622-6523