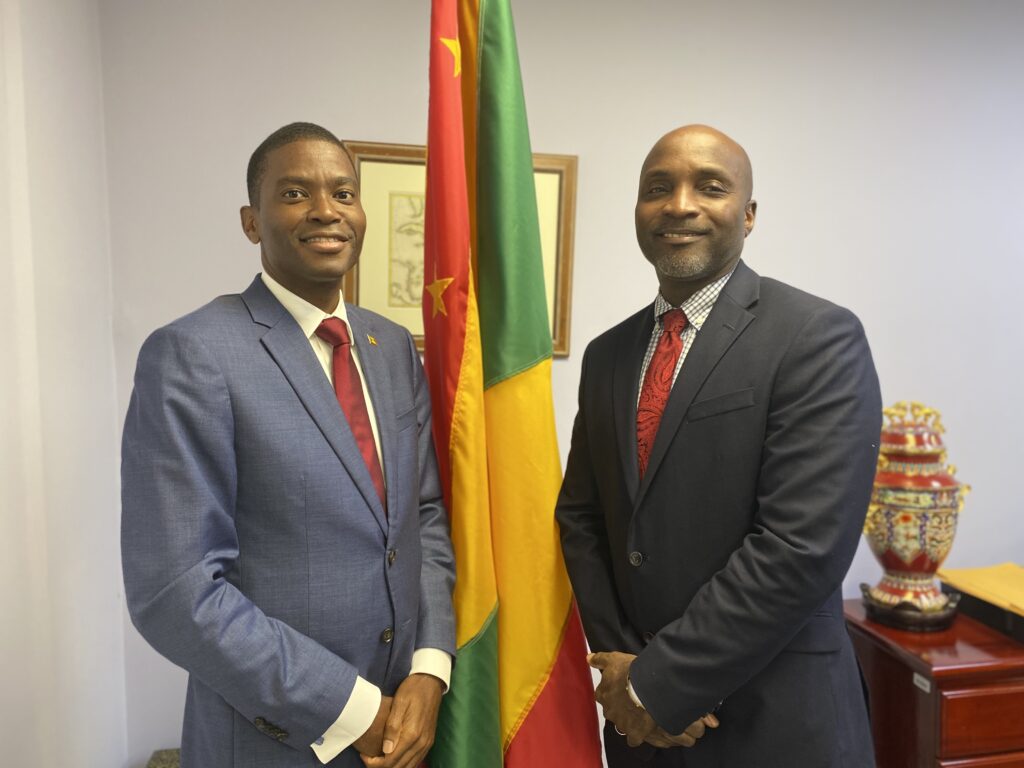 St. Georges, Grenada (3rd August 2022) – Secretary-General, Rodney Taylor, recently paid a courtesy visit to newly elected Prime Minister of Grenada, the Hon. Dickon Mitchell, where the two discussed the new Government's mandate and governance for its Information and Communications Technology (ICT) sector.
SG Taylor affirmed the CTU's continuing support for Grenada's national ICT agenda, stating that the CTU has been working closely with the government to further develop Grenada's ICT roadmap to support its economic development.
SG Taylor and PM Mitchell also discussed the recently signed Declaration of St. George's – Towards the Reduction of Intra CARICOM Roaming Charges, which was facilitated by the CTU, as well as the next steps needed to establish a single regulatory framework for ICT in CARICOM.
With Grenada being lead in the CARICOM Quasi-Cabinet on Science and Technology (including Information and Communications), Mr. Taylor invited the Prime Minister to the CTU's signature event – ICT Week 2022 – slated for September 5th to 9th in The Bahamas.
Grenada has previously hosted this event and has participated in the CTU Caribbean ICT Roadshows.
The SG briefed PM Mitchell on the upcoming International Telecommunication Union (ITU) Plenipotentiary Conference (PP22) taking place from 26th September to 14th October, 2022 in Bucharest, Romania.
Two CTU Member States – The Bahamas and Cuba – are vying to retain their seats on the ITU's Council, the ITU's highest governing body. Former CEO of The Bahamas Utilities Regulation and Competition Authority (URCA) and current Deputy to the Director of the ITU's Telecommunication Development Bureau (BDT), Mr. Stephen Bereaux, will be vying for the post of Director, BDT.
During his visit to Grenada, SG Taylor also met with members of the National Telecommunications Regulatory Commission, who updated him on the country's Internet Exchange Point and gave him a tour of the facility.