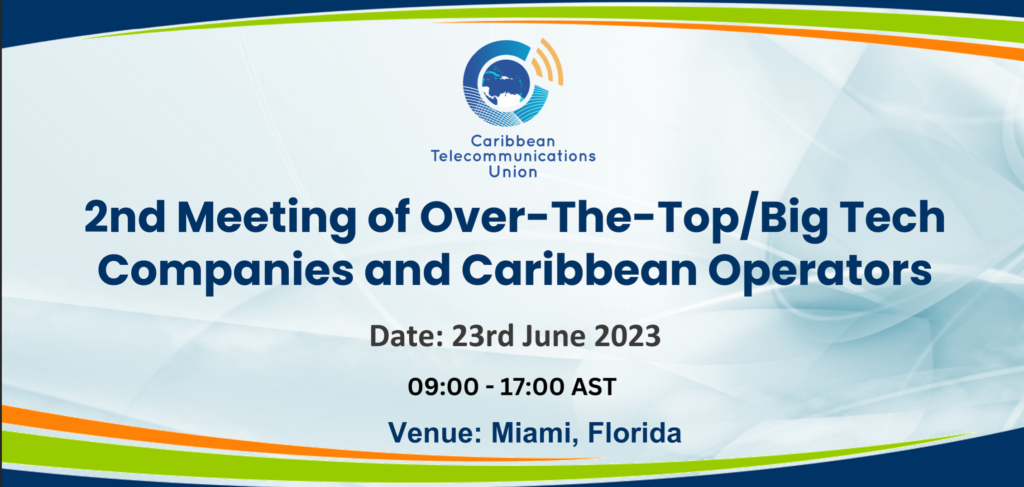 Port of Spain, Trinidad and Tobago – 14th June 2023 – The Caribbean Telecommunications Union (CTU) will be hosting the 2nd Meeting of Over-The-Top/Big Tech Companies and Caribbean Operators to be held at the Sheraton Miami Airport Hotel & Executive Meeting Centre on 23rd June 2023 from 9.00 a.m. to 5.00 p.m. ET.
The primary focus of the meeting is to discuss and advance recommendations developed out of the 1st meeting hosted by the CTU between Caribbean Telecommunications Operators and Big Tech in February of 2023. These recommendations called for the setting up of three work streams to deal with this complex issue involving the identification of mutually beneficial, appropriate actions for all stakeholders.
The three streams are Business/Financial/Commercial – to examine the economics of data delivery over networks in the Caribbean; Technical – to examine a more cooperative approach to content delivery from a technical solutions perspective; and Regulatory – made up of senior regulatory officers from Operators, Big Tech and OTT companies, which will generate possible regulatory issues for consideration.
Pre-meetings will be held on Friday 16th June for each workstream group, each with a facilitator.
These meetings flow from a CTU Technical Conference on 'Proposals for Regulatory Management of OTTs and Big Tech in the Caribbean' which took place during CTU ICT Week held in the Bahamas in September 2022.
Ministers and Senior policy makers from CTU Member States, senior representatives from a wide range of regional and national network operators, OTT and Big Tech service providers, and heads of specially invited stakeholder bodies will attend this important meeting.
The CTU is an intergovernmental organisation which aims to foster collaboration and consensus among stakeholders to ensure that the interests of regional governments and citizens are adequately represented in the regulation and use of advanced networks and infrastructure.