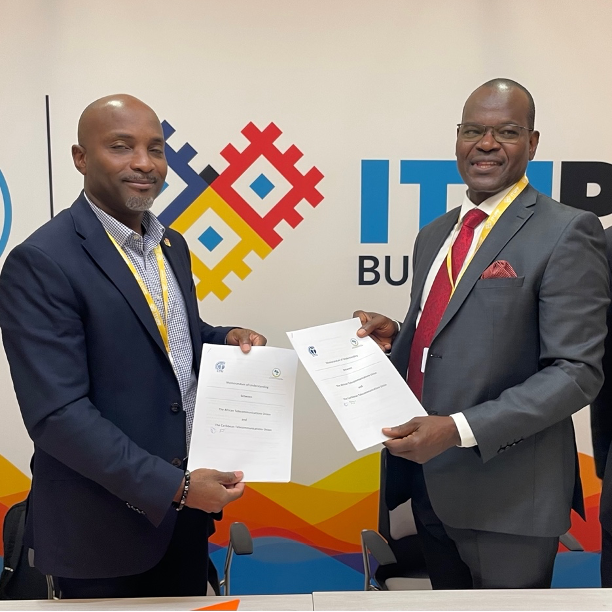 In the spirit of strengthening cooperation and collaboration, the Caribbean Telecommunications Union (CTU) signed, for the first time since either organisation was established, a Memorandum of Understanding (MOU) with the African Telecommunications Union (ATU) on Thursday 6th October 2022.
The MOU seeks to provide the framework for cooperation and collaboration between the Parties, under which ICT would be used to transform the operations of public and private sector organisations and to empower all people within each region.
"Africa and the Caribbean share similar ties, culturally and economically, in trade and culture. This MOU therefore presents an excellent opportunity to cooperate on ICT related matters and share best practices on ICT policies," stated CTU Secretary-General Rodney Taylor, at the signing.
ATU Secretary General John Omo echoed the sentiments of Secretary-General Rodney Taylor, stating, "Africa has a natural alliance with the Caribbean. Together we can be a formidable force to transform our respective regions through the power of ICT."
The MOU will also enable the parties to share information on identified areas of mutual interest in ICT, including, but not limited to, design and implementation of Communications Networks and e-Government services. In this regard, it will assist in the work the CTU has commenced in the area of transforming its region's public sector through its 21st Century Government initiative. The initiative aims to improve service quality, promote transparent and efficient interaction, enhance public trust in government and drive better citizen experience.
The MOU was signed by CTU Secretary-General Rodney Taylor of the CTU and ATU Secretary General John Omo in the sidelines of the recently concluded and successful Plenipotentiary Conference 2022 of the International Telecommunication Union (ITU), held in Bucharest, Romania, at which two CTU Member States, Cuba and The Commonwealth of The Bahamas, were again voted onto the ITU Council, its highest governance body.