By Caribbean Telecommunications Union
The second and final day of the 17th Caribbean Internet Governance Forum hosted by the Caribbean Telecommunications Union (CTU) addressed fundamental factors in the regional Internet Governance community's collective response to the COVID-19 pandemic. After an energetic and informative first day, the second day continued in similar vein.

Meaningful Connectivity
Nigel Cassimire, Telecommunications Specialist, CTU gave a brief summary of the Day 1 proceedings, and then introduced the first Day 2 panel which addressed Affordable and Meaningful Connectivity. Led by Yacine Khelladi, Coordinator for Latin America and the Caribbean, Alliance for Affordable Internet (A4AI), the panel included Ana Maria Rodriguez, Research Analyst at A4AI; Nathalia Foditsch, Senior Policy and Regulatory Specialist at A4AI; and Muthoni Muriithi, Senior Gender Policy Manager at Web Foundation. Their discussion presented research and innovative policy proposals from A4AI, for Caribbean stakeholders to consider embedding into their advocacy strategies for inclusive digital development.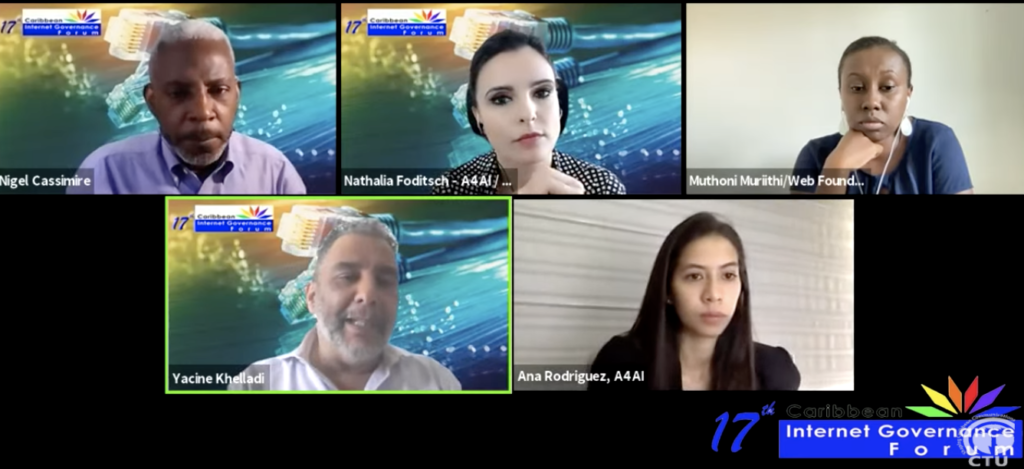 Foundational Digital ID – The Promise, Perils and Paths
Junior McIntyre, ICT Consultant, CTU moderated the morning's second panel, entitled Foundational Digital ID – The Promise, Perils and Paths. Marlon Narcisse, Director of Public Service Modernisation, Government of Saint Lucia, shared relevant national experiences of their DigiGov Project and Dr. Clarence Henry, Senior Technical Officer, Regional Integration Unit, Organisation of Eastern Caribbean States (OECS) Commission explained the context and plans for the regional digital ID component of the OECS' Digital Transformation Project. Discussions identified plans for system interoperability and prospective common opportunities for cross-Caribbean collaboration and regionally harmonised approaches, standards and implementation actions for a Single ICT Space.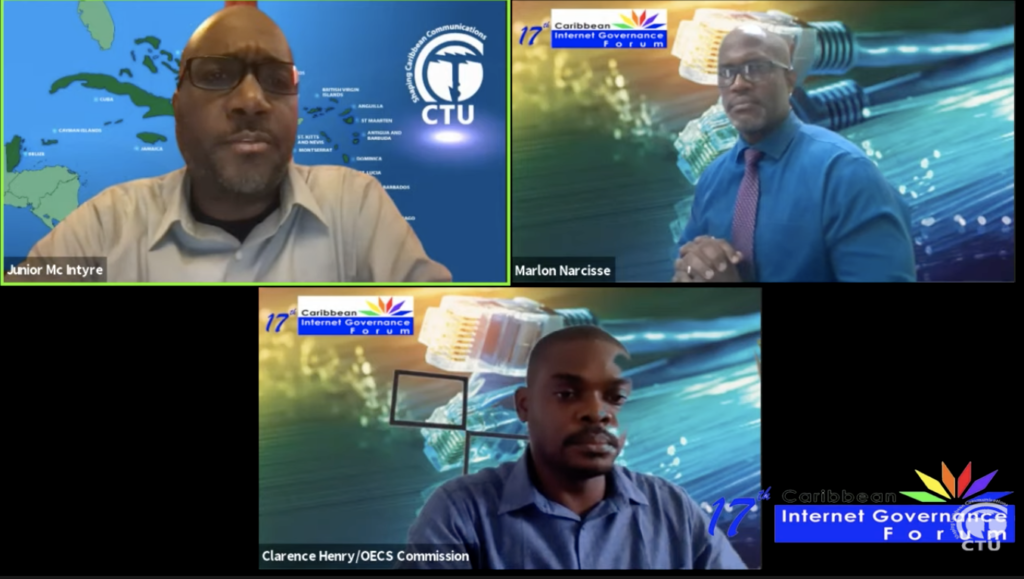 ICANN Update
In his Update of Caribbean Interest in the afternoon session, Albert Daniels, Senior Manager, Stakeholder Engagement (Caribbean), ICANN, reviewed the recently concluded ICANN 71 meeting and presented an outlook on the upcoming ICANN 72 meeting. Multiple current policy development issues were recommended for enhanced Caribbean attention and input.

Collaboration for Caribbean Internet Development
Representatives of ICANN, ARIN, LACNIC and the Internet Society came together in the following panel titled i-Orgs and Caribbean Internet Governance – Collaboration in Action. Kevon Swift, Head of Strategic Relations and Integration at LACNIC moderated the discussion with Bevil Wooding, Director of Caribbean Affairs at ARIN, Shernon Osepa, Director of Caribbean Affairs and Development at ISOC, and Albert Daniels, ICANN. (ARIN and LACNIC share number administration responsibility in the Americas region geographically.) Panellists highlighted examples of the value of their strategic partnerships, the need for the Caribbean to present a unified voice at international fora, and the importance of building resilient regional Internet infrastructure.
The open mic segment yielded lots of feedback, as attendees seized the opportunity to raise topics including the need to translate discussions and recommendations into meaningful post-meeting actions; the significant potential for the Internet to drive post-COVID economic development in the Caribbean; the benefit of encouraging regional media to generate Internet-related stories of Caribbean success; and the value of increased outreach to groups that would not typically participate in IG, particularly younger prospective Internet Governance participants – the next generation.
The event closed with a meeting review and presentation of some next steps, led by Rodney Taylor, Secretary General of the CTU.
The CTU would like to sincerely thank our organizing team, partners, panelists and attendees for making the 17th Caribbean Internet Governance Forum a huge success. Together we will continue working to support development of an open, accessible, secure and resilient Internet for the Caribbean!
Get in touch: Facebook | Twitter | LinkedIn | YouTube | Instagram | Email
—END—
And that's a wrap 👏🏼👏🏼👏🏼.
The 17th Caribbean Internet Governance Forum ended on a high note. There is renewed energy to push the #Caribbean to real and meaningful development action. We expect this action-oriented focus to continue beyond the #17CIGF. #CIGF2021 pic.twitter.com/pOdfc92UKC

— CTU (@TheCtunion) August 25, 2021
Right Now at the 17th Caribbean Internet Governance Forum #17CIGF #CIGF2021: National experiences, lessons learnt & identifying opportunities for collaboration, regionally harmonised approaches, standards and implementation actions for a Single ICT Space
ℹ️https://t.co/62vaZTJlf9 pic.twitter.com/LCkh5ItGvg

— IDD LAC (@idd_lac) August 25, 2021
✨✨The 17th Caribbean IGF is underway now until tomorrow, Aug. 25th. There's still time to participate! Agenda and details below ✨✨ #17CIGF #CIGF2021 @TheCtunionhttps://t.co/Q6AM98aSeS

— IGF – Internet Governance Forum (@intgovforum) August 24, 2021
Continued collaboration among i-Orgs like @TeamARIN @lacnic @ISOC_LAC and ICANN plays a key role in Caribbean Internet development.#17CIGF #CIGF2021 pic.twitter.com/G64h2B2QoK

— Gerard Best (@GerardBest) August 25, 2021