CTU PRESS RELEASE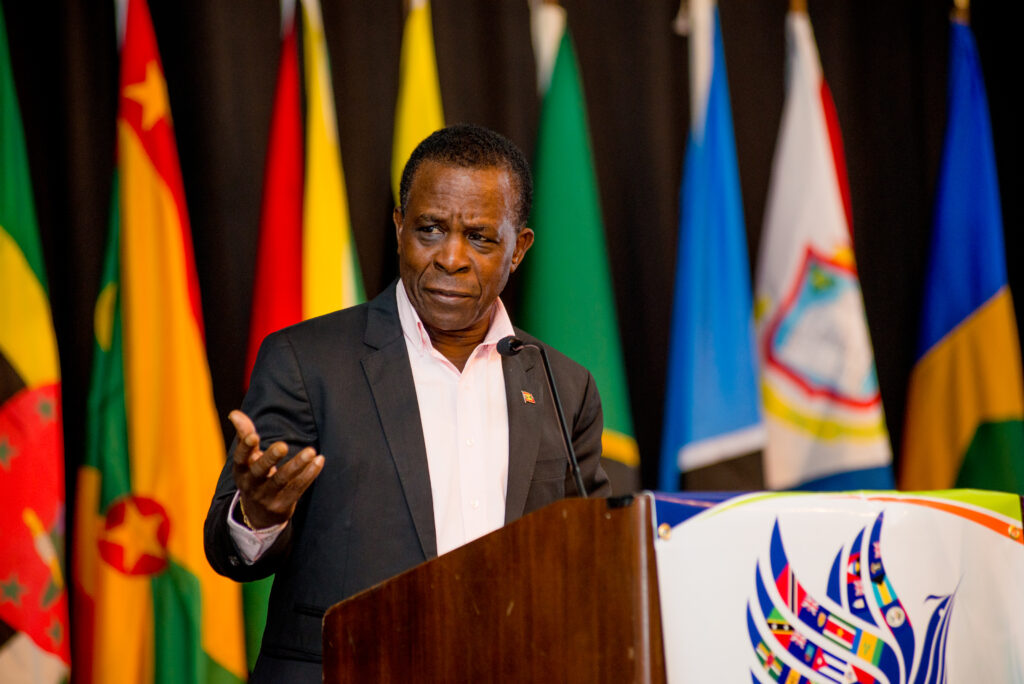 Port of Spain, Trinidad and Tobago (28th September 2020) – Dr. The Rt. Hon. Keith Mitchell, Prime Minister of Grenada and CARICOM Chair for Science and Technology, including ICT, in the CARICOM Quasi-Cabinet, made the call for regional leaders to adopt a new strategy towards achieving digital transformation. Sitting in Grenada, Prime Minister Mitchell was addressing the 23rd General Conference of Ministers of the Caribbean Telecommunications Union (CTU) on Tuesday 22nd September 2020. Fittingly, the meeting was held virtually and Prime Minister Mitchell addressed Ministers and their Permanent Secretaries and Technical Officers, who were located in twelve CTU Member States.
Prime Minister Mitchell urged, "The Caribbean must abandon the traditional silo approach to the adoption of ICT and e-government. Instead, we must move urgently towards the provision of integrated public services online, through one-stop platforms and other delivery channels that allow access to the full range of public services."
He lamented that inadequate progress has been made towards achieving the Caribbean Single ICT Space, noting, "Many countries continue to advance their national digital agendas but if the region does not cooperate and rally behind the CARICOM Single ICT Space, we may simply be replicating efforts and wasting limited resources."
Echoing the sentiments of Prime Minister Mitchell, Hon. Melford Nicholas, Minister for Information, Broadcasting, Telecommunications and Information Technology, Antigua and Barbuda, and President of the CTU's General Conference of Ministers indicated, "COVID-19 has brought an opportunity and underlines the need for us to move swiftly forward with our agenda for digital transformation."
He envisioned creating a system whereby CTU Members would be able to collaborate and share knowledge towards achieving digital transformation. He stated, "It is my fervent hope that we would be able to distil a league table because there is much merit in us learning from each other.
He further added, "We need to share in each other's successes. We need a shared pool of resources and a direct panel of persons who can direct successes across the region."
The virtual 23rd General Conference of Ministers meeting was the major event of the CTU's signature ICT Week 2020, held from 21st to 23rd September under the theme 'Accelerating Digital Transformation.'
Other events that took place include the 41st Executive Council meeting, the 4th ICT Regulators' Forum and a Capacity Development Webinar on Leveraging Digital Government & Spearheading Innovative Digital Solutions to Address the COVID-19 Pandemic in Caribbean SIDS.
—END—
The Caribbean Telecommunications Union (CTU) is an inter-governmental organisation dedicated to supporting the development of the Caribbean information and communications technologies (ICT) sector. The CTU also promotes coordination of ICT at the regional level, identifies and removes roadblocks to ICT development, keeps track of industry progress and responds to the needs of the ICT sector, all with the aim of creating a cohesive regional approach to an ICT agenda which embraces the needs of all stakeholders. The CTU is committed to ICT development that reaches the citizens of the region, creating affordable access to ICT and helping citizens to use ICT effectively to transform their lives.