Minister
Ministry of Information, Communications, & Technology and Posts, Public Infrastructure, Energy & Utilities, Domestic Transport
Saint Kitts and Nevis
Plenipotentiary Conference 2022 (PP-22), Bucharest, Romania, 26 September to 14 October 2022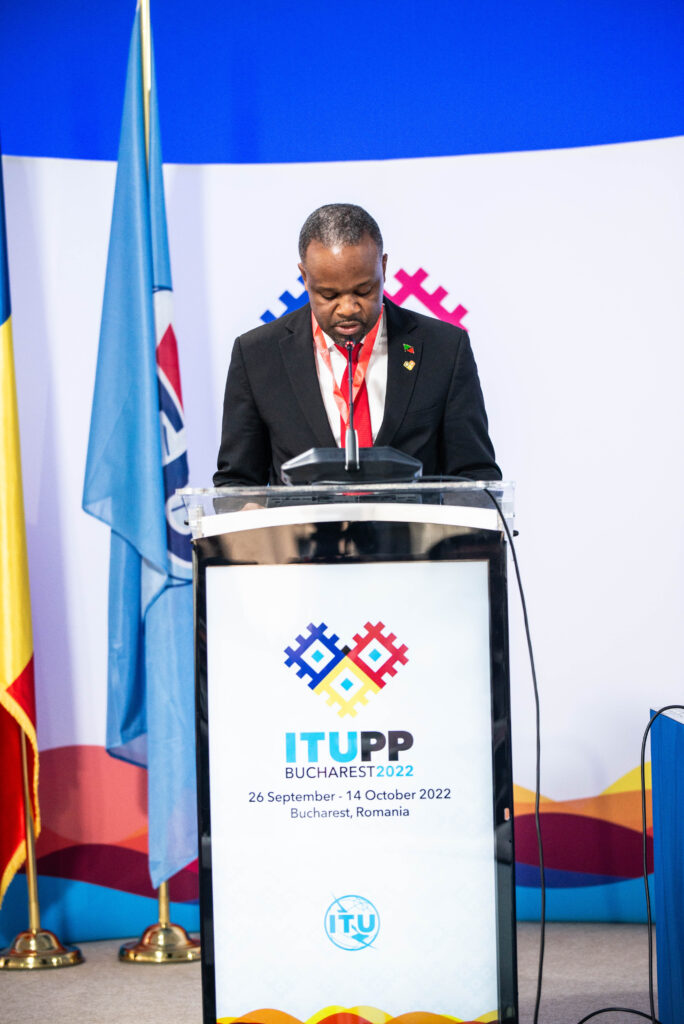 Mr. Chair, Excellencies and Delegates. Firstly, St. Kitts & Nevis wishes to express strong commendation to the ITU for an exceptionally well-organized Plenipotentiary and for all the work the union does to connect the world. Congratulations to Doreen Bogdan-Martin and Tomas Lamanaukus on their election to the Secretary General and Deputy Secretary General positions. We wish them every success. We also wish to express profound gratitude to the Government and people of Romania who have been amazing hosts.
St. Kitts and Nevis, in the beautiful Caribbean Archipelago, is the smallest sovereign nation in the Western Hemisphere with a population of just about 50,000. However, despite our size and in fact because of our size, and with a renewed vigor, we aim to become a model of Digital Transformation.
The Government of St. Kitts & Nevis started its e-Government journey in 2006 with the National Information & Communications Technology Strategic Plan, which in part led to the establishment of the National ICT Center. The resulting Technology Department facilitated the deployment of technology solutions across various Ministries, Departments and Agencies (MDAs). Although there was a slowdown in our transformation thrust in the years just prior to the COVID-19 Pandemic, like other countries, the Pandemic has highlighted the need to urgently improve and expand our ICT infrastructure and its accessibility to enable and foster universal, affordable, secure, efficient and high speed internet access and ICT services. Our Digital Transformation journey, as we start implementation of our 'Whole of Government Technology Strategy' has resulted so far in the following:
About 85% mobile and internet penetration in St. Kitts and Nevis.
Digital application for financial assistance during the pandemic.
Online Vehicle Registration and Licensing,
Creating an Immunization database,
Online Immigration/Customs portal eliminating the need for paper and improving entry processing speeds.
Pledged to our local internet service providers to engage in "Partner2Connect' initiatives to improve connectivity around the island.
High-speed internet provided for free to our local community centers around the island to enable unconnected citizens the opportunity to connect.
The government has also embarked on laying the groundwork and physical equipment and infrastructure to create a GWAN (Government Wide Area Network) to facilitate seamless communication across the whole of Government.
While we have achieved individual milestones, to achieve full Digital Transformation it is now necessary to fully embrace the 'Whole of Government' strategy. However, due to all the limits associated with Small Island Developing States such as ours, the Whole of Government Srategy requires us to collaborate with the best ICT industry practitioners to aid in capacity building of our local technical talent and access to affordable and concessionary capital investment. In closing, St. Kitts and Nevis gives the commitment to leave no one unconnected and achieve Universal affordable Broadband connection to 100% of our residents and citizens before 2030. We will continue our collaboration with the ITU and other CTU member states so that we can provide the real dream of a digital economy and full e-government services to all the people in the federation of St. Kitts and Nevis.