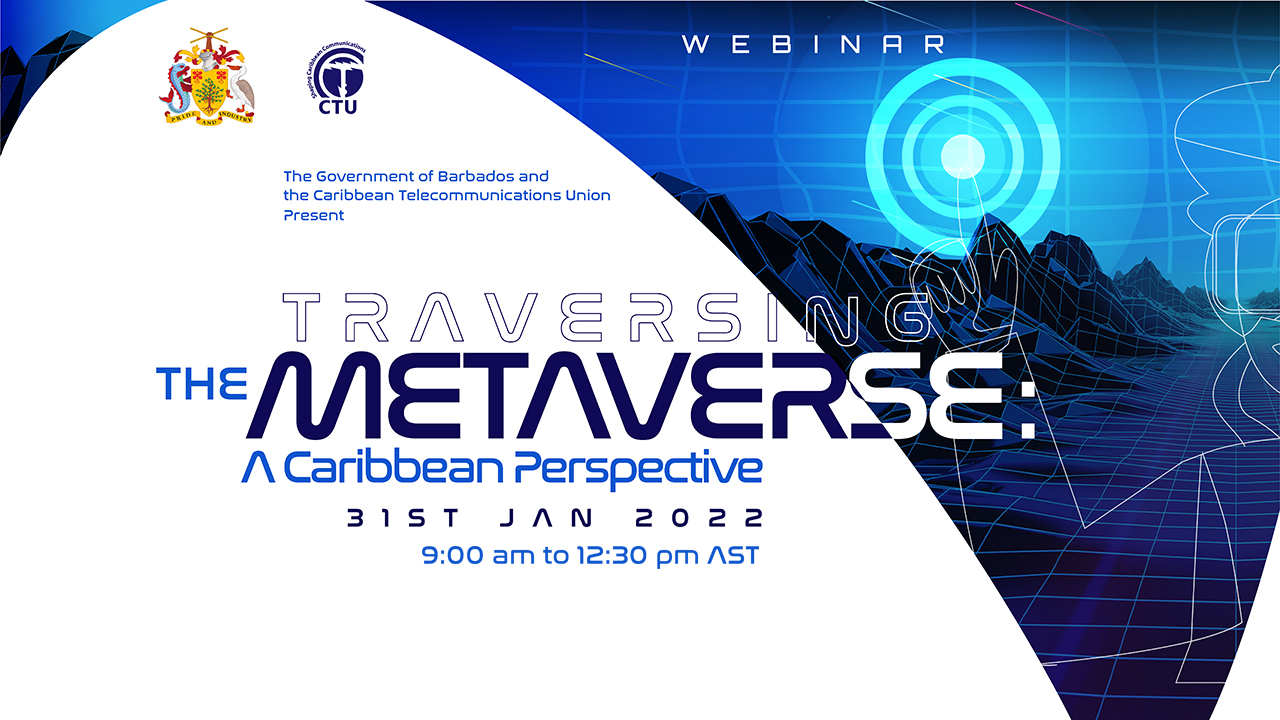 Traversing the Metaverse – A Caribbean Perspective
January 31, 2022
Venue: Virtual Event
Introduction
Within recent months the term "metaverse" has generated much discussion globally and has become one of the latest technology buzzwords. The term gained even greater prominence with the rebranding of technology giant Facebook to Meta. In addition, the Government of Barbados also announced in 2021 that it would establish an embassy in the Metaverse, making it one of the first to do so.
What exactly is the metaverse and what are the opportunities and risks for governments and businesses? How can these be addressed through global policy and regulation in the interest of humanity? Will it exacerbate the global technology divide between developing and developed countries and further global inequalities? Or will it provide new opportunities to participate in the new global digital economy?
It is estimated that by 2025 the global metaverse market will be worth 280 billion US dollars. For governments and businesses alike, this represents opportunities for wealth creation. In the case of Barbados with its sovereign metaverse embassy, it affords it the opportunity to extend its global reach in areas such as consular services, trade promotion, cultural exchanges, and generally the promotion of its national brand.
The Caribbean Telecommunications Union, in partnership with the Government of Barbados, will host a webinar to explore the aforementioned issues about the metaverse in an effort to educate and raise awareness of the opportunities and challenges for, in particular, small island developing states (SIDS). The webinar will be open to the public but will specifically focus on key stakeholders such as ICT policy makers, economists, technologists, entrepreneurs and academia.
The key areas of focus include, but are not limited to:
Theme 1: AWARENESSS – This theme will explain the metaverse from a conceptual and technical perspective. Key terms such as virtual, mixed and augmented realty, blockchain, non-fungible tokens (NFTs), crypto-currencies, and others will be explored in an effort to raise public awareness of key terminology.
Theme 2: OPPORTUNITIES, RISKS AND CHALLENGES – This theme will examine the economic, social and cultural opportunities for different stakeholders including governments and the private sector.
Expected Outcomes
The webinar will enable discussion that will assist in the formulation of policy, legal and regulatory issues for consideration. This will allow the relevant stakeholders to advance regional initiatives and make the necessary policy interventions in the interest of ensuring the Caribbean is poised to provide global leadership in this emerging technological space.
Key Partners
Caribbean Telecommunications Union (CTU)
Venue and Date
Monday 31st January, 2022 – 10 AM AST
Virtual Meeting Platform – Hubilo
Target Audience
Policymakers in government (technology, diplomacy, education)
Technical Community
ICT and Financial Services Regulators
Business Community
Civil Society/Public
Traversing the Metaverse – A Caribbean Perspective Agenda (Draft)
MONDAY 31ST JANUARY 2022

Theme 1:  DEFINITION :  The Metaverse – What it is and What it is not

This theme will explain the metaverse from a conceptual and technical perspective.  Key terms such as virtual, mixed and augmented realty, blockchain, non-fungible tokens (NFTs), crypto-currencies, and others will be explored in an effort to raise public awareness of the metaverse and its key terminology.

Time
Item
Proposed Speaker
9:00 – 9:05 am
Welcome
Mr. Rodney Taylor

Secretary-General, CTU

KNOWLEDGE CAFÉ

9:05  – 10:05 am
 
·         Moderator: His Excellency Gabriel Abed

Ambassador of Barbados to the United Arab Emirates (UAE)

 
·     New Opportunities in the Metaverse
·         Mr. Borget Sebastien

Sandbox Metaverse

 
·     Presentation
·         Mr. Hrish Lotlikan

Founder & C.E.O – SuperWorld

10:05 – 10:15 am
Q&A
Theme 2: ECONOMIC OPPORTUNITIES AND RISKS OF THE METAVERSE

This theme will examine the economic, social and cultural opportunities for different stakeholders including governments and the private sector.

10:15 – 10:30 am
Unbundling Metaverse policy challenges
Mr. Vladimir Radunovic

Director, E-diplomacy and Cybersecurity Programmes, Diplo Foundation – Geneva

10:30  – 11:30 am
Panel Discussion:
·     Moderator: Dr. Annalee Babb, ICT Consultant, Barbados
 
·     Building the Metaverse
·     Mr. Lester Garcia

Head of Connectivity Policy – LATAM

META

 
·     How Governments should Respond to the Metaverse
·       Professor Avinash Persaud

Chairman, CARICOM Commission on the Economy

 
·     Benefit to Citizens and the Social Impact in Traversing the Metaverse
·       Mr. Alan Emtage

Computer Scientist, Barbados

11:30 – 11:45 a.m
Q&A
Theme 3: DIGITAL SKILLS TO SUPPORT THE METAVERSE

This theme will explore the skills that are needed for the Caribbean to position itself to take advantage of the opportunities identified in theme 2 and how this might impact regional academic institutions in the short to long term.

11:45 a.m – 12:45 p.m
Panel Discussion
·       Moderator: Java Sealy

Barbados CARICOM Youth Ambassador / Entrepreneur

 
·     Meeting the Metaverse: Rethinking the Caribbean Academic Institution
·       Dr. Kim Mallalieu (UWI)

Senior Lecturer, University of the West Indies, St. Augustine

 
·     Transferability of Games Development Skillsets for the Growing Opportunities Building the Metaverse
·       Mr. Stuart Butler

Course Director, School of Digital, Technologies and Arts

Staffordshire University, United Kingdom

 
·     Presentation
·       Kristie Powell

Technologist

12:45  – 12:55 p.m.
Interactive open Q&A and End of Webinar
Mr. Nigel Cassimire

Deputy Secretary-General, CTU