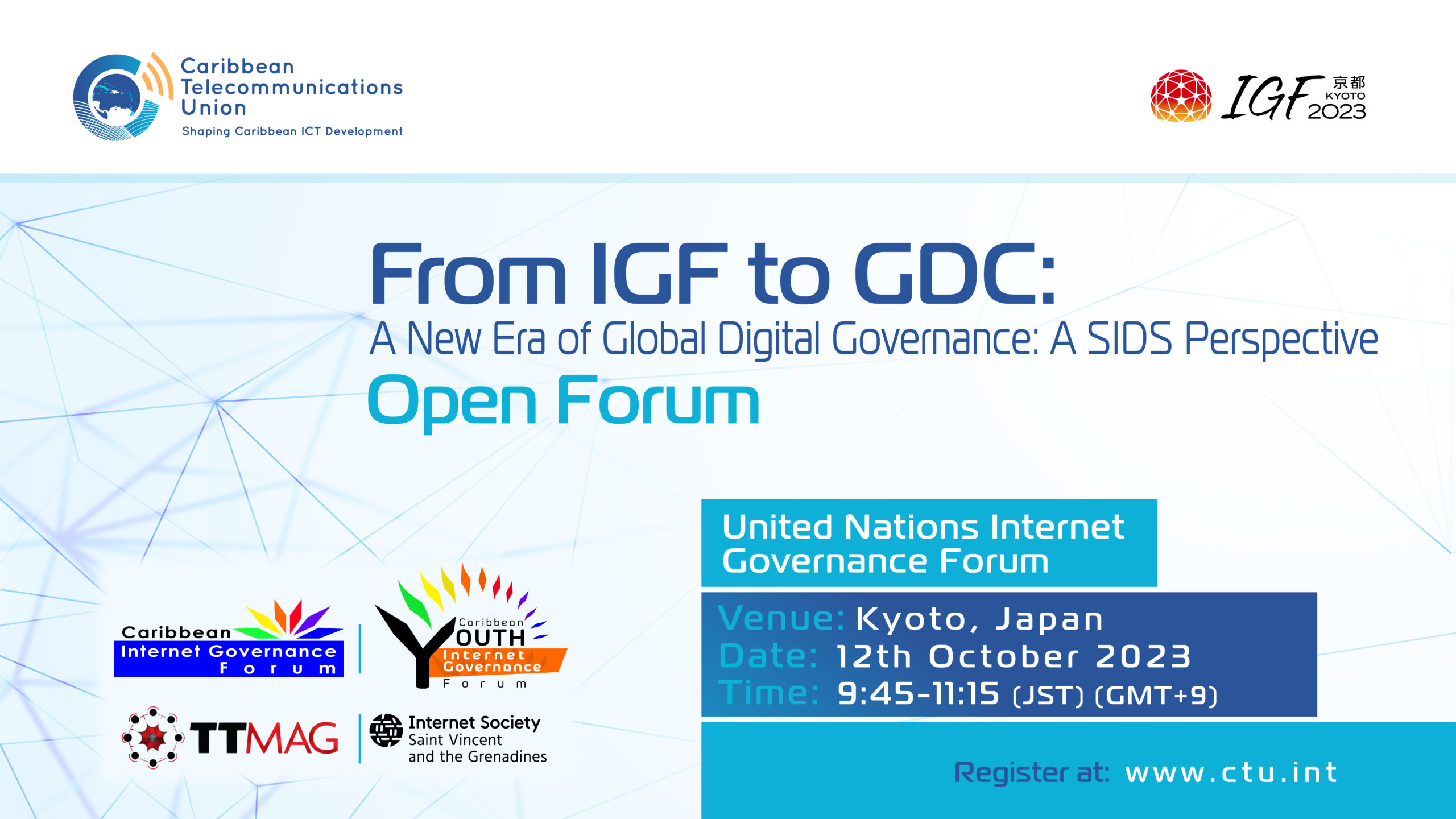 From IGF to GDC – A New Era of Global Digital Governance: A SIDS Perspective
October 12, 2023
Venue: Kyoto, Japan
OVERVIEW
The Caribbean Telecommunications Union (CTU) is a treaty based, intergovernmental, international organisation dedicated to promoting and supporting the development of the Caribbean information and communications technologies (ICT) sector for the socio-economic development of the region.
The CTU has been coordinating the work of the Caribbean Internet Governance Forum over the past 18 years. This NRI has recently been focusing on the challenges with:
The monetisation of local content and the impact on the digital economy;
OTTs and the impact on investment in the regional telecom industry;
Content regulation, community standards and AI; and
The evolving cybersecurity threat landscape of developing countries, all from a developing country perspective and the Caribbean small states in particular.
This open forum aims to share specific experiences on the challenges previously mentioned and advance the discussions on issues of global inequality in the new digital global economy. These discussions will be contextualised within the UN Sustainable Development Goals 8, 9, and 10, and help developing countries formulate specific proposals and recommendations for the Global Digital Compact (GDC), as they prepare for the Future of the World Summit. The aim is to ensure that that GDC takes into account the shortcomings of the UN IGF process, specifically as it relates to DCs and SIDS, and identifies opportunities and mechanisms to address these shortcomings. All of the issues that will be addressed in the open forum, which takes the format of a panel discussion, are issues that the Caribbean is currently grappling with and which are presenting major social and economic developmental challenges to the region.
REGISTER