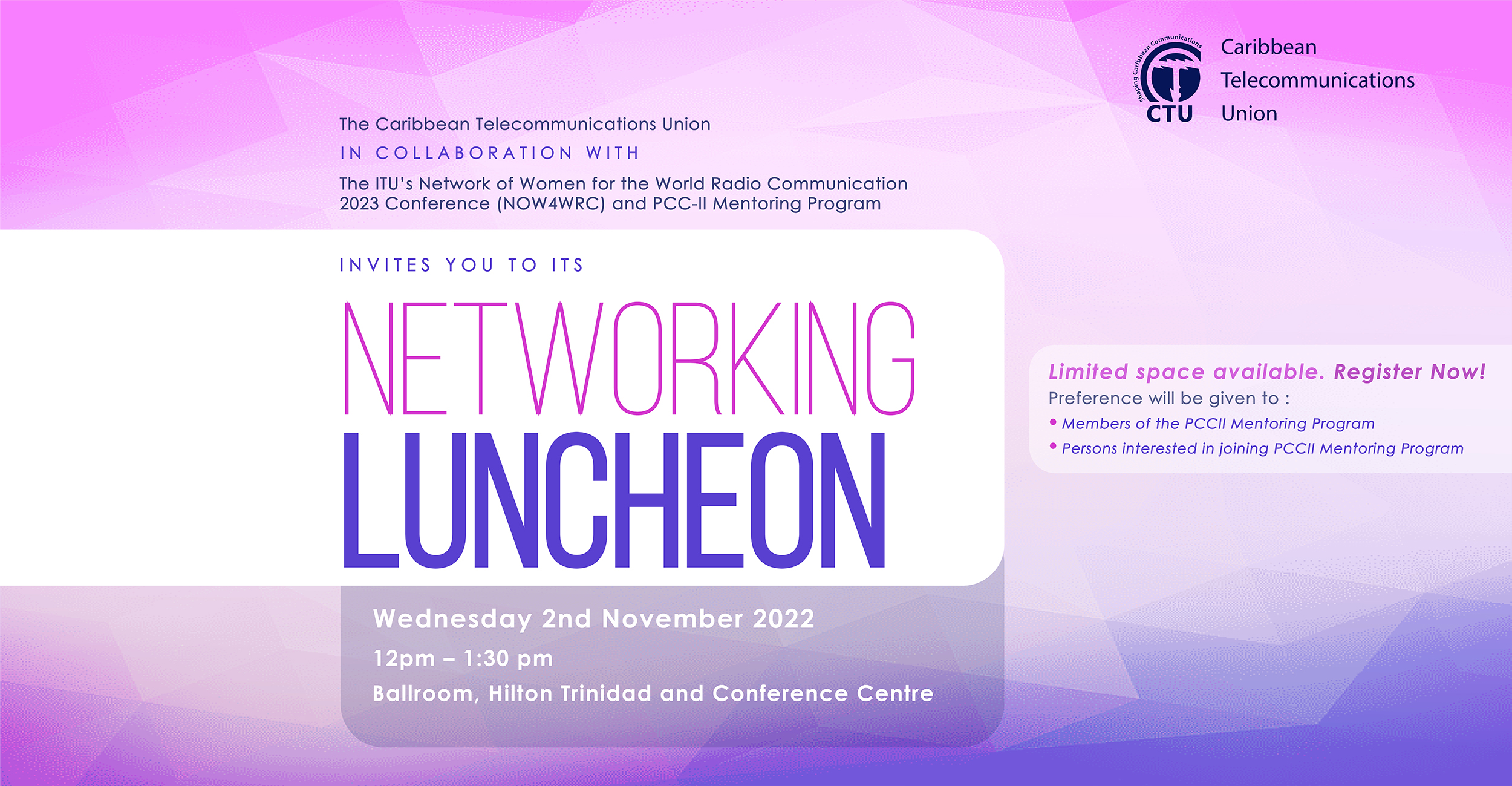 CTU in collaboration with NoW4WRC and PCC-II Mentoring Program NETWORKING LUNCH @ 40TH PCC.II PROJECT PROPOSAL
November 2, 2022
Venue: Ballroom, Hilton Trinidad and Conference Centre
Introduction
The Caribbean Telecommunications Union (CTU), is pleased to announce the hosting of a Networking Luncheon, in collaboration with the Network of Women for the World Radio Communication Conference (NoW4WRC) of the International Telecommunication Union (ITU, and the Mentoring Program of the Inter‑American Telecommunication Commission (CITEL)'s Permanent Consultative Committee (PCC) II, as part of the 40th PCC.II meeting to be held in Trinidad and Tobago.
NoW4WRC was established as a forum for networking, mentoring, and knowledge sharing to build capacity early in the WRC process to encourage greater participation of women as delegates, chairs, vice-chairs and other key roles in the Radio Sector's statutory meetings. The network is currently focused on preparations for the World Radio Communications (WRC) Conference 2023, to be held in Dubai. Particular objectives are to:
Strive for gender balance among delegates
Prepare women delegates in key roles for WRC-23
Nurture the ITU community of women in terms of contributions to the crucial conference and the field of radiocommunications in general
The PCC-II mentorship programme is open to women and men participating in all leading up to WRC23. The mentorship programme aims to:
Foster interdisciplinary cooperation and teamwork in preparation for the WRC23;
Expand the professional networks;
Facilitate sharing of knowledge and skills;
Encourage learning from experiences.
Key Partners
Caribbean Telecommunications Union (CTU)
Network of Women for the World Radio Communication Conference (NoW4WRC) of the International Telecommunication Union (ITU-R)
Mentoring Program of the Inter‑American Telecommunication Commission (CITEL)'s Permanent Consultative Committee (PCC) II
Private Sector – Technology service providers
Target Audience
Participants of the 40th PCC-II Conference
Members of the PCC.II Mentoring Program
Participants interested in joining the PCC.II Mentoring Program
REGISTER