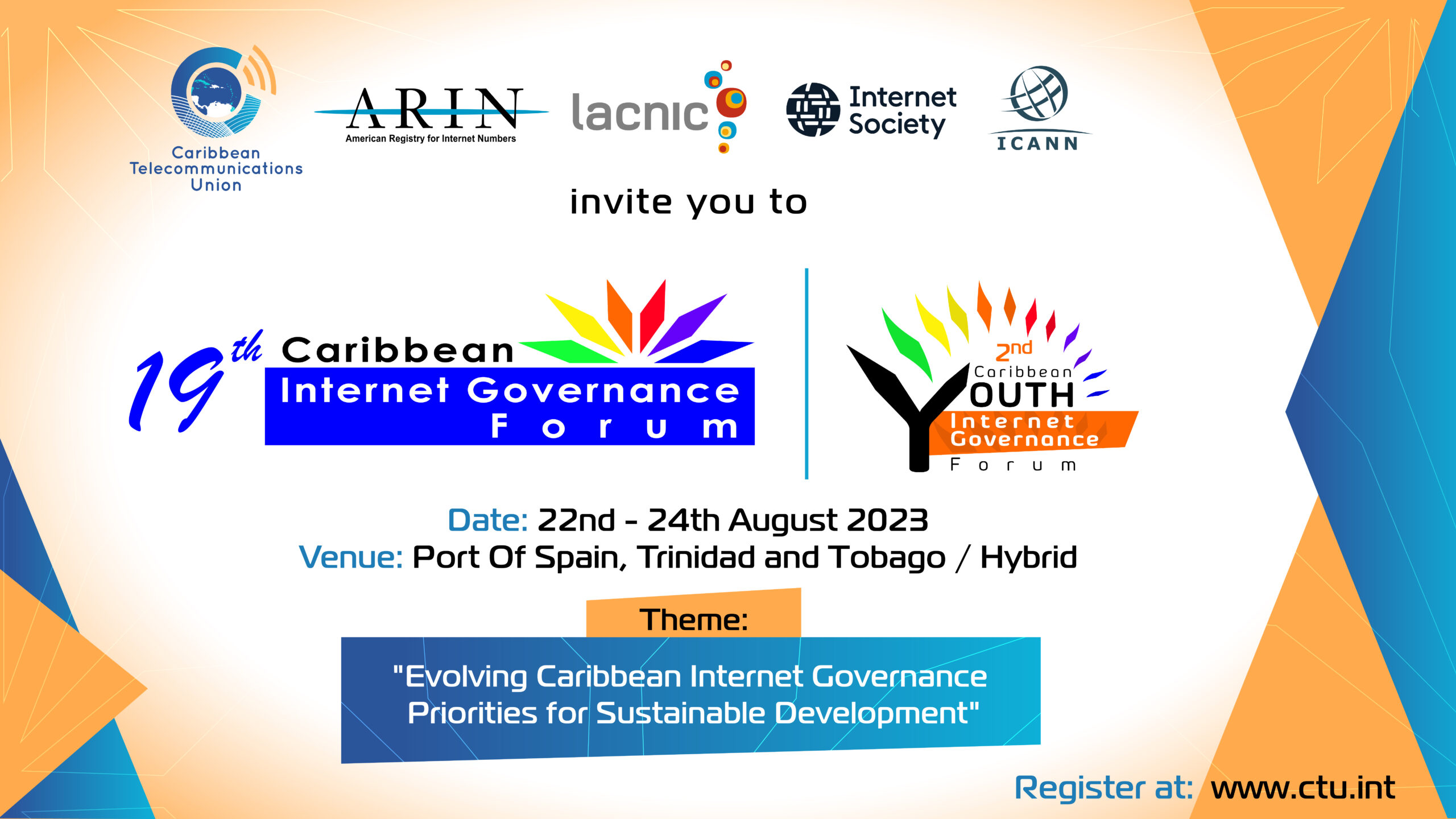 19th Caribbean Internet Governance Forum and 2nd Caribbean Youth Internet Governance Forum
August 22, 2023 - August 24, 2023
Venue:
Background
The Caribbean Internet Governance Forum (CIGF) is a regional, multi-stakeholder forum initiated by the Caribbean Telecommunications Union (CTU) and the Caribbean Community (CARICOM) Secretariat in 2005 to coordinate a regional approach to Internet Governance (IG), initially focussed on the proceedings of the United Nations' World Summit on the Information Society (WSIS). The forum has since met annually and has delivered significant and pioneering benefits to the region including formulation of a Caribbean Internet Governance Policy Framework; the proliferation of Internet exchange points (IXPs); capacity building in IG Principles and best practices; and growth in Caribbean influence in international IG fora. The CIGF is the longest running Internet Governance Forum in the world.
The Caribbean Youth Internet Governance Forum (CYIGF) is a regional, multi-stakeholder event, under the Caribbean Telecommunications Union's (CTU's) Caribbean Internet Governance Forum (CIGF), designed by youth, for youth. As the second ever of its kind, CYIGF 2 sets out to bridge gaps in youth representation and participation in regional internet governance initiatives and fora. It will give youth the opportunity to make their voices heard, and inspire them to embed themselves within the internet governance community, becoming the changemakers of tomorrow. CYIGF 2 will feature a number of presentations and panels on internet governance, digital inclusion, artificial intelligence, from a variety of speakers, each with different backgrounds. CYIGF 2 precedes the 19th CIGF, for which all participants, youth and otherwise, are invited to attend.
This year the 19th CIGF will return to in-person staging but will be complemented by remote participation via online videoconferencing under the auspices of the CTU. The remote working protocols occasioned by COVID-19 have demonstrated a new urgency for digital transformation. The 19th CIGF will address various work streams of Internet governance necessary to seize this opportunity for accelerated adoption in a trusted and secure manner, and position the Caribbean for sustainable, ICT-driven post-COVID recovery. It will also feature the 2nd Caribbean Youth Internet Governance Forum (2nd CYIGF) and continue work to update the regionally harmonised policy framework for Internet governance.
Objectives
Consider Internet governance policies and initiatives for priority attention to facilitate accelerated digital transformation
Review and finalise Issue 4.0 of the Caribbean Internet Governance Policy Framework documenting the regional vision, priorities and approaches for sustainably building and/or strengthening consensus and action on IG issues in the Caribbean
Elicit the voices and develop the capacity of Caribbean youth in Internet governance by facilitating the 2nd Caribbean Youth Internet Governance Forum
Build national and regional capacity and systems in IG to enable, support, strengthen and sustain effective Caribbean participation and representation at regional and global Internet Governance fora
Target Audience
Academia
Civil society
Government policy makers and IT Managers
Internet users
Internet service providers and Telecommunications operators
International organisations
ICT Regulators
VIEW AGENDA
REGISTER
VIEW OR DOWNLOAD AGENDA (PDF)
Agenda
DAY ONE: TUESDAY AUGUST 22ND 2023

19TH CARIBBEAN INTERNET GOVERNANCE FORUM (CIGF)

9:00 am – 9:05

(5 minutes)

Mr. Rodney Taylor – Secretary-General, CTU

9:05am – 9:50 am

(55 minutes)

Introduction to Internet Governance – Caribbean Perspectives from the Internet Organisations

Mr. Nate Davis – Senior Government Affairs Analyst, ARIN
Mr. Albert Daniels – Senior Stakeholder Engagement Manager, ICANN (Virtual)
Mr. Shernon Osepa – Director, Caribbean Affairs, ISOC (Virtual)
Mr. Kevon Swift – Head of Public Safety Affairs, LACNIC

9:50am – 10:30am

(40 minutes)

Capacity Building Session #1: ICT Indicators to Measure Connectivity and Support Policy Development

Mr. Martin Schaaper – Senior ICT Analyst, ITU (Virtual)

10:30am – 10:45am

(15 minutes)

10:45am – 11:30am

(45 minutes)

Capacity Building Session #2: Cybersecurity and Cybercrime – International Cooperative Frameworks and National Imperatives

Ms. Andrea Martin-Swaby – Senior Deputy Director of Public Prosecutions & Head, Cybercrime & Digital Forensics Unit – Jamaica (Virtual)
Amb. Claudio Peguero, (Dominican Republic) (Virtual)
Ms. Valentina Name, Cybersecurity Program Officer, Secretariat of the Inter-American Committee against Terrorism (CICTE) (Virtual)

11:30am – 11:50am

(20 minutes)

Caribbean and Latin American Research Initiatives and Products in Internet Governance: LACNIC's Lideres 2.0

Ms. Paula Oteguy, LACNIC (Virtual)

11:50am – 12:00 p.m

(15 minutes)

QUESTION AND ANSWER SEGMENT
2ND CARIBBEAN YOUTH INTERNET GOVERNANCE FORUM
TIME (A.S.T)
TOPIC
SPEAKER
1:00pm – 1:05pm
2ND CYIGF Opening Remarks
Rodney Taylor, CTU SG
Tariq Mohammed, CYIGF
1:05pm – 1:07pm
Group photo
CTU technical team
1:07pm – 1:15pm
Presentation: Youth IG Action Plan
Tyler Seudath, CYIGF
1:15pm – 2:00pm
Roundtable Discussion: leveraging ICTs for Caribbean youth development Ahead of the Global Digital Compact
Moderator: Jael Goddard, CYIGF

Filippo Pierozzi, Associate Expert, UN Office of the Secretary-General's Envoy on Technology (Virtual)
Tracy Hackshaw, Director, TTMAG (Virtual)
Abriana Cooper, CaribbeanGirlsHack Intern, UTECH (Virtual)
Maria Divina OBrien, Google WomenTechMakers TT, Women inTech Caribbean (Virtual)

2:00pm – 2:15pm
Presentation: Taking advantage of AI by Caribbean Youth
Xavier Jhon-Clair, XRLab (Virtual)
Q&A: Keron Rose
2:15pm – 2:50pm
Roundtable Discussion: AI Governance:

Addressing policy and regulatory challenges surrounding AI
Guidelines for AI development and deployment as well as fostering regional and international cooperations for governing AI
Intellectual property and data security considerations

Moderator: Keeghan Patrick, CYIGF (Virtual)

Jennifer Gutierrez Yañez, Generation Connect Americas Youth Envoy, ITU (Virtual)
Leslie Lee Fook, Director of AI, Automation and Analytics, Incus Services Limited
Keith Laban, Startl Reality
Adrian Dunkley – Founder, StarApple AI & StarApple Analytics (Virtual)

2:50pm – 3:30pm
Panel Discussion: Opportunities for Regional Youth Development
Moderator: Steffon Lewis and Caron David, MDT

Mr. Shergaun Roserie,Co-CEO Orbtronics Ltd. (Virtual)
Cleveland Thomas, ITU (Virtual)
Nicole Pitter Patterson, Caribbean Girlz Hack / She Leads IT (Virtual)
Raj Ramdass, RSC TechClubs Trinidad & Tobago (Virtual)

3:30pm – 4:00pm
Presentation: From Vision to Reality: CYIGF as an NRI
Ms. Anja Gengo, Associate Programme Expert/National and Regional IGF Initiatives Focal Point, UN IGF Secretariat (Virtual)
Q&A: Keron Rose
4:00pm – 4:10pm
2ND CYIGF Closing Remarks
Ms. Nia Nanan, Youth Envoy, CTU
Mr. Tariq Mohammed, CYIGF
DAY TWO: WEDNESDAY AUGUST 23RD  2023
19TH CARIBBEAN INTERNET GOVERNANCE FORUM (CIGF)
TIME (A.S.T.)
TOPIC
SPEAKER
9:00am – 10:00am
Opening Ceremony
Opening Remarks
Greetings
Remarks
Keynote Address
Mr. Rodney Taylor, Secretary-General, CTU
Mr. Amandeep Singh Gill – UN Tech Envoy (Virtual)
Mr. Albert Daniels, ICANN, (Virtual)
Mr. Shernon Osepa, ISOC (Virtual)
Mr. Kevon Swift, LACNIC
Mr. Bevil Wooding ARIN
Mr. Chengetai Masango – UN IGF Secretariat (Virtual)
(Group Photo)
10:00am – 10:30am
CIGF @ 19 – Review of CIGF Vision, Mission, Challenges and the Road Ahead
Mr. Nigel Cassimire, Deputy Secretary-General, CTU
10:30am – 10:45am
COFFEE BREAK
10:45am – 12:15pm
National, Regional and Global IG Contexts
Reports from National IGFs

Ms. Jacqueline Morris – TTIGF
Mr. Willis Williams – SVG IGF
Ms. Stéphanie Joseph, President ISOC – Haiti IGF
Ms. Lilian Chamorro Rojas – Coordinator, LACIGF (Virtual)
Ms. Anja Gengo – UN IGF Secretariat (Virtual)

12:15pm – 1:30pm
LUNCH
1:30pm – 2:00pm
AI in the Caribbean – Policy Roadmap
Mr. Paul Hector, UNESCO
Mrs. Erica Simmons, Consultant, IEEE/UNESCO
2:00pm – 2:45pm
Workshop Session: Caribbean Internet Governance Policy Framework Issue 4.0
Mr. Nigel Cassimire, Facilitator
Deputy Secretary-General, CTU
2:45pm – 3:00pm
COFFEE BREAK
3:00pm – 4:30pm
Workshop Session: Caribbean Internet Governance Policy Framework Issue 4.0
Mr. Nigel Cassimire, Deputy Secretary-General, CTU
DAY THREE: THURSDAY AUGUST 24TH 2023

19TH CARIBBEAN INTERNET GOVERNANCE FORUM (CIGF)

Hot Topics in IG Session #1: AI – Opportunities, Risks and Challenges of Generative AI

Moderator: Mr. Keron Rose

Audace Niyonkuru, PNAI
Mr. Adrian Dunkley – Founder, StarApple AI & StarApple Analytics (Virtual)
Yung-Hsuan Wu, Researcher, Diplofoundation (Virtual)

Hot Topics in IG Session #2: Bridging the Digital Divide – Accessibility and Inclusion

Moderator: Ms. Kristerbella Sookdeo, (Fortinet)

Ms. Annie Baldeo, TATT
Mr. Shernon Osepa, ISOC (Virtual)
Gregory Smith, UNDP
Zack Blackburn,International Regulatory Affairs Manager, Amazon Project Kuiper (Virtual)

Hot Topics in IG Session #3: Infrastructure "Fair Share" Contribution – Views from the Internet Organisations (i-Orgs)

Moderator: Mr. Rodney Taylor, CTU

Mr. Shernon Osepa – Director, Caribbean Affairs ISOC (Virtual)
Mr. Albert Daniels – Senior Manager, Stakeholder Engagement, Caribbean, ICANN (Virtual)
Mr. Kevon Swift – Head of Public Safety Affairs LACNIC

Panel Discussion: Digital Democracy and Citizen Participation
(within the context of data driven strategy and experience)

Moderator: Gary Kalloo, Director of Business Development and Implementation Support, CTU

Digital Governance Expert – Ms. Carol Roach (Virtual)
St. Vincent and the Grenadines – Ms. Simone Joseph-Ollivierre (Virtual)
Trinidad and Tobago – Ms. Denyse White

Report and Synthesis from Workshop Sessions

Mr. Nigel Cassimire, Deputy Secretary-General, CTU

3:15pm – 3:45pm (30 minutes)

Moderator: Mr. Keron Rose

Conclusions and Next Steps

Nia Nanan, Senior Research Analyst, CTU

19th CIGF Closing Remarks

Mr. Rodney Taylor, Secretary-General, CTU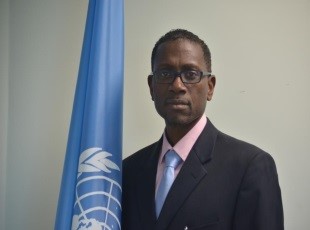 Caribbean Region Area Office Representative

Cleveland Thomas

Mr. Cleveland Thomas is a UN diplomat and is the Caribbean regional head of the UN's International Telecommunication Union (ITU). Prior to this appointment, Mr. Thomas was the CEO for the Trinidad and Tobago State Enterprise  iGovtt. After leaving the national telecommunication operator, TSTT, he held the post of National Chief Information Officer for the Government of TT. As NCIO and CEO, Cleveland was charged with the responsibility to implement the Government's ICT vision for development. He also made presentations to government officials in Georgia-Russia, the Caribbean, Fiji, Botswana, Switzerland and Zimbabwe, to name a few. Mr. Thomas is a certified ACCA accountant, also holding a master's degree in ICTs Regulations and Policies. He is married, has 4 lovely children and prides himself as a servant of the Lord Jesus Christ. He ministers the gospel, loves praying and intercession. He mentors youths and a regular speaker at public Christian fora. Over the past years, you would have heard his voice during the Prayer hour on FBN 98.1fm from 5;00am – 6:00am.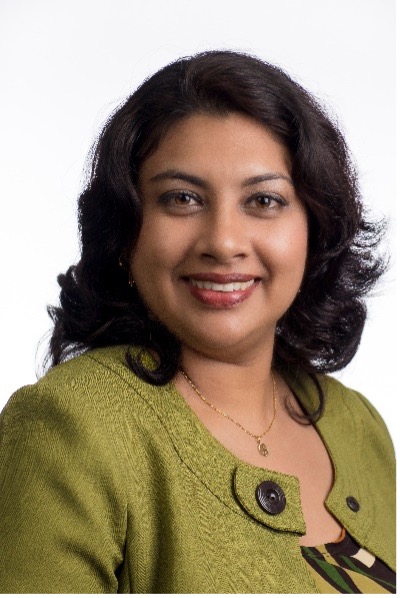 Executive Officer Policy, Planning and Economics

Annie Baldeo

Biography: Ms. Annie Baldeo is the Executive Officer, Policy, Planning and Economics at the Telecommunications Authority of Trinidad and Tobago (TATT). She has served with TATT for over eighteen years where she is responsible for policy development, statistical indicators, competition analysis and strategic planning. She contributes to the publication of Trinidad and Tobago industry's Market Reports and was previously appointed vice-chair of the International Telecommunications Union international expert group on benchmarking telecommunications and ICT indicators. Prior to this position, Annie was employed with organisations both in the private and public sector including the National Information and Communication Technology Secretariat of the Ministry of Public Administration where she was involved in the development of Trinidad and Tobago's first National ICT Plan. Her academic qualifications include a Bachelor of Science Degree in Management, Economics and Finance from the University of the West Indies, and an MBA in Strategic Planning.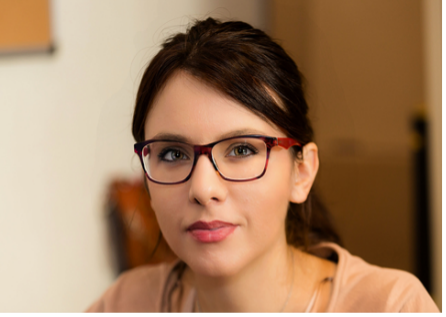 Associate Programme Expert and NRIs Focal Point

Anja Gengo

Anja Gengo works at the United Nations Secretariat for the Internet Governance Forum (IGF), as an associate programme expert and a focal point for the national, regional and youth IGF initiatives. Prior to joining the IGF Secretariat, she worked as an analyst and legal advisor in private legal practice, focused on human rights, media and ICT law. She is the co-founder of the Centre for Media Law, where she worked as an Internet policy analyst and programme coordinator.
Ms. Gengo is a 10-year experienced debater, trainer and judge for the Karl Popper and British Parliamentary debate formats with extensive experience from many national, regional and international debate tournaments. She holds a bachelor's degree in Law and a master's degree in International Law, with her academic research focused on the intersections between digital technologies and international law. She is also an alumni of the Monroe E. Price programme in comparative media law and policy from the University of Oxford and the Annenberg School of Communication.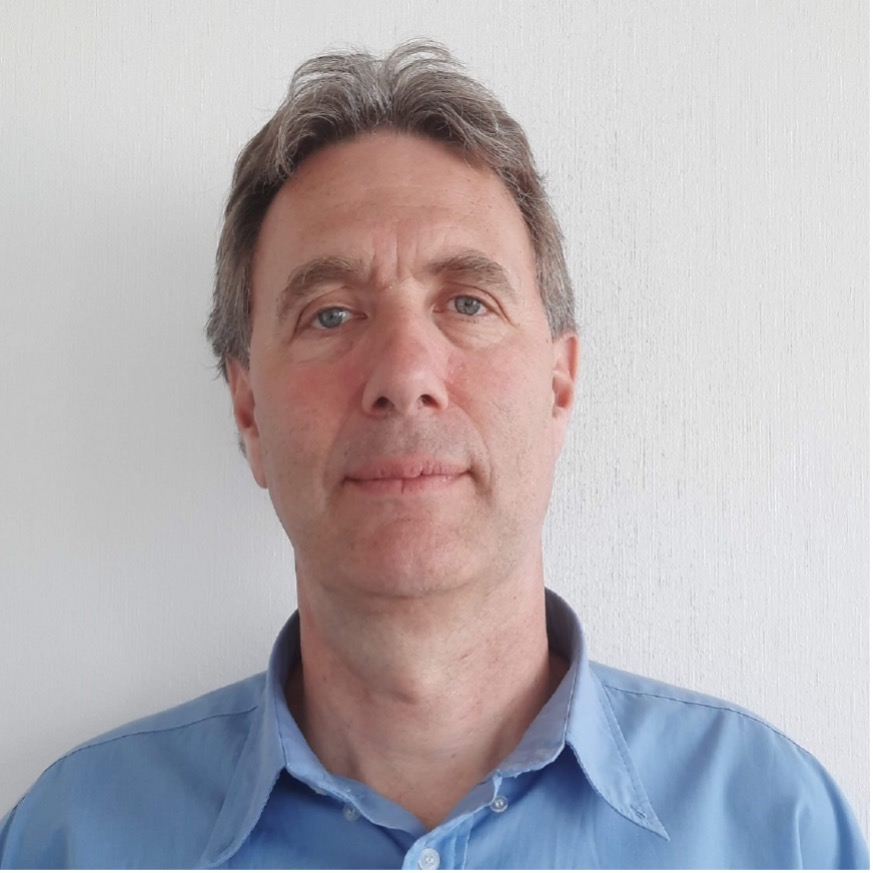 Senior ICT Analyst

Martin Schaaper

Martin Schaaper is the Senior ICT Analyst of the ICT Data and Analytics Division of the International Telecommunication Union's Telecommunication Development Bureau, where he has been working since September 2017. He is responsible for the design and coordination of the Division's analytical publications, including the Measuring Digital Development series, and contributes to and coordinates the analysis of information society developments, including in the context of the World Summit on the Information Society (WSIS) and the Sustainable Development Goals (SDGs). Before joining ITU, he worked for eight years at the UNESCO Institute for Statistics as Head of Section on Science, Culture and Communication, eight years for the OECD and six years for Eurostat. Mr Schaaper holds a master's degree in econometrics from the Erasmus University Rotterdam, the Netherlands.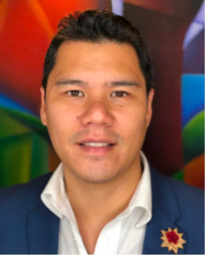 Director of AI, Automation and Analytics

Leslie Lee Fook

Leslie Lee Fook is a name of legend in the business world. His revolutionary digital transformation strategies and expert knowledge are unrivalled, making him one of the most sought-after figures on Caribbean shores. His career spans over twenty years with experience in Analytics, Robotic Process Automation, and Artificial Intelligence. Typically serving enterprise and government customers, he aspires to create a globally competitive region using data which positively impacts every Caribbean life! He was also named as an honorary speaker at The CTU's Prime Minister's Summit which amassed over 100 leaders from across the region. Leslie believes that we all someday will become data citizens. He hopes to tap into the deeply creative nature of our Caribbean people so we can foster development in a community that's highly sought after for its talent and expertise, transforming us into the "India for Analytics."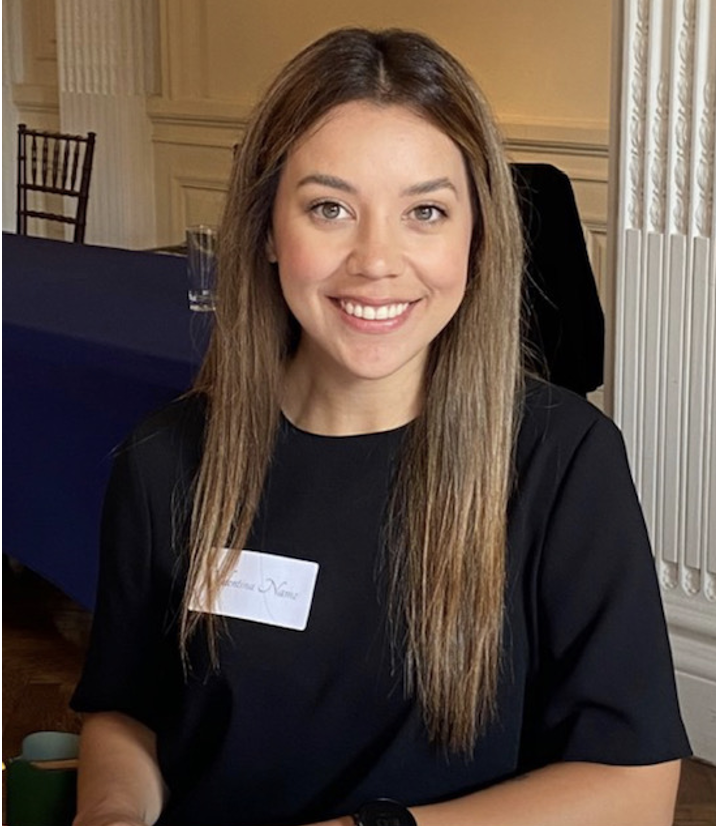 Cybersecurity Program Officer

Valentina Namé

Valentina Namé for the last four years has been a Cybersecurity Program Officer within the OAS/CICTE cybersecurity program. In her current capacity she co-leads the implementation of the project "Addressing the Gender Gap in the Cybersecurity Agenda in the Americas and the Caribbean Region". Additionally, Ms. Namé is currently the OAS/CICTE Liaison for the GFCE hub in Latin America and the Caribbean which aims to coordinate cybersecurity capacity building and increase cybersecurity knowledge in the Americas. Furthermore, she supports the internship program of the OAS for the cybersecurity program with the intent to encourage more entry-level professionals in the field of cybersecurity.

Head of Public Safety Affairs

Kevon Swift

Kevon has accumulated over fifteen years of experience in global digital policy and stakeholder engagement, specialising in the areas of development and cybersecurity. In addition to being the focal point for Caribbean Affairs, he is Head of Public Safety Affairs at the Latin American and Caribbean Internet Addresses Registry (LACNIC), where he spearheads strategic engagement with governments, regulators, law enforcement, the information security community, and other interested stakeholders on questions of cooperation for cybersecurity. He serves as LACNIC's liaison to the Number Resources Organization Public Safety Coordination Group (NRO-PSCG) whereby the five Regional Internet Registries monitor and evaluate global threats to Internet numbering resources on the one hand, and coordinate outreach efforts to global law enforcement and other concerned stakeholders on the other. Kevon contributes regularly to the Geneva Internet Platform's Digital Watch Observatory as a cybercrime Knowledge Fellow. Kevon is also an Advisory Board Member to the Global Forum on Cyber Expertise (GFCE) – a platform that seeks to strengthen cyber capacity and expertise to address cybersecurity globally through international collaboration and cooperation.  Prior to his Cybersecurity portfolio, Kevon designed and managed for many years LACNIC's flagship program for Internet Governance research and mentorship – the Líderes Program. Líderes provides independent researchers from across Latin America and the Caribbean with an opportunity to receive funding to develop public policy research on select digital issues and to work with an experienced Internet Governance expert.  Kevon holds an LLM in Internet Law & Policy (University of Strathclyde), an MA in Diplomacy & Internet Governance (University of Malta), and an MA in International Trade & Languages (University of Parma) among other credentials.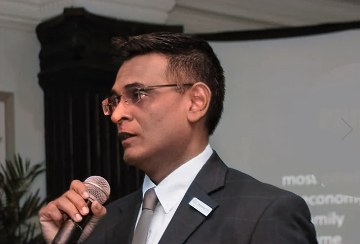 Director, Restore A Sense of I Can

Raj Ramdass

Raj Ramdass is a Computer and Electrical Engineer with a career in the education sector. After working in this field for several years, Raj embarked on establishing ICT training facilities in Trinidad and Tobago. He is the co-founder, with his wife Sugan, of Restore A Sense of I Can (RSC), a non-profit organization that focuses on effecting change through Education and Technology. Raj and Sugan's innovative and impactful work have earned them numerous local and international awards for their social intervention with young people, and the development of the RSC Tech Club model. This model has been successfully implemented across the Caribbean, with a focus on tech capacity development in youth. Furthermore, it addresses critical environmental issues: e-waste management through the Reduction of Indiscriminate Dumping of eWaste (RIDE) project, Carbon Emission and is also executing the Plastic Tides Turner project.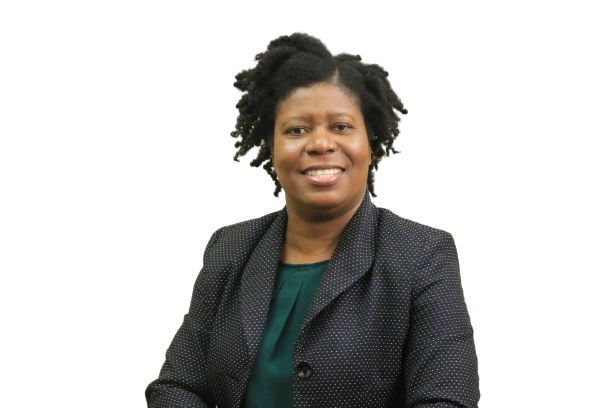 Assistant Director, EGovernment Unit

Simone Joseph-Ollivierre

Simone Joseph-Ollivierre has spent most of her career working in the ICT sector: from an IT Teacher to a Web Designer to a Project Officer for ICT for Development, and now to her current role as Assistant Director for the EGovernment Unit, at the Information Technology Services Division (ITSD), within the Ministry responsible for Information Technology. She holds a Bachelor of Science (BSc.) in Computer Science and a Master of Law (LLM) in Innovation, Technology and the Law. She is a Career Coach who enjoys working with girls and young women, and is passionate about women's empowerment especially in the field of Technology. Her passion in this area led to a recently published article in the Caribbean Telecommunication Union (CTU) 'In the K-NoW' online newsletter on the topic "Can Career Mentorship help to Bridge the Gender Digital Divide in the Caribbean?". She is also a regional point of contact for the CTU's Network of Women. She is bilingual (English and Spanish) and enjoys travelling and networking.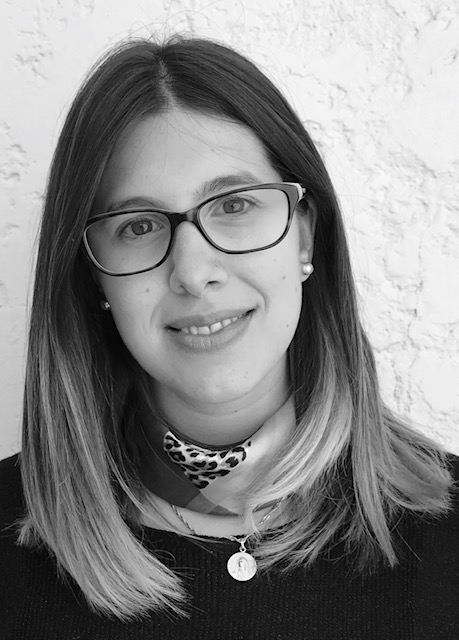 Multi-stakeholder Engagement Coordinator

Paula Oteguy

Paula Oteguy has been part of the LACNIC staff since 2011, and currently works as LACNIC's Multisector Relations Coordinator. Among the most outstanding activities, she leads the development of LACNIC's Líderes and Policy Shapers programs, as well as support for national, regional, subregional and youth IGF (NRI) initiatives. She has a degree in International Relations with different studies in Internet Governance and is currently a member of the Multisectoral Advisory Group (MAG) of the Internet Governance Forum (IGF).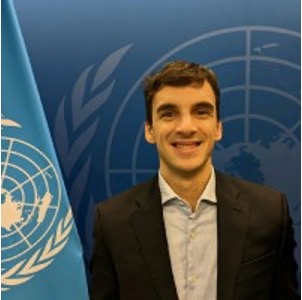 Associate Expert with the Office of the Envoy of Technology

Filippo Pierozzi

Filippo is an Associate Expert with the Office of the Envoy of Technology at the United Nations, where he covers digital cooperation and artificial intelligence. Prior to joining the United Nations, he worked with Twitter and the Italian Government. He holds a Master in International Relations and European affairs from the College of Europe, Bruges.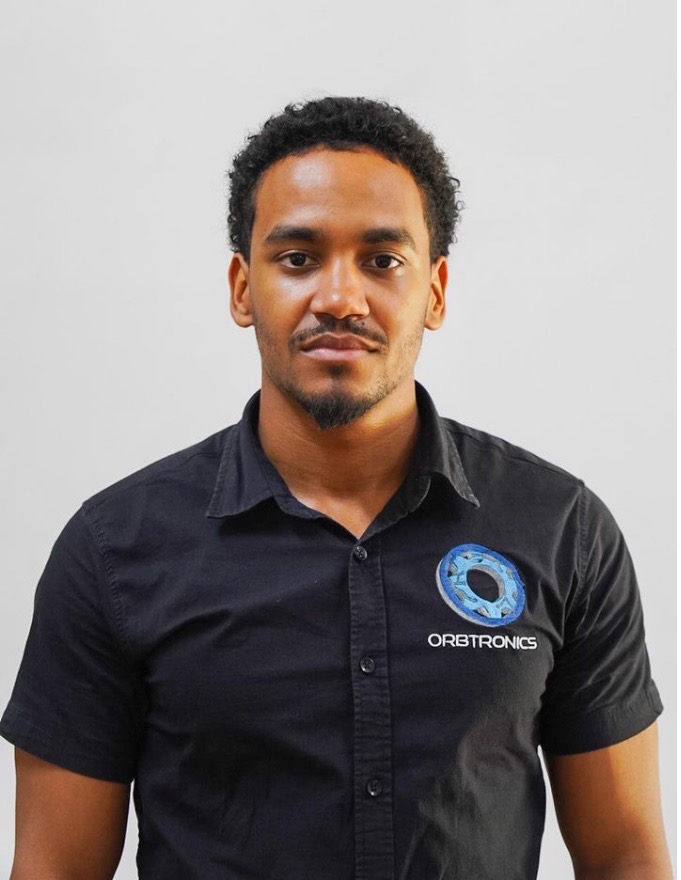 Co-CEO Orbtronics

Shergaun Roserie

Biography: Shergaun Roserie is a dynamic visionary, education advocate, and technology entrepreneur hailing from the coastal village of Saint Lucia. His journey began as a global ambassador, representing his nation in the FIRST Global International Robotics competition, igniting a passion for bridging technological divides. Recognizing the disparity, Shergaun immersed himself in uplifting Saint Lucian youth by integrating educational robotics and coding into school curricula. Co-founding 'Orbtronics' in 2020, he spearheaded software and hardware solutions, facilitating STEM education, and empowering businesses to enhance their digital presence. A Mechanical Engineering Architect at Microsoft, Shergaun leverages his experience from Cummins and Google to engineer innovation. Committed to international progress, he shapes policy frameworks with ITU's Generation Connect, advocating for youth development and digital advancement, exemplifying a tireless advocate for education and innovation.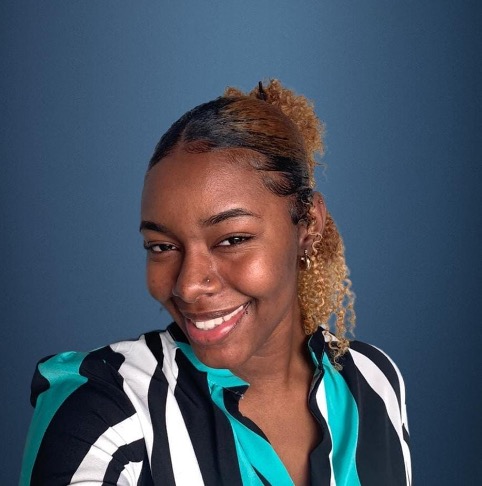 Ambassador, Caribbean Girls Hack

Abriana Cooper

I'm Abriana Cooper, a dedicated and driven individual currently in my third year at the University of Technology Jamaica, pursuing a degree in Computer Science. At the age of 19, I've already embarked on a journey that combines my passion for technology and my desire to make a positive impact on the lives of young individuals, particularly young women, in the tech field. I strongly believe in the importance of diversity and inclusion in the tech industry, and I am driven by the mission to break down barriers that hinder the participation of underrepresented groups. Through mentorship, workshops, and community engagement. With a foundation built on education, innovation, and empowerment, I am excited to see where my passion and dedication will lead me in the dynamic world of technology.