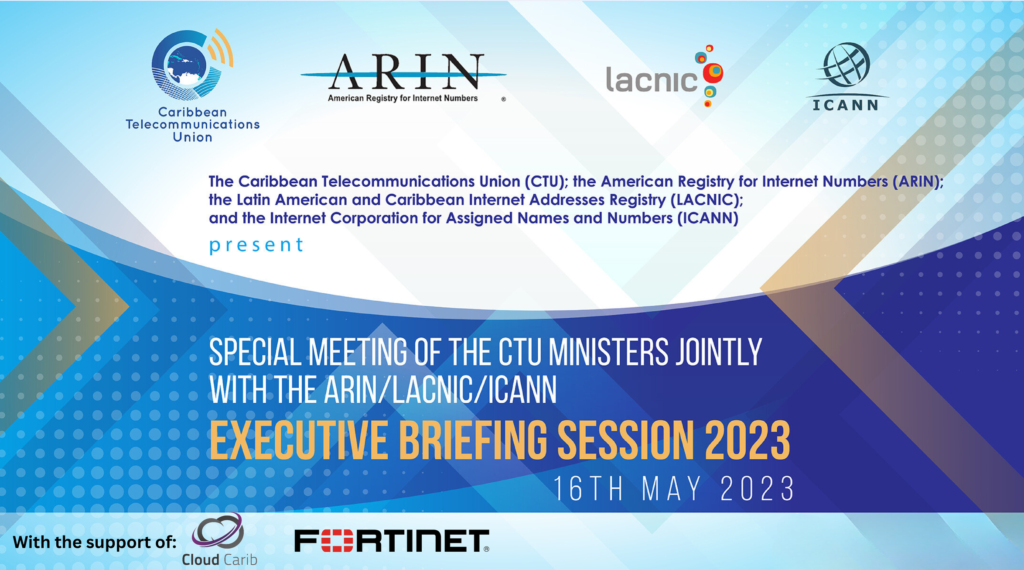 Port of Spain, Trinidad and Tobago – 12th May 2023 – The Caribbean Telecommunications Union (CTU), the American Registry for Internet Numbers (ARIN), the Latin American and Caribbean Internet Addresses Registry (LACNIC) and the Internet Corporation for Assigned Names and Numbers (ICANN) will host the Special Meeting of the CTU Ministers jointly with ARIN/LACNIC/ICANN, Executive Briefing Session 2023.
The Executive Briefing Session will take place on Tuesday 16th May 2023, at the CTU Secretariat in Port-of-Spain, Trinidad and Tobago. Under the theme, "State of Caribbean Cyber Resilience: Securing a Digital Future," this Executive Briefing Session will complement the Executive Sessions on Digital Leadership in the Caribbean, organised by the Government of the Republic of Trinidad and Tobago's Ministry of Digital Transformation and the Inter-American Development Bank (IDB), which will be held on May 15th and the morning of 16th May 2023.
The CTU-hosted event aims to facilitate engaging dialogue between high-level decision-makers of Caribbean governments and representatives from the Regional Internet Registries (RIRs), ARIN and LACNIC, together with other regional and international Internet experts and stakeholders. Together, they will explore strategies to enhance Caribbean cyber security resilience and safeguard our digital future. The event is being held with the support of Cloud Carib of The Bahamas and Fortinet, both of which are leaders in cyber security.
CTU Secretary-General Rodney Taylor mentioned, "The CTU is pleased to partner with ARIN, LACNIC and ICANN in a high-powered collaboration that will help our Member States improve their cyber security posture. Together we are committed to fostering innovation, connectivity and digital empowerment across the region. This unique meeting represents a significant opportunity for meaningful dialogue, strategic cooperation and collective action."
The session will offer insights from international technical experts on critical success factors for driving digital transformation; establish a trusted environment for the exchange of knowledge and experiences; explore international standards for network and cyber resilience; and provide concrete inputs to inform public policy decisions and best practice legal approaches for the issues being addressed.
ARIN, being a longstanding partner in hosting similar past events with the CTU, is committed to driving positive change in the pace of Internet development throughout the Caribbean by supporting capacity building and the development of policies to facilitate a digitally transformed region. Mr. Michael Abejuela, General Counsel, will deliver special remarks, while Mr. Bevil Wooding, Director, Caribbean Affairs, will participate in a panel discussion on the state of Internet development in the Caribbean.
Kevon Swift, Head of Public Safety Affairs and focal point for Caribbean matters at LACNIC stated, "The collaboration between the Regional Internet Registries for the Caribbean, ARIN and LACNIC, and the CTU has been a fruitful journey. Our organizations have been providing Caribbean decision makers with timely and critical insights into Internet developments. Given the increasingly urgent need for cyber resilience, it is only fitting that LACNIC continues to coordinate strategically with its Caribbean counterparts, and with other Internet actors. Cyber resilience is an all-encompassing affair. The pandemic has demonstrated the viability of the digital world in which we operate, and therefore it is essential that we continue to apply the best practices of that era while adapting to changes in the global digital policy environment."
ICANN is pleased to jointly host this important event and will be represented by Adiel A. Akplogan, Vice President for Technical Engagement at ICANN, to deliver the keynote Address on Cyber Threats to the Caribbean: Trends for 2023 and Beyond. Mr. Albert Daniels, Stakeholder Engagement Senior Manager – Caribbean will participate in a panel discussion.
Heads of delegations attending include regional Ministers of Government: Hon. Melford Nicholas (Antigua and Barbuda); Hon. Davidson Ishmael (Barbados); Hon. Michel Chebat (Belize); Hon. Chekira Lockhart-Hypolite (Dominica); Hon. Lennox Andrews (Grenada); Hon. Konris Maynard (St. Kitts and Nevis); Hon. Curtis King (St. Vincent and the Grenadines); Hon Albert Jubithana (Suriname); and Sen. The Hon. Hassel Bacchus (Trinidad and Tobago), who is also the President of the CTU General Conference of Ministers.
It is expected that this collaborative ministerial session will assist CTU Member States and other countries in the region in attendance to greatly strengthen Caribbean cyber security resilience and safeguard the region's digital future.
The event is reserved for invited participants only.