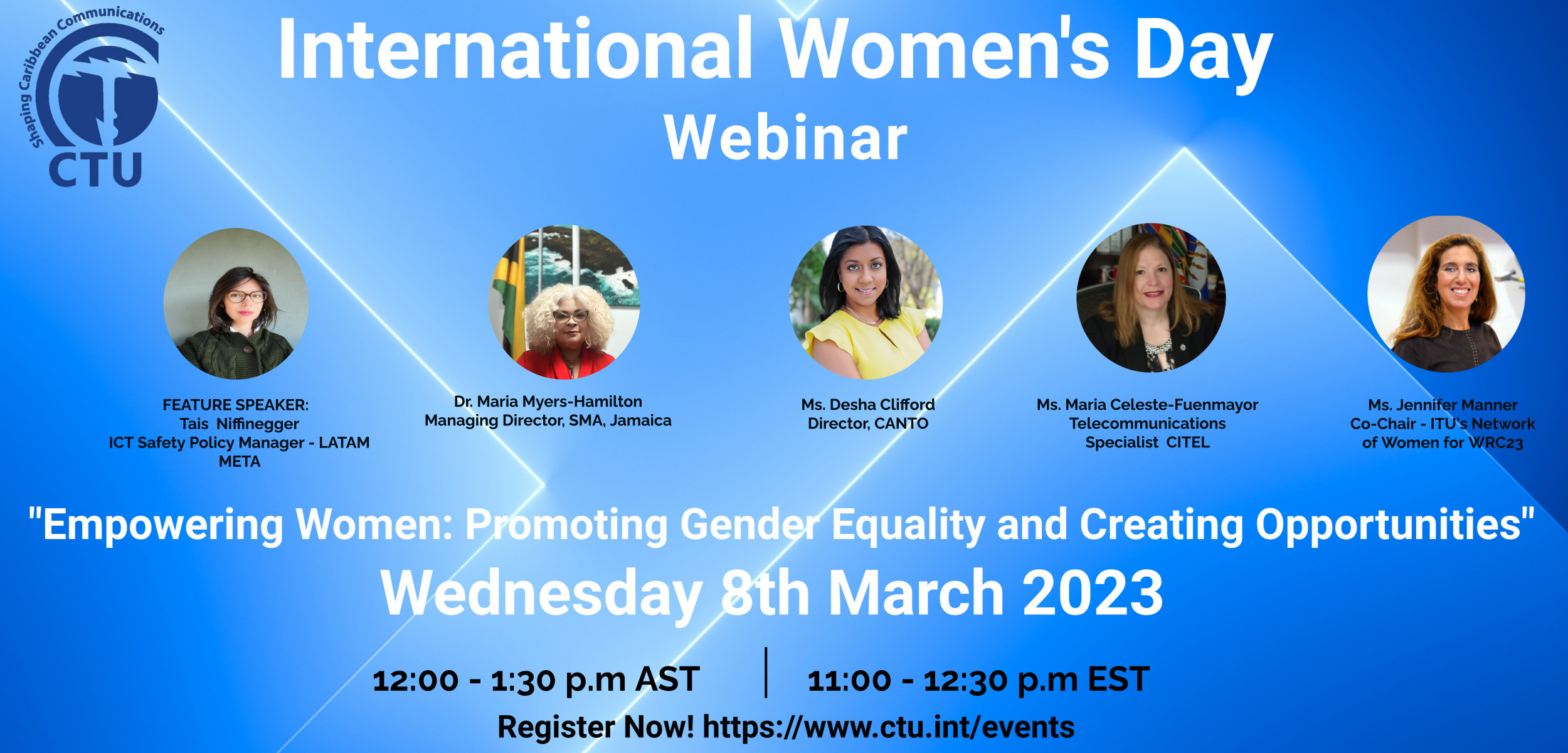 International Women's Day Webinar – Empowering Women: Promoting Gender Equality and Creating Opportunities
March 8, 2023
Venue:
OBJECTIVE:
The objective of this webinar is to celebrate International Women's Day on Wednesday 8th March 2023 by raising awareness of the need for women to be more involved in the information and communications technology (ICT) sector and to share strategies with them as to how to create opportunities for them to thrive and succeed. It is being hosted as part of the capacity building commitment by the Caribbean Telecommunications Union (CTU) to the "Commit for NOW4WRC" initiative of Inter-American Commission (CITEL) of the Organization of American States (OAS).
TARGET AUDIENCE:
The target audience for this webinar includes women but importantly men, from:
Government Agencies (Ministries and Regulatory Agencies)
Business and Private Sector Organisations
Civil Society
Academia
FORMAT:
The webinar will be a virtual event that will feature a keynote speaker and a panel discussion made up of prominent women leaders involved in the information ICT sector. The panel discussion will be followed by a Q&A session with the audience.
OUTLINE:
Keynote: The keynote speaker will provide the overarching context for International Women's Day and the pressing need to promote gender equality, and equity and parity in the ICT sector, particularly in leadership. The keynote speaker will share recommendations for regional, national and institutional activation of a gender agenda in ICT.
Panel Discussion: Addressing various pertinent topics, panelists will firstly share strategies and offer recommendations to promote gender equality and then share how to create opportunities for women to thrive and succeed, with a particular emphasis on national and regional ICT organisations.
Promoting Gender Equality: This element of the discussion will focus on the importance of promoting gender equality and the role of men in supporting women's empowerment. The panelists will share initiatives to gather regional, national and institutional commitments to support gender equality, equity and parity in ICT; and their experiences with including men as allies and advocates for gender equality. The panellists will also offer recommendations on ways to create a culture of inclusivity and diversity.
Creating Opportunities: Experiences will be shared as to how to create opportunities for women to succeed and thrive in regulatory authorities and elsewhere in the Americas and recommendations will be offered as to how to grasp those opportunities. Among other issues, the panelists will discuss the importance of mentorship and internship.
EXPECTED OUTCOME:
For the webinar to be inspiration in driving national and regional ICT organisations to empower women to overcome barriers and achieve their full potential.
VIEW AGENDA
REGISTER
VIEW OR DOWNLOAD AGENDA (PDF)
PROPOSED AGENDA
TIME
AGENDA ITEM
SPEAKER
12:00 – 12:05 p.m.
Introduction
Ms. Francola John

CTU Focal Point for ITU's Network of Women

12:05 – 12:10 p.m.
Opening Remarks
Mr. Rodney Taylor

Secretary-General, CTU

12:10 – 12:15 p.m.
Welcome Remarks
Dr. Kim Mallalieu

Deputy Chair Telecommunications Authority of Trinidad and Tobago & Vice-Chair Network of Women in ITU-D

12:15 – 12:30 p.m.
Feature Speaker
Ms. Taís Naffinegger

ICT Safety Policy Manager, LATAM

META

12:30 – 1:15 p.m.
Panel Discussion:

·       Promoting Gender Equality in preparation for World Radio Conference 2023 (WRC-23);

·       Promoting Gender Equality in the Caribbean Association of National Telecommunications Organization (CANTO)

·       Creating Opportunities in the Spectrum Management Authority (SMA) of Jamaica

·       Creating Opportunities in Inter‑American Telecommunication Commission (CITEL) countries

Moderator:

Mr. Nigel Cassimire

Deputy Secretary-General, CTU

Ms. Jennifer Manner, Snr VP, Regulatory Affairs, EchoStar  Corp & Co-Chair, Network of Women for WRCCITEL

Ms. Desha Clifford

Director, CANTO

Dr. Maria Myers-Hamilton, Managing Director, SMA

Ms. Maria Celeste-Fuenmayor Telecommunication Specialist, Inter-American Commission of the OAS (CITEL)

1:15 – 1:25 p.m.
Question and Answer Segment
1:25 – 1:30 p.m.
Vote of Thanks and Close
Ms. Michelle Garcia

Marketing and Communications Specialist, CTU