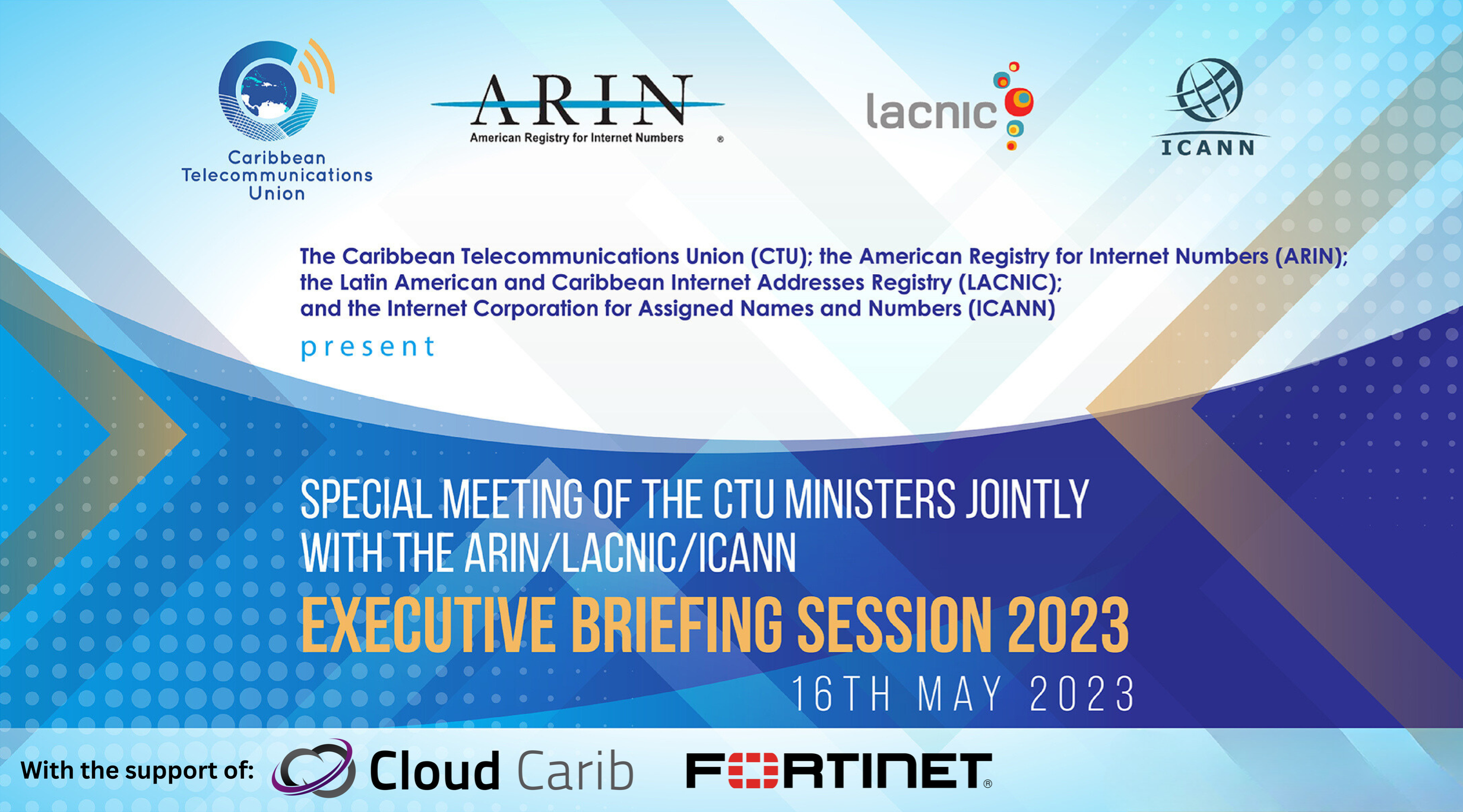 Special Meeting of the CTU Ministers jointly with the ARIN/LACNIC/ICANN Executive Briefing Session 2023
May 16, 2023
Venue:
INTRODUCTION:
The Latin American and Caribbean Internet Addresses Registry (LACNIC), the American Registry for Internet Numbers (ARIN), and the Caribbean Telecommunications Union (CTU) are honoured to host a 2023 Caribbean Information and Communication Technology (ICT) Ministers' Executive Briefing Session on Tuesday 16th May 2023, in Port-of-Spain, Trinidad and Tobago at the CTU Headquarters. The theme of the session is "State of Caribbean Cyber Resilience: Securing a Digital Future.
This Executive Briefing Session will follow the Executive Sessions on Digital Leadership in the Caribbean being organised by the Government of the Republic of Trinidad and Tobago's Ministry of Digital Transformation and the Inter-American Development Bank (IDB) on the 15th and the morning of 16th May 2023. It will provide an opportunity for representatives from the Regional Internet Registries (RIRs) in the Caribbean, ARIN and LACNIC, and other Internet experts to engage decision makers in dialogue on Caribbean cyber security resilience to secure our digital future.
FOCUS AREAS AND OBJECTIVES:
The Executive Briefing Session will bring together ICT Ministers, ICT Advisors, and international Internet experts to discuss selected Internet-related public policy issues and foster exchanges of information and experiences within a trusted space. It is complementary to the digital leadership talks taking place on 15-16 May 2023.
Proposed thematic areas include:
Cybersecurity Policy: discussing cybercrime trends in 2023; security design for information systems; legal liability regimes and compliance standards; information sharing on cyber threats, and cooperation for cyber investigations and electronic evidence collection
Network Autonomy and Resilience: exploring the importance of number resource autonomy and portability; the implications of network autonomy for jurisdictional matters, disaster planning, and preparedness; and the role of Internet Exchange Points in boosting the Internet economy
Internet Blocking: examining how number resources enable online content; legal bases for court orders for removal or disablement of data; and the unintended consequences of website blocking
The Session's objectives are to:
Offer perspectives from international technical experts on critical factors that underpin successful digital transformation
Create a trusted space for knowledge and experience exchange while highlighting best practices for network and cyber resilience
Provide concrete inputs to foster effective policy and legal approaches for the discussed issue areas
VIEW AGENDA
VIEW OR DOWNLOAD AGENDA (PDF)
FINAL AGENDA FOR CTU SPECIAL MEETING OF MINISTERS WITH ARIN LACNIC ICANN
Caribbean ICT Ministers' Executive Briefing Session 2023
State of Caribbean Cyber Resilience:
Securing a Digital Future
16 May 2023 (1:30 PM – 5:00 PM UTC-4)
AGENDA
Time
Session Title
Speakers
13:30
Call to Order and Introduction
Mr. Rodney Taylor
Secretary General
CTU
13:35
Welcome Remarks
Mr. Michael Abejuela
General Counsel
ARIN
13:40
Feature Presentation: Overview of Technical Factors with Strategic Implications
Mr. Oscar Robles
Executive Director
LACNIC
13:50
Keynote: Cyber Threats to the Caribbean: Trends for 2023 and Beyond
Mr. Adiel Akplogan
Vice President
Technical Engagement, ICANN
14:00
Q&A Interaction with Feature Presentation and Keynote
Mr. Rodney Taylor
Secretary General, CTU
14:20
SESSION #1: Cybersecurity Imperatives: What we are missing in the Caribbean?
Ms. Marjo Baayen
Director
Global Forum on Cyber Expertise (GFCE)
Mr. Dale Joseph
Cybercrime Policy Specialist
CARICOM IMPACS
Mr. Eamonn Sheehy
Director, Public Sector, Cloud Carib
Mr. Devanand Ramsingh
Major Account Manager, Fortinet
Moderator: Ms. Kerry-Ann Barrett
CyberSecurity Program Manager
Cyber Security Program at the Organization of American States (OAS-CICTE)
14:50
Interactive Question and Answer segment
Ms. Kerry-Ann Barrett, CICTE-OAS
14:55
SESSION #2: Network resource sovereignty for sustainable digital transformation: A sobering look at the numbers
Mr. Bevil Wooding
Director, Caribbean Affairs, ARIN
Mr. Kevon Swift
Head of Strategic Relations and Integration, LACNIC
Mr. Albert Daniels
Senior Manager for Stakeholder Engagement for the Caribbean, ICANN
Moderator: Mr. Shernon Osepa
Director of Caribbean Affairs, ISOC
15:25
Interactive Question and Answer segment
Mr. Shernon Osepa, ISOC
15:30
SESSION #3: Internet blocking as a tool against malicious conduct: Does it work?
Mr. Oscar Robles, LACNIC
Mr. Kurleigh Prescod
Executive Officer Technology & Engineering, TATT
Mr. Karel Douglas
Executive Officer, Legal and  Enforcement, TATT
Mr. Shernon Osepa, ISOC
Moderator: Mr. Gary Kalloo
Director, Business Development and Implementation Support, CTU
16:00
Interactive Question and Answer segment
Mr. Gary Kalloo
16:05
Review of Caribbean priorities and capacity-building needs
Mr. Rodney Taylor, CTU
Mr. Bevil Wooding, ARIN
Mr. Kevon Swift, LACNIC
Sen. the Hon. Hassel Bacchus
Minister of Digital Transformation, Trinidad and Tobago and President, CTU
16:25
Closing remarks
Mr. Rodney Taylor, CTU
16:30
OFFICIAL GROUP PHOTO
17:00
NETWORKING RECEPTION – CTU Stakeholders